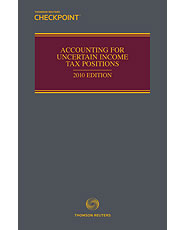 Accounting for Uncertain Income Tax Positions

Product Information
Frequency of Updates:

Annually

Brand:

WGL
Accounting for uncertain income tax positions has become a critically important issue for financial accounting and income taxation purposes in recent years. Accounting for Uncertain Income Tax Positions articulates the rigorous requirements of FASB ASC 740-10 and provides information and numerous tools for practitioners' use including sample filled-in templates to help inventory and document Uncertain Tax Position compliance, with a focus on commonly-encountered areas of uncertainty, including NOL carryforwards, customer deposits, transfer pricing, and state tax nexus.
Accounting for Uncertain Income Tax Positions features:
State-by-state charts -- income tax rates on corporations, apportionments, statutes of limitation for refunds, statutes of limitation on assessment, rates of interest paid on underpayments, and penalties imposed on underpayments of estimated tax;
Frequently Asked Questions -- information in a question-and-answer format provides a new route for approaching many of the central issues presented by the UTP rules. Each Question & Answer carries a reference to a paragraph in the publication where more information is available.
Sample SEC Comment Letters and company responses, redacted to focus on FIN 48 issues.
Also includes updated and enhanced coverage of:
Recognition and measurement of uncertain tax positions
Changes in subsequent periods
Effect of the UTP rules on preparing financial statements
Recognizing interest and penalties under FASB ASC 740-10
Classification and disclosure of uncertain tax positions
IRS standards for taking uncertain tax positions