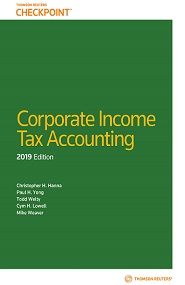 Corporate Income Tax Accounting

Product Information
Frequency of Updates:

Annually

Brand:

WGL
Corporate Income Tax Accounting offers coverage of:


Accounting for income taxes
Accounting for uncertain income tax positions under FASB ASC 740-10
Tax and financial accounting issues affecting multinational enterprises
Permanent vs. temporary differences
The impact of auditor independence rules on tax services
Management assessment and auditor attestation of internal controls
Documentation
Specific technical taxation issues that commonly arise
Attorney-client and related privileges
Transfer pricing and permanent establishment matters
Tax opinion preparation
Negotiating with the outside auditor
Preparing for an IRS examination
Tax authority Advance Resolution programs
The topics addressed in Corporate Income Tax Accounting come alive via illustrations, which have been included throughout the book. The authors have utilized a full range of direct and indirect income tax subjects to illustrate application of the pertinent financial accounting concepts.
The 2012 edition includes the following:


Chapter 3, Uncertain Tax Positions. Eagerly-anticipated IRS guidance relating to Schedule UTP, including definitions, penalties, and changes in the policy of restraint, is discussed in updates here.
Chapter 9, Specific Situations. Two new sections provide guidance on tax matters that commonly arise for purposes of making financial accounting determinations. One section focuses on situations involving joint ventures, and the other focuses on valuation in the context of restructuring where multiple tax jurisdictions are involved.
Chapter 10, Attorney-Client and Related Privileges. Materials concerning the attorney client privilege and its application to work papers are reorganized and updated to explain the state of the law now that several important court decisions have taken diverse views on this subject. Coverage of what constitutes written communication relating to tax shelter promotion under IRC Section 7525(b) is also updated.
Chapter 15, Tax Authority Advance Resolution Programs. This chapter is expanded to provide additional coverage of the private letter ruling process, the Advance Pricing Agreement Process, the Pre-Filing Agreement Program, and the Compliance Assurance Process. Each of these present possibilities for quicker resolution of issues, and reductions in taxpayer uncertainty.