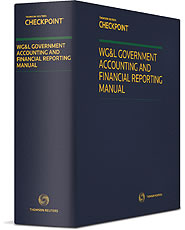 Government Accounting and Financial Reporting Manual

Product Information
Frequency of Updates:




Annually

Author:

John Radford

Brand:

WGL
The Government Accounting and Financial Reporting Manual is the essential, practical treatise for anyone involved in government accounting or financial reporting.
The Manual provides detailed guidelines on everything from journal entries for specific funds and financial reporting requirements, to budgeting, cash management, and contracting for auditing and banking services. The Manual also analyzes major points of new government accounting and auditing pronouncements and provides specific guidance on their implementation.
In addition, it focuses on the special considerations of fund accounting, analyzes the major accounting and financial concerns for each type of fund, and offers practical solutions to the problems you're most likely to encounter in your everyday work. This reference is perfect for government financial managers, auditors, and accountants who must solve technical accounting and finance-related problems daily.
In-depth analysis in one convenient volume on all areas of government accounting, financial reporting, and financial managment:
Raising capital
Budgeting
New Government Reporting Model
Capital project funds
Special assessment projects
Treasury management
Management information systems
Internal accounting and administrative control
Coverage on current government accounting and financial reporting issues, including:
Updated information on current GASB pronouncements and projects that impact the financial reporting of state and local government
Discussion on accounting and financial reporting for insurance recoveries and governmental funds
Discussion on accounting for the impairment of capital assets
New material on emergency financial management controls for use during disaster recovery
New material on government ethics
Updated material on single audit requirements
---