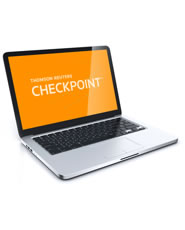 International Accounting Standards
Due to increased interest among Checkpoint subscribers for IASB materials, Thomson Reuters has released the Standards and Interpretations from the International Accounting Standards Board (IASB) with Checkpoint's unique functionality and integration.
Note: The IASB content on Checkpoint can only be purchased as an add-on to any other Financial Reporting & Management product or library.
With International Accounting Standards becoming more important to multinational businesses, and the firms that represent these businesses, the formatted IASB content benefits provides subscribers with the power of the functional advantages of Checkpoint. No other online service can deliver the same level of integration, ease of navigation, and feature rich functionality that Checkpoint can offer.
The Checkpoint functionality includes top line links from IASB content to other source materials in the FRM area as well as the WGL treatises and analysis. Search templates make IASB content easy to search and retrieve, with three new search templates added - IASB Standards, IASB Interpretations and IASB Implementation Guide. Also, the citation templates make it very easy to locate specific IASB documents, and the added benefits of top-line links, make it easy to locate the editorial content and source material related to the International Standards.