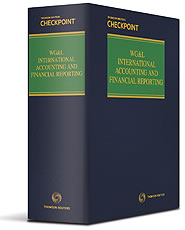 International Accounting and Financial Reporting

International Accounting and Financial Reporting will allow you to gain an understanding of how IFRS are interpreted and applied in the preparation of financial statements.
This service includes comprehensive discussions of (1) the status of the IASB/FASB convergence project, (2) SEC financial statement requirements for foreign companies, generally, and specifically for IFRS filers, and (3) exposure drafts of major FASB and IASB standards and SEC proposals affecting foreign registrants.
Written from a U.S. perspective, International Accounting and Financial Reporting provides comprehensive discussions and analysis of International Financial Reporting Standards (IFRS) and their application in practice. This single reference source covers all standards issued by the International Accounting Standards Board and interpretations issued by the International Financial Reporting Interpretations Committee.
International Accounting and Financial Reporting includes:
Identifies well over 200 significant differences between the two sets of standards
Over 300 computational examples illustrating compliance with IFRS.
IFRS disclosure requirements.
Nearly 150 examples of financial statement presentation and footnotes abstracted from actual IFRS annual and interim reports.
Coverage of general standards as well as those applicable to companies operating in specific industries.
A quick-reference checklist identifying significant differences between IFRS and U.S. GAAP.
---