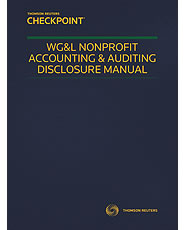 Nonprofit Accounting and Auditing Disclosure Manual

The Nonprofit Accounting and Auditing Disclosure Manual provides expert guidance on all nonprofit disclosure and auditing report requirements. This one-stop reference is the only one of its kind that puts all the disclosure information you need for a nonprofit organization's GAAP compliance into one volume.
Included are more than 600 examples of GAAP and GAAS disclosure requirements for nonprofit financial statements and auditors' reports, reviews, and compilations.
The Manual keeps you on top of current issues for nonprofits and not-for-profits:
Summaries of proposed and recent changes to the FASB Codification and AICPA Statements on Auditing Standards (SASs)
Disclosure information and examples to reflect the requirements of new and amended ASUs
Recent revisions to the Not-for-Profit Organizations - AICPA Audit and Accounting Guide
An appendix that contains sample financial statements for six types of nonprofit organizations: museums, foundations, associations, private primary schools, performing arts organizations, and food banks.
Sorted by major topic, the Manual includes all currently effective GAAP Guidance that affect nonprofit organizations, regardless of the date of issue - so you have all the relevant information about nonprofit GAAP compliance at your fingertips. Reporting requirements and reporting examples help you quickly prepare accurate audit reports, reviews, and compilations.
Each chapter is organized in a practical, easy-to-use format, with disclosure requirements followed by related examples. Just look up the disclosure requirement you need and turn to the "Examples" section of the given chapter for prescriptive samples on each subject. With the Manual by your side, you can prepare accurate financial statements and auditors' reports that disclose all necessary items - and that will withstand the closest scrutiny. It also gives you confidence that your disclosures are worded properly, which helps you prevent unintentional omissions and oversights.
---