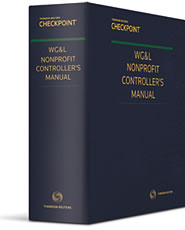 Nonprofit Controller's Manual

A great many organizations, small and large, operate under the statutory framework that grants tax-exempt status to certain qualifying entities. They include public and private charitable foundations, colleges, universities, and other educational organizations, voluntary social service agencies, religious institutions, trade associations, and certain health care providers.
Nonprofits operate in a highly regulated arena, so it is crucial to stay on top of changes in laws and regulations, as well as the standards set by the accounting profession.  CPAs serving clients like these, and financial managers running these organizations, need a comprehensive, up-to-date resource for staying on top of the many legal and regulatory factors involved. The Nonprofit Controller's Manual provides:
A description of the different types of tax-exempt entities.
Detailed coverage of accounting developments affecting nonprofits.
In-depth analysis on internal control and compliance issues.
Guidance on preparing IRS Form 990.
An overview of Federal, state and local tax reporting requirements, along with an analysis on unrelated business income taxation.
Authored by a respected industry expert with decades of practice experience, the Manual highlights all the latest techniques in the application process, activity based costing, auditor requirements, budgeting, cash management, insurance, grant administration, planned-giving campaigns and management of institutional investments.
Nonprofit Controller's Manual

Part A: Overview of the Nonprofit Industry

Part B: Accounting and Taxation Issues

Part C: Federal Grants Issues

Part D: Financial Administration
Nonprofit Controller's Manual Sample

View
---