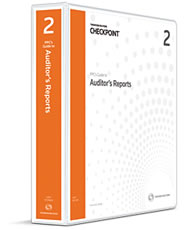 PPC's Guide to Auditor's Reports

Product Information
Frequency of Updates:

Annually

Brand:

Practitioners Publishing
PPC's Guide to Auditor's Reports contains a unique blend of practical solutions and authoritative references that takes a "how-to" approach to many of the reporting problems encountered in audit engagements. It illustrates and explains more than 275 auditor's reports common to nonpublic companies. Each report has references to authoritative literature, plus comprehensive narratives that expand on authoritative guidance and anticipate many of the potential problems encountered in drafting an auditor's report.
The Guide includes discussions and illustrative reports to save you even more time including:
Unmodified opinions
Modified opinions
GAAP departures
Scope limitations
Uncertainties
Supplementary Information
Group audits
Consistency
And much more
CPAs have turned to PPC's Guide to Auditor's Reports for the audit reporting guidance and report illustrations they need for more than 30 years.
List of Content (Click any title to expand the list)
INTRODUCTORY MATERIAL

PREFACE
PEER REVIEW OF THIS GUIDE
HOW TO USE THE GUIDE
ACKNOWLEDGMENTS
ACKNOWLEDGMENT OF COPYRIGHTS
ABOUT THE AUTHORS . . .
LIST OF SUBSTANTIVE CHANGES AND ADDITIONS
CHAPTER 1: THE AUDITOR'S STANDARD REPORT

100 BACKGROUND INFORMATION

Introduction
Authoritative Literature for Audits of Nonpublic Entities

Form and Structure of the Clarified Auditing Standards.
Use of the Terms Must and Should.
Interpretative Publications.
Other Auditing Publications.

Impact of the PCAOB on Auditing Standards for Nonpublic Entities
Clarified Auditing Standards

Effective Date of Clarified Standards and Implementation in This Guide.
Clarified Auditing Standards Relating to Auditor's Reports.

Changes in Reporting Requirements
Scope of PPC's Guide to Auditor's Reports
Scope of Chapter 1

101 THE STANDARD REPORT

Reports on Audited Financial Statements
The Title
Addressing the Report
Reference to the Auditor's Report in the Financial Statements
Alternate Language for the Auditor's Report

102 THE INTRODUCTORY PARAGRAPH

General Purpose
Statement That the Financial Statements Were Audited
Name of Entity
Type of Legal Entity
Date of the Financial Statements
Identification of the Financial Statements
Reference to the Notes to the Financial Statements
Audit Report of Sole Practitioner

103 MANAGEMENT'S RESPONSIBILITY FOR THE FINANCIAL STATEMENTS

Reference to Management Reports

104 AUDITOR'S RESPONSIBILITY

Responsibility to Express an Opinion
Reference to a Component Auditor
Generally Accepted Auditing Standards

Overall Objectives and Requirements.
Reference to Auditing Standards Board.

Statement about Reasonable Assurance
Description of the Audit Process
Reasonable Basis for Opinion
Departure from GAAS
International Standards on Auditing
PCAOB Auditing Standards

105 THE OPINION PARAGRAPH

Identification of the Financial Statements
Present Fairly
In All Material Respects
Financial Position
Results of Operations
Cash Flows
Name of Entity
Dates
Generally Accepted Accounting Principles
Consistency

106 FIRM'S SIGNATURE AND AUDITOR'S ADDRESS
107 THE DATE OF THE AUDITOR'S REPORT
108 AUDITOR'S REPORTS ON FINANCIAL STATEMENTS FOR INTERIM PERIODS

Standard Report
Different Interim Accounting Principles

109 INITIAL ACCOUNTING PERIOD
110 BALANCE SHEET ONLY

Standard Report
Disclosing Net Income or Loss

111 STATEMENT OF INCOME ONLY
112 AUDITOR'S REPORT ON FINANCIAL STATEMENTS COVERING PERIODS LESS THAN 12 MONTHS (CHANGE IN FISCAL YEAR-END)

Standard Report in Year of Change
Standard Report When Prior-period Statements Are Presented in Comparative Form

113 AUDITOR'S REPORT ON FINANCIAL STATEMENTS COVERING PERIODS LONGER THAN 12 MONTHS
114 COMMON AUDIT REPORT DEFICIENCIES
115 REPORTING CHECKLISTS

Reporting Guidance Checklist
Audit Reporting Checklist
Professional Judgment and Knowledge

APPENDIX 1A: Auditor's Standard Reports for Single Periods

APPENDIX 1A-1: Standard Report--GAAP Basis Financial Statements of a Corporation for a Single Year (Report Drafting Illustration)
APPENDIX 1A-2: Interim Period (Report Drafting Illustration)
APPENDIX 1A-3: Initial Accounting Period of Less Than 12 Months (Report Drafting Illustration)
APPENDIX 1A-4: Dual-dated Report (Report Drafting Illustration)
APPENDIX 1A-5: Balance Sheet Only (Report Drafting Illustration)
APPENDIX 1A-6: Balance Sheet Only, Initial Accounting Period (Report Drafting Illustration)
APPENDIX 1A-7: Statement of Income and Retained Earnings Only (Report Drafting Illustration)
APPENDIX 1A-8: Audit Conducted in Accordance with U.S. GAAS and in Accordance with International Standards on Auditing (Report Drafting Illustration)
APPENDIX 1A-9: Audit of Nonpublic Entity Conducted in Accordance with GAAS and in Accordance with PCAOB Auditing Standards (Report Drafting Illustration)

APPENDIX 1B: Reporting Checklists

APPENDIX 1B-1: Reporting Guidance Checklist
APPENDIX 1B-2: Audit Reporting Checklist

APPENDIX 1C: Selected Auditor's Reports for Periods Ending before December 15, 2012

APPENDIX 1C-1: Standard Report--GAAP Basis Financial Statements of a Corporation for a Single Year--Effective for Periods Ending before December 15, 2012 (Report Drafting Illustration)
APPENDIX 1C-2: Standard Report on Comparative Financial Statements--Effective for Periods Ending before December 15, 2012 (Report Drafting Illustration)
APPENDIX 1C-3: GAAP Measurement Departures--Effective for Periods Ending before December 15, 2012 (Report Drafting Illustration)
APPENDIX 1C-4: Report Qualified because of a Scope Limitation--Effective for Periods Ending before December 15, 2012 (Report Drafting Illustration)
APPENDIX 1C-5: Auditor's Report on the Financial Statements of a Single Period; Change in Accounting Principle--Effective for Periods Ending before December 15, 2012 (Report Drafting Illustration)
APPENDIX 1C-6: Income Tax Basis--Standard Report--Effective for Periods Ending before December 15, 2012 (Report Drafting Illustration)
CHAPTER 2: MODIFICATIONS OF THE STANDARD REPORT--GENERAL DISCUSSION

200 WHAT ARE MODIFIED REPORTS?
201 WHEN SHOULD AUDITORS MODIFY THE STANDARD REPORT?

Authoritative Literature
Matching the Circumstances to the Report

202 MATERIALITY

Authoritative Literature

Evaluation of Overall Materiality.

203 TYPES OF REPORTS--GENERAL DISCUSSION

Qualified Opinions
Adverse Opinions
Disclaimers of Opinion
Unmodified Opinions with Additional Language
CHAPTER 3: DEPARTURES FROM GENERALLY ACCEPTED ACCOUNTING PRINCIPLES (GAAP)

300 BACKGROUND INFORMATION

Authoritative Literature
What Is GAAP?

Substance over Form.
Alternative Choices of GAAP.
Codification Updates.

301 GAAP MEASUREMENT EXCEPTIONS

General Requirements
Communication with Those Charged with Governance
Qualified Reports for GAAP Measurement Departures
Quantification of the Effects of the Misstatement Is Not Practicable
Adverse Opinions for GAAP Measurement Departures

302 GAAP DISCLOSURE EXCEPTIONS

General Requirement
Qualified Reports for GAAP Disclosure Exceptions
Adverse Opinions for GAAP Disclosure Exceptions
Omission of a Statement of Cash Flows
Omission of Comprehensive Income and Its Components

303 ACCOUNTING CHANGES
APPENDIX 3A: Qualified Opinions for GAAP Measurement Departures

APPENDIX 3A-1: GAAP Measurement Departures (Report Drafting Illustration)
APPENDIX 3A-2: Qualified Opinion--Leases Not Capitalized
APPENDIX 3A-3: Qualified Opinion--Property Carried at Appraisal Value
APPENDIX 3A-4: Qualified Opinion--Property and Equipment Not Valued in Accordance with GAAP; Quantification of the Effects of the Misstatements Is Not Practical
APPENDIX 3A-5: Qualified Opinion--Lack of Depreciation; Quantification of the Effects of the Misstatement Is Not Practicable
APPENDIX 3A-6: Qualified Opinion--Failure to Provide for Loss from Lawsuit
APPENDIX 3A-7: Qualified Opinion--Prior-year Loss Recognized in Current Year
APPENDIX 3A-8: Qualified Opinion--Depreciation Computed Using Modified Accelerated Cost Recovery System (MACRS) Guidelines
APPENDIX 3A-9: Qualified Opinion--Manufacturing Overhead Excluded from Inventory
APPENDIX 3A-10: Qualified Opinion--Improper Amortization of Intangible Development Cost; Quantification of the Effects of the Misstatement Is Not Practicable
APPENDIX 3A-11: Qualified Opinion--Failure to Use Equity Accounting
APPENDIX 3A-12: Qualified Opinion--Majority-owned Subsidiaries Not Consolidated
APPENDIX 3A-13: Qualified Opinion--Omission of Deferred Taxes on Tax Return Depreciation in Excess of Financial Statement Depreciation
APPENDIX 3A-14: Qualified Opinion--Deferred Income Taxes Not Segregated between Current and Long-term
APPENDIX 3A-15: Qualified Opinion--Decline in Value of Equity Securities Incorrectly Reported
APPENDIX 3A-16: Qualified Opinion--Current Liability Incorrectly Shown as Long-term
APPENDIX 3A-17: Qualified Opinion--Settlement of a Lawsuit Incorrectly Classified as Extraordinary Item
APPENDIX 3A-18: Qualified Opinion--Capitalization of Start-up Costs
APPENDIX 3A-19: Qualified Opinion--Percentage-of-completion Method Should Have Been Used; Quantification of the Effects of the Misstatement Is Not Practicable
APPENDIX 3A-20: Qualified Opinion--Equity Investment on the Tax Basis; Quantification of the Effects of the Misstatement Is Not Practicable
APPENDIX 3A-21: Qualified Opinion--Improper Recording of Subscription Revenues
APPENDIX 3A-22: Qualified Opinion--Failure to Accrue Compensated Absences
APPENDIX 3A-23: Qualified Opinion--Improper Determination of Pension Cost; Quantification of the Effects of the Misstatement Is Not Practicable
APPENDIX 3A-24: Qualified Opinion--Incorrect Valuation of Inventory; Quantification of the Effects of the Misstatement Is Not Practicable
APPENDIX 3A-25: Qualified Opinion--Failure to Recognize Fair Value of Guarantee; Quantification of the Effects of the Misstatement Is Not Practicable
APPENDIX 3A-26: Qualified Opinion--Primary Beneficiary of an Unconsolidated Variable Interest Entity

APPENDIX 3B: Qualified Opinions for GAAP Disclosure Omissions

APPENDIX 3B-1: GAAP Disclosure Omissions (Report Drafting Illustration)
APPENDIX 3B-2: Qualified Opinion--Failure to Disclose Future Commitments under Long-term Operating Leases
APPENDIX 3B-3: Qualified Opinion--Failure to Disclose Restrictions in Debt Agreement
APPENDIX 3B-4: Qualified Opinion--Failure to Present a Statement of Cash Flows (Report Drafting Illustration)
APPENDIX 3B-5: Qualified Opinion--Failure to Present Comprehensive Income and Its Components (Report Drafting Illustration)
APPENDIX 3B-6: Qualified Opinion--Failure to Disclose Related Party Transactions
APPENDIX 3B-7: Qualified Opinion--Misrepresentation Concerning Related Party Transactions
APPENDIX 3B-8: Qualified Opinion--Failure to Disclose Information about Financial Instruments with Concentrations of Credit Risk
APPENDIX 3B-9: Qualified Opinion--Failure to Disclose Required Fair Value Information of Financial Instruments
APPENDIX 3B-10: Qualified Opinion--Failure to Disclose Concentration in Volume of Business Transacted with a Customer
APPENDIX 3B-11: Qualified Opinion--Failure to Disclose Maximum Exposure to Loss for a Significant Interest in a Variable Interest Entity

APPENDIX 3C: Adverse Opinions for GAAP Measurement or Disclosure Departures

APPENDIX 3C-1: Adverse Opinion--GAAP Measurement Departure (Report Drafting Illustration)
APPENDIX 3C-2: Adverse Opinion--Failure to Use Liquidation Basis of Accounting
APPENDIX 3C-3: Adverse Opinion--GAAP Disclosure Omission (Report Drafting Illustration)
APPENDIX 3C-4: Adverse Opinion--Failure to Disclose Concentration in Volume of Business Transacted with a Customer
APPENDIX 3C-5: Adverse Opinion--Misleading Representation about a Related Party Transaction
CHAPTER 4: SCOPE LIMITATIONS

400 BACKGROUND INFORMATION

Authoritative Literature
Qualify or Disclaim?

Management Imposed Scope Limitations.

Reference to a Note
Communication with Those Charged with Governance
Scope Limitations versus GAAP Departures and Uncertainties

401 QUALIFIED OPINIONS

Report Format
Sample Report

402 DISCLAIMERS OF OPINION

Report Format
Sample Report
Disclaimer of Opinion on One or More, but Not All, Basic Financial Statements

403 FAILURE TO CONFIRM RECEIVABLES OR OBSERVE INVENTORIES

Authoritative Literature--Accounts Receivable

Confirmations Would Be Ineffective.
Combined Risk Assessment Is Low.

Receivables Not Confirmed
Certain Categories of Receivables Not Confirmed
Client Requests Not to Send Confirmations
Authoritative Literature--Observation of Inventories
Ending Inventory Observation Omitted

404 FIRST AUDITS

Beginning Inventory Not Observed
Consistency

405 OTHER SCOPE LIMITATIONS

Procedures Required by GAAS
Written Representations from Management
Lawyers' Letters
Inadequate Records

Current-year Records.
Prior-year Records.
Destruction of Documents.

Pension Plans
Related Party Transactions
Investments
Entities Under Common Control
Special-purpose Reports on Internal Control at Service Organizations
Using the Work of Specialists
Fair Value and Other Estimates
Income Tax Accruals
Guarantees
Fraud or Noncompliance with Laws and Regulations
Variable Interest Entities
Uncertain Tax Positions
Auditor's Communication with Those Charged with Governance Is Not Adequate

406 WITHDRAWAL FROM THE ENGAGEMENT

When Should Auditors Withdraw from the Engagement?
Fraud or Noncompliance with Laws and Regulations

Fraud.
Noncompliance with Laws and Regulations.
Auditors' Request to Extend Scope of Audit.

Unauditable Records
Denial of Access to Information
Inadequate Communication with Those Charged with Governance

APPENDIX 4A: Qualified Opinions for Scope Limitations

APPENDIX 4A-1: Report Qualified because of a Scope Limitation (Report Drafting Illustration)
APPENDIX 4A-2: Failure to Confirm Receivables (Not Imposed by Client)
APPENDIX 4A-3: Inventory Not Observed
APPENDIX 4A-4: Beginning Inventory Not Observed
APPENDIX 4A-5: Completeness of Revenue Not Substantiated
APPENDIX 4A-6: Management Representations Not Obtained
APPENDIX 4A-7: Lawyer's Letter Not Obtained
APPENDIX 4A-8: Inadequate Accounting Records
APPENDIX 4A-9: Inadequate Support for Inventory Pricing

APPENDIX 4B: Disclaimers of Opinion for Scope Limitations

APPENDIX 4B-1: Disclaimer of Opinion because of a Scope Limitation (Report Drafting Illustration)
APPENDIX 4B-2: Failure to Confirm Receivables (Imposed by Client)
APPENDIX 4B-3: Inventory Not Observed
APPENDIX 4B-4: Beginning Inventory Not Observed--Opinion on Balance Sheet and Disclaimer on the Other Financial Statements (Report Drafting Illustration)
APPENDIX 4B-5: Completeness of Cash Sales and Purchases Not Substantiated
APPENDIX 4B-6: Management Representations Not Obtained
APPENDIX 4B-7: Lawyer's Letter Not Obtained
APPENDIX 4B-8: Inadequate Accounting Records
APPENDIX 4B-9: First-year Audit--Beginning Balance Sheet Not Audited
APPENDIX 4B-10: Comparative Report--Unmodified Opinion on Current Year; Unmodified Opinion on Prior Year Balance Sheet and Disclaimer of Opinion on the Prior Year Statements of Income, Retained Earnings, and Cash Flows
APPENDIX 4B-11: Allowance for Loan Losses and Income Tax Accounts Not Audited (Imposed by Client)
APPENDIX 4B-12: Inability to Obtain Audit Evidence Relating to Income Tax Accruals (Imposed by Client)
APPENDIX 4B-13: Accounting Records Destroyed by Fire, Flood, or Natural Disaster
APPENDIX 4B-14: Inability to Obtain Audit Evidence Relating to Uncertain Tax Benefits (Imposed by Client)
CHAPTER 5: CONSISTENCY

500 BACKGROUND INFORMATION

Authoritative Literature
Comparability versus Consistency
Changes Not Affecting Consistency
Changes Affecting Consistency

Period to Which Consistency Relates.

Accounting Changes of Investees

501 REPORTING ON CONSISTENCY IN INITIAL AUDITS

Opinion on Consistency in Initial Audit of Established Company

Inadequate Accounting Records.

When Should Auditors Modify Their Report?

Client-imposed Scope Limitations.
Prior-year Accounting Records Not in Accordance with GAAP.

502 REPORTING ON CHANGES IN ACCOUNTING PRINCIPLE

Accounting Standards for Accounting for Changes in Accounting Principle
Justification for Changes in Accounting Principle
Disclosure in the Auditor's Report
Management Does Not Provide Reasonable Justification That a Change in Accounting Principle Is Preferable
Effect of the Change Is Incorrectly Reported
Newly Adopted Principle Is Not in Conformity with Generally Accepted Accounting Principles
Inadequate Disclosure of Change
Need for Emphasis-of-matter Paragraph on Consistency When Auditors Express a Qualified or Adverse Opinion for a Change in Accounting Principle

503 REPORTING ON THE CORRECTION OF AN ERROR

Accounting for the Correction of an Error
Consistency Reference in the Auditor's Report

504 CHANGES IN ACCOUNTING ESTIMATES

Accounting for Changes in Accounting Estimates

Changes in Accounting Estimates That Are Effected by Changes in Accounting Principles.
Justification for Changes in Accounting Estimates That Are Effected by Changes in Accounting Principles.
Modifying the Auditor's Report.

505 CHANGE IN BASIS OF ACCOUNTING
APPENDIX 5A: Reporting on Changes in Accounting Principles

APPENDIX 5A-1: First Audit--Scope Limitation because of Inadequate Accounting Records; Disclaimer of Opinion on Results of Operations and Cash Flows and on Consistency (Report Drafting Illustration)
APPENDIX 5A-2: First Audit--Client-imposed Scope Limitation; Disclaimer of Opinion on Consistency (Report Drafting Illustration)
APPENDIX 5A-3: First Audit--Balance Sheet Only; Client-imposed Scope Limitation; Disclaimer of Opinion on Consistency (Report Drafting Illustration)
APPENDIX 5A-4: Auditor's Report on Comparative Financial Statements That Reflect a Change from Generally Accepted Accounting Principles to the Cash Basis of Accounting in Current Year (Prior Year Adjusted Retrospectively) (Report Drafting Illustration)
APPENDIX 5A-5: Prior-year Accounting Records on a Comprehensive Basis of Accounting Other Than Generally Accepted Accounting Principles (Report Drafting Illustration)
APPENDIX 5A-6: Auditor's Report on the Financial Statements of a Single Period; Change in Accounting Principle (Report Drafting Illustration)
APPENDIX 5A-7: Auditor's Report When Management Has Not Provided Reasonable Justification That a Change in Accounting Principle Is Preferable (Report Drafting Illustration)
APPENDIX 5A-8: Qualified Opinion When the Effect of a Change in Accounting Principle Is Incorrectly Reported (Report Drafting Illustration)
APPENDIX 5A-9: Adverse Opinion When the Effect of a Change in Accounting Principle Is Incorrectly Reported (Report Drafting Illustration)
APPENDIX 5A-10: Qualified Opinion When a Newly Adopted Principle Is Not in Conformity with Generally Accepted Accounting Principles (Report Drafting Illustration)
APPENDIX 5A-11: Adverse Opinion When a Newly Adopted Principle Is Not in Conformity with Generally Accepted Accounting Principles (Report Drafting Illustration)
APPENDIX 5A-12: Auditor's Report on the Financial Statements of a Single Period That Include the Correction of an Error Involving Accounting Principles (Report Drafting Illustration)
APPENDIX 5A-13: Auditor's Report on Comparative Financial Statements That Include the Correction of an Error Involving Accounting Principles (Report Drafting Illustration)
APPENDIX 5A-14: Auditor's Report on Comparative Financial Statements That Include the Correction of an Error
CHAPTER 6: UNCERTAINTIES

600 BACKGROUND INFORMATION

Authoritative Literature

Emphasis-of-matter Paragraphs Due to Uncertainties.

What are Uncertainties?
Definition of a Contingency
Unmodified Opinions on Financial Statements Containing Uncertainties

601 UNCERTAINTIES AND SCOPE LIMITATIONS
602 UNCERTAINTIES AND GAAP DEPARTURES
603 DISCLOSING UNCERTAINTIES

Authoritative Literature

Differences between FASB ASC 275 and FASB ASC 450.
Consequences of Those Differences.

604 DISCLAIMING AN OPINION WHEN UNCERTAINTIES EXIST

Auditor's Disclaimer of Opinion

605 GOING CONCERN ISSUES

Auditors' Responsibilities

Identifying Adverse Conditions and Events.
Management's Plans.
Financial Statement Disclosures.
Substantial Doubt is Alleviated.
Written Representations.
Required Documentation.
Going Concern Issues and Risks and Uncertainties.

Required Emphasis-of-matter Paragraph
Disclaimers of Opinion
Comparative Financial Statements
Reissuing a Report to Eliminate a Going Concern Uncertainty Paragraph
Going Concern Assumption for Venture with Limited Life

APPENDIX 6A: Reports with Emphasis-of-matter Paragraph for Going Concern Uncertainties

APPENDIX 6A-1: Report with Emphasis-of-matter Paragraph because of a Going Concern Uncertainty (Report Drafting Illustration)
APPENDIX 6A-2: Going Concern--Capital Deficiency
APPENDIX 6A-3: Going Concern--Default of Credit Agreement
APPENDIX 6A-4: Going Concern--Significant Operating Loss
APPENDIX 6A-5: Going Concern--Default of Loan Agreements
APPENDIX 6A-6: Going Concern--Bankruptcy Reorganization

APPENDIX 6B: Disclaimers of Opinion for Uncertainties

APPENDIX 6B-1: Disclaimer of Opinion because of an Uncertainty Other Than a Going Concern Uncertainty (Report Drafting Illustration)
APPENDIX 6B-2: Disclaimer of Opinion because of a Going Concern Uncertainty (Report Drafting Illustration)
APPENDIX 6B-3: Disclaimer of Opinion because of a Going Concern Uncertainty--Default of Credit Agreement and Net Loss
CHAPTER 7: OTHER MODIFICATIONS OF THE STANDARD REPORT

700 BACKGROUND INFORMATION

Authoritative Literature

Required EOM Paragraphs.
Required OM Paragraphs.
EOM and OM Paragraphs Are Not Qualified Opinions.

Scope of the Chapter

701 EMPHASIS-OF-MATTER (EOM) AND OTHER-MATTER (OM) PARAGRAPHS

When to Use EOM and OM Paragraphs
Required Elements of an EOM Paragraph
Examples of EOM Paragraphs

Related Party Transactions and Concentrations in Volume of Business.
Subsequent Events.
Subsequent Events Consideration in the Current Economic and Financial Crisis.
Accounting Standard Prior to Its Effective Date.
Uncertainties.

Required Elements of an OM Paragraph
Examples of OM Paragraphs
Communication with Those Charged with Governance

702 REPORTING ON REVISED FINANCIAL STATEMENTS
703 SPLIT-LEVEL REPORTING

What Is It?
Authoritative Literature--Limited Reporting Engagement
Report Illustrations--Limited Reporting Engagement
Authoritative Literature--Scope Limitation
Report Illustrations--Scope Limitations

704 REPORTS WITH MORE THAN ONE MODIFICATION

Reporting Requirements
Report Illustrations
Circumstances Requiring a Modified Disclaimer
Adverse Opinion When There Are Going Concern Uncertainties or Changes in Accounting Principle
Adverse Opinion and Other Reservations about GAAP
Adverse Opinion and Scope Limitations

705 PIECEMEAL OPINIONS
706 UNAUDITED FINANCIAL STATEMENTS

Authoritative Literature
Reference to Country of Origin
Applying SSARS Standards to Nonissuers

707 INDEPENDENCE

Authoritative Literature
Report Illustration

708 APPLYING PCAOB STANDARDS TO AUDITS OF NONISSUERS
709 FINANCIAL STATEMENTS PREPARED IN CONFORMITY WITH INTERNATIONAL FINANCIAL REPORTING STANDARDS
710 FINANCIAL STATEMENTS PREPARED IN CONFORMITY WITH ACCOUNTING PRINCIPLES GENERALLY ACCEPTED IN ANOTHER COUNTRY

Authoritative Literature
General Requirements
Reporting on Foreign GAAP Financial Statements for Use Only outside the United States

U.S.-style Report Modified for Foreign Use (Alternative 1).
Standard Report of Another Country (Alternative 2).

Reporting on Foreign GAAP Financial Statements for Use inside the United States
Co-existing Financial Statements

711 REVIEW OF INTERIM FINANCIAL INFORMATION

Reporting on Reviews of Interim Financial Information
Reporting When the Auditor Becomes Aware of Departures
Inability to Complete the Review
Going Concern
Reference to the Report of Component Auditor
Interim Financial Information Accompanying Audited Financial Statements

Supplementary Information in a Document Containing Audited Financial Statements.

Subsequent Events

APPENDIX 7A: Other Modifications of the Standard Report

APPENDIX 7A-1: Emphasis-of-matter (Report Drafting Illustration)
APPENDIX 7A-2: Other-matter (Report Drafting Illustration)
APPENDIX 7A-3: Emphasis-of-matter--Related Party Transactions
APPENDIX 7A-4: Emphasis-of-matter--Concentration in Volume of Business Transacted with a Supplier
APPENDIX 7A-5: Emphasis-of-matter--Subsequent Events
APPENDIX 7A-6: Emphasis-of-matter--Accounting Standard Prior to Its Effective Date
APPENDIX 7A-7: Emphasis-of-matter--Uncertainty Other Than a Going Concern Uncertainty
APPENDIX 7A-8: Emphasis-of-matter--Entity Is Part of an Affiliated Group
APPENDIX 7A-9: Limited Reporting Engagement--Opinion on Balance Sheet, Disclaimer on Other Basic Financial Statements (Report Drafting Illustration)
APPENDIX 7A-10: Limited Reporting Engagement--Auditors Have Not Obtained Sufficient Appropriate Audit Evidence about Consistency of Application of Accounting Principles (Report Drafting Illustration)
APPENDIX 7A-11: Qualified Opinion because of a Departure from GAAP with an Emphasis-of-matter Paragraph because of a Going Concern Uncertainty (Report Drafting Illustration)
APPENDIX 7A-12: Qualified Opinion because of a Departure from GAAP with an Emphasis-of-matter Paragraph because of a Going Concern Uncertainty
APPENDIX 7A-13: Qualified Opinion because of a Departure from GAAP with an Emphasis-of-matter Paragraph because of a Change in Accounting Principle (Report Drafting Illustration)
APPENDIX 7A-14: Emphasis-of-matter because of a Going Concern Uncertainty and a Change in Accounting Principle (Report Drafting Illustration)
APPENDIX 7A-15: Qualified Opinion because of a Scope Limitation with an Emphasis-of-matter Paragraph because of a Going Concern Uncertainty
APPENDIX 7A-16: Qualified Opinion because of a Departure from GAAP and a Scope Limitation
APPENDIX 7A-17: Standard Compilation Report (Report Drafting Illustration)
APPENDIX 7A-18: Standard Review Report (Report Drafting Illustration)
APPENDIX 7A-19: Financial Statements Prepared in Accordance with International Financial Reporting Standards (IFRS) as Issued by the International Accounting Standards Board (IASB) (Report Drafting Illustration)
APPENDIX 7A-20: Financial Statements Prepared in Accordance with Accounting Principles of Another Country--U.S.-style Modified Report (Report Drafting Illustration)
APPENDIX 7A-21: Financial Statements Prepared in Accordance with Accounting Principles of Another Country Also Intended for Use in the United States--U.S. Standard Report with Emphasis-of-matter Paragraph (Report Drafting Illustration)
APPENDIX 7A-22: Financial Statements of Nonissuer Audited in Accordance with Standards of the PCAOB (Report Drafting Illustration)

APPENDIX 7B: Report on a Review of Interim Financial Information

APPENDIX 7B-1: Report on a Review of Interim Financial Information (Report Drafting Illustration)
APPENDIX 7B-2: Report on a Review of Comparative Interim Financial Information
APPENDIX 7B-3: Report on a Review of Interim Financial Information GAAP Measurement Departure (Report Drafting Illustration)
APPENDIX 7B-4: Report on a Review of Interim Financial Information GAAP Disclosure Departure (Report Drafting Illustration)
APPENDIX 7B-5: Report on a Review of Interim Financial Information Going Concern (Report Drafting Illustration)
APPENDIX 7B-6: Report on a Review of Interim Financial Information Reference to Report of Component Auditor
CHAPTER 8: REPORTS ON COMPARATIVE FINANCIAL STATEMENTS

800 BACKGROUND INFORMATION

Authoritative Literature

Objectives and Requirements.

Definitions

801 THE STANDARD REPORT ON COMPARATIVE FINANCIAL STATEMENTS

Report Illustration
Prior-year Balance Sheets Not Presented

802 REPORTS WITH DIFFERING OPINIONS ON COMPARATIVE FINANCIAL STATEMENTS

General Reporting Guidance
Report Illustrations

803 UPDATED OPINION DIFFERENT FROM PREVIOUS OPINION

Circumstances Requiring a Different Opinion
Elements of an Emphasis-of-matter or Other-matter Paragraph
Correction of GAAP Departures
Going-concern Uncertainties

804 PRIOR-PERIOD FINANCIAL STATEMENTS AUDITED BY PREDECESSOR AUDITORS

Reporting Alternatives
Reference to the Predecessor Auditor's Report
Predecessor Auditors Reissue Their Report
Misstatements in Financial Statements Reported on by a Predecessor Auditor
Audits of Financial Statements Previously Audited

Reaudit.
Effect on the Successor's Audit Report.

Prior Year Financial Statements Restated or Retrospectively Adjusted for Changes in Accounting Principles

Financial Statements Reported on by a Predecessor.

805 COMPARATIVE FINANCIAL STATEMENTS--CURRENT PERIOD AUDITED; PRIOR PERIOD UNAUDITED

General Reporting Guidance
Reporting Alternatives
Reference to Service Performed in Prior Period
Prior-period Report Reissued
Restated Prior-period Financial Statements
Prior-year Financial Statements Adjusted Retrospectively for Accounting Changes
Communications with Predecessor Accountants

806 COMPARATIVE FINANCIAL STATEMENTS--CURRENT PERIOD UNAUDITED; PRIOR PERIOD AUDITED

General Reporting Guidance
Reporting Alternatives
Reference to Prior-period Audited Financial Statements
Prior-period Report Reissued
Restated Prior-period Financial Statements
Prior-year Financial Statements Adjusted Retrospectively for Accounting Changes
Communications with Predecessor Auditors

807 COMPILATION REPORT ON PREVIOUSLY AUDITED FINANCIAL STATEMENTS
APPENDIX 8A: Comparative Reports--Continuing Auditors

APPENDIX 8A-1: Standard Report on Comparative Financial Statements (Report Drafting Illustration)
APPENDIX 8A-2: Unmodified Opinion on Prior Year; Opinion Qualified on Current Year because of a Departure from Generally Accepted Accounting Principles (Report Drafting Illustration)
APPENDIX 8A-3: Unmodified Opinion on Prior Year; Adverse Opinion on Current Year because of a Departure from Generally Accepted Accounting Principles (Report Drafting Illustration)
APPENDIX 8A-4: Unmodified Opinion on Prior Year; Opinion Qualified on Current Year for a Scope Limitation (Report Drafting Illustration)
APPENDIX 8A-5: Unmodified Opinion on Both Years; Emphasis-of-matter in Current Year because of a Going Concern Uncertainty (Report Drafting Illustration)
APPENDIX 8A-6: Unmodified Opinions on Both Years; Emphasis-of-matter in Current Year because of a Going Concern Uncertainty
APPENDIX 8A-7: Emphasis-of-matter in Prior Year because of a Going Concern Uncertainty; Emphasis-of-matter in Current Year because of the Same Uncertainty and Qualified for a Departure from Generally Accepted Accounting Principles (Report Drafting Illustration)
APPENDIX 8A-8: Emphasis-of-matter in Prior Year because of a Going Concern Uncertainty; Emphasis-of-matter in Current Year because of the Same Uncertainty and Qualified for a Scope Limitation (Report Drafting Illustration)
APPENDIX 8A-9: Qualified Opinion on Prior Year because of a Scope Limitation; Unmodified Opinion on Current Year (Report Drafting Illustration)
APPENDIX 8A-10: Qualified Opinion on Prior Year because of a Scope Limitation; Qualified Opinion on Current Year because of a Departure from Generally Accepted Accounting Principles (Report Drafting Illustration)
APPENDIX 8A-11: Qualified Opinion on Prior Year because of a Scope Limitation; Unmodified Opinion on Current Year Balance Sheet and Qualified Opinion on Other Current Year Statements because of Prior Year's Scope Limitation (Report Drafting Illustration)
APPENDIX 8A-12: Qualified Opinion on Prior Year because of a Scope Limitation (Inventory Not Observed); Unmodified Opinion on Current Year Balance Sheet and Qualified Opinion on Other Current Year Statements because of Prior Year's Scope Limitation (Report Drafting Illustration)
APPENDIX 8A-13: Disclaimer of Opinion on Prior Year because of a Scope Limitation; Qualified Opinion on Current Year because of a Departure from Generally Accepted Accounting Principles (Report Drafting Illustration)
APPENDIX 8A-14: Opinion Qualified for Both Years because of a Departure from Generally Accepted Accounting Principles (Report Drafting Illustration)
APPENDIX 8A-15: Unmodified Opinion on Current Year; Updated Opinion on Prior Year Reflecting Correction of a GAAP Departure (Report Drafting Illustration)
APPENDIX 8A-16: Unmodified Opinion on Prior Year; Disclaimer of Opinion on Current Year because of a Scope Limitation (Report Drafting Illustration)

APPENDIX 8B: Comparative Reports--Predecessor Auditors

APPENDIX 8B-1: Audited Comparative Financial Statements; Reference to Predecessor Auditors' Unmodified Opinion (Report Drafting Illustration)
APPENDIX 8B-2: Audited Comparative Financial Statements; Reference to Predecessor Auditors' Qualified Opinion because of a GAAP Departure That Continues in the Current Period (Report Drafting Illustration)
APPENDIX 8B-3: Audited Comparative Financial Statements; Reference to Predecessor Auditors' Opinion with Emphasis-of-matter because of a Going Concern Uncertainty That Continues in the Current Period (Report Drafting Illustration)
APPENDIX 8B-4: Audited Comparative Financial Statements; Predecessor Auditor Reported on Prior-period Financial Statements before Restatement (Report Drafting Illustration)
APPENDIX 8B-5: Audited Comparative Financial Statements; Predecessor Auditor Reported on Prior-period Financial Statements before Retrospective Adjustment for Change in Accounting Principle (Report Drafting Illustration)
APPENDIX 8B-6: Audited Comparative Financial Statements; Reference to Predecessor Auditors' Unmodified Opinion (Predecessors' Practice Merged with Successor Auditors')
APPENDIX 8B-7: Report on Comparative Consolidated Financial Statements and Supplementary Information When Predecessor Auditors Have Audited the Prior-period Financial Statements and Supplementary Information (Report Drafting Illustration)

APPENDIX 8C: Comparative Reports--Audited and Unaudited

APPENDIX 8C-1: Current Period Audited; Prior Period Reviewed--Reference to Service Performed in Prior Period (Report Drafting Illustration)
APPENDIX 8C-2: Current Period Audited; Prior Period Compiled--Reference to Service Performed in Prior Period (Report Drafting Illustration)
APPENDIX 8C-3: Current Period Audited; Prior Period Reviewed--Financial Statements Prepared on Income Tax Basis
APPENDIX 8C-4: Current Period Audited; Prior Period Compiled--Reference to Prior-period Financial Statements with a Changed Reference to a Departure from Generally Accepted Accounting Principles (Report Drafting Illustration)
APPENDIX 8C-5: Current Period Audited; Prior Period Reviewed--Reference to Prior-period Financial Statements with a Changed Reference to a Departure from Generally Accepted Accounting Principles (Report Drafting Illustration)
APPENDIX 8C-6: Current Period Audited; Prior Period Compiled--Reference to Prior-period Financial Statements Adjusted Retrospectively to Apply Change in Accounting Principle (Report Drafting Illustration)
APPENDIX 8C-7: Current Period Audited; Prior Period Reviewed--Reference to Prior-period Financial Statements Adjusted Retrospectively to Apply Change in Accounting Principle (Report Drafting Illustration)
CHAPTER 9: CONSOLIDATED OR COMBINED FINANCIAL STATEMENTS

900 SCOPE OF THE CHAPTER

Reporting on Consolidated (Consolidating) or Combined (Combining) Financial Statements
Using the Work of Other Auditors

901 AUTHORITATIVE LITERATURE

General
Consolidation
Equity Method
Business Combinations
Definitions Concerning Consolidated or Combined Financial Statements

902 STANDARD REPORTS ON CONSOLIDATED FINANCIAL STATEMENTS

General
Report Illustration

903 STANDARD REPORTS ON COMBINED FINANCIAL STATEMENTS

General
Report Illustration

904 MODIFICATIONS OF REPORTS ON CONSOLIDATED OR COMBINED FINANCIAL STATEMENTS

General
Subsidiary with Different Fiscal Year End
Change in Reporting Entity

Consolidated and Unconsolidated Comparative Financial Statements.

Two Reports Presented, One Qualified

905 REPORTS ON CONSOLIDATING OR COMBINING FINANCIAL STATEMENTS

How Do They Differ from Consolidated or Combined Financial Statements?
What Are the Reporting Choices?
The Alternatives--Supplementary Information or Basic Financial Statement Approach

906 REPORTING ON CONSOLIDATING INFORMATION AS SUPPLEMENTARY INFORMATION

Table of Contents
Standard Report
Departure from GAAP in a Component
How Modifications of the Basic Financial Statements Affect the Supplementary Information
Consolidating Information and Other Supplementary Information
Reference to the Work of Component Auditors

907 REPORTING ON CONSOLIDATING FINANCIAL STATEMENTS AS BASIC FINANCIAL STATEMENTS

Table of Contents
Standard Report
GAAP Departure Affecting a Subsidiary but Not Material to the Consolidated Financial Statements
GAAP Departure Material to Subsidiary and Consolidated Financial Statements
Inconsistent Application of Accounting Principles Affecting Subsidiary Only
Inconsistent Application of Accounting Principles Affecting Subsidiary and Consolidated Totals
Scope Limitation Affecting Subsidiary Only
Subsidiary Not Audited
Reference to the Work of Component Auditors

908 REPORTS ON FINANCIAL STATEMENTS THAT INCLUDE INVESTMENTS ACCOUNTED FOR BY THE EQUITY METHOD

General
Auditing Investments Accounted for by the Equity Method
Matters Affecting Consistency

909 PARENT COMPANY FINANCIAL STATEMENTS
APPENDIX 9A: Reports on Consolidated and Combined Financial Statements

APPENDIX 9A-1: Consolidated Financial Statements--Comparative Periods (Report Drafting Illustration)
APPENDIX 9A-2: Consolidated Financial Statements--Single Period (Report Drafting Illustration)
APPENDIX 9A-3: Combined Financial Statements--Comparative Periods (Report Drafting Illustration)
APPENDIX 9A-4: Combined Financial Statements--Single Period (Report Drafting Illustration)
APPENDIX 9A-5: Consolidated Financial Statements--Change in the Reporting Entity Not Resulting from a Transaction or Event (Report Drafting Illustration)

APPENDIX 9B: Reports on Supplementary Consolidating Information--Supplementary Information Approach

APPENDIX 9B-1: Standard Report on Supplementary Consolidating Information--Separate Report (Alternative I) (Report Drafting Illustration)
APPENDIX 9B-2: Standard Report on Supplementary Consolidating Information Including a Disclaimer of Opinion on the Consolidating Information--Separate Report (Alternative II) (Report Drafting Illustration)
APPENDIX 9B-3: Combined Report on Consolidated Financial Statements and Supplementary Consolidating Information--Additional Paragraph in the Auditor's Report on the Basic Financial Statements (Report Drafting Illustration)

APPENDIX 9C: Reports on Consolidating Financial Statements--Basic Financial Statement Approach

APPENDIX 9C-1: Consolidating Financial Statements--Comparative Periods (Report Drafting Illustration)
APPENDIX 9C-2: Consolidating Financial Statements--Single Period (Report Drafting Illustration)
APPENDIX 9C-3: Consolidating Financial Statements--GAAP Departure Affecting a Subsidiary But Not Material to the Consolidated Financial Statements
APPENDIX 9C-4: Consolidating Financial Statements--GAAP Departure Affecting Both a Subsidiary's and the Consolidated Financial Statements (Report Drafting Illustration)
APPENDIX 9C-5: Consolidating Financial Statements--Inconsistent Application of Accounting Principles (Report Drafting Illustration)
APPENDIX 9C-6: Consolidating Financial Statements--Scope Limitation Affecting a Subsidiary But Not the Consolidated Financial Statements (Report Drafting Illustration)
APPENDIX 9C-7: Consolidating Financial Statements--Scope Limitation Affecting Both a Subsidiary's and the Consolidated Financial Statements (Report Drafting Illustration)
APPENDIX 9C-8: Consolidating Financial Statements--Certain Subsidiaries Compiled (Report Drafting Illustration)
APPENDIX 9C-9: Consolidating Financial Statements for Current Period; Consolidated Amounts Only for Prior Period
CHAPTER 10: GROUP AUDITS

1000 BACKGROUND INFORMATION

Scope of the Chapter
Authoritative Literature
Definitions
Objectives and Requirements for Reporting on Audits of Group Financial Statements
Preconditions for Making Reference to the Component Auditor's Report

Component Auditor's Professional Competence and Independence.
Financial Reporting Frameworks Used for Group and Component Financial Statements.
Audit of the Component's Financial Statements Is Performed in Accordance with GAAS.
Component Auditor Issues a Report.

1001 REPORTS ON FINANCIAL STATEMENTS THAT REFER TO COMPONENT AUDITORS

Disclosing Names of Component Auditors
Audit of Component Performed in Accordance with International Standards on Auditing

1002 REPORTS ON CONSOLIDATING FINANCIAL STATEMENTS

General
Consolidating Financial Statements Presented as Supplementary Information
Consolidating Financial Statements Presented as Basic Financial Statements

1003 MODIFIED REPORTS BY COMPONENT AUDITORS

General
Departures from GAAP by a Subsidiary
Scope Limitations
Uncertainties Other Than Going Concern Uncertainties
Going Concern Uncertainties
Inconsistent Application of Accounting Principles
Modifications Not Material to the Consolidated Financial Statements

1004 MODIFIED REPORTS BY THE GROUP AUDITORS

Reservations about the Adequacy of the Component Auditor's Audit or Independence

1005 REPORTS ON FINANCIAL STATEMENTS THAT INCLUDE INVESTMENTS ACCOUNTED FOR BY THE EQUITY METHOD

General
Report Illustration
Matters Affecting Consistency

1006 PROCEDURES PERFORMED BY AUDITORS WITH RESPECT TO ELEMENTS, ACCOUNTS, OR ITEMS OF FINANCIAL STATEMENTS

Using the Work of Other Auditors
Independence

APPENDIX 10A: Auditor's Reports When Using the Work of Component Auditors
APPENDIX 10A: Auditor's Reports When Using the Work of Component Auditors

APPENDIX 10A-1: Report on Comparative Consolidated Financial Statements When Component Auditors Have Audited Subsidiaries for All Years Presented (Report Drafting Illustration)
APPENDIX 10A-2: Report on Comparative Consolidated Financial Statements and Supplementary Information When Component Auditors Have Audited the Financial Statements and Supplementary Information of a Subsidiary for All Years Presented (Report Drafting Illustration)
APPENDIX 10A-3: Separate Report on Supplementary Information Presented with Consolidated Financial Statements When Component Auditors Have Audited the Financial Statements and Supplementary Information of a Subsidiary for All Years Presented (Report Drafting Illustration)
APPENDIX 10A-4: Report on Single-period Consolidated Financial Statements When Component Auditors Have Audited a Subsidiary (Report Drafting Illustration)
APPENDIX 10A-5: Report on Consolidated Financial Statements for Comparative Periods When Component Auditors Have Audited a Subsidiary for Only One Period (Report Drafting Illustration)
APPENDIX 10A-6: Separate Report on Single-period Consolidating Financial Statements Presented as Supplementary Information When Component Auditors Have Audited a Subsidiary (Report Drafting Illustration)
APPENDIX 10A-7: Consolidating Financial Statements Presented as Basic Financial Statements--a Material Subsidiary Audited by Component Auditors (Report Drafting Illustration)
APPENDIX 10A-8: Consolidating Financial Statements Presented as Basic Financial Statements--an Immaterial Subsidiary Audited by Component Auditors (Report Drafting Illustration)
APPENDIX 10A-9: Qualified Report Caused by the Component Auditors' Qualification for a GAAP Departure by a Subsidiary (Report Drafting Illustration)
APPENDIX 10A-10: Qualified Report Caused by the Component Auditors' Qualification for a Scope Limitation (Report Drafting Illustration)
APPENDIX 10A-11: Report with Emphasis-of-matter Because the Component Auditor's Report Included an Emphasis-of-matter Paragraph for a Going Concern Uncertainty (Report Drafting Illustration)
APPENDIX 10A-12: Report with Emphasis-of-matter Because the Component Auditor's Report Included an Emphasis-of-matter Paragraph for a Change in Accounting Principles (Report Drafting Illustration)
APPENDIX 10A-13: Group Auditor's Report When Component Auditor's Report Is Qualified for a GAAP Departure That Is Not Material to the Consolidated Financial Statements (Report Drafting Illustration)
APPENDIX 10A-14: Qualified Report When Group Auditors Are Unable to Satisfy Themselves about the Adequacy of the Component Auditors' Audit or Independence (Report Drafting Illustration)
APPENDIX 10A-15: Disclaimer of Opinion When Group Auditors Are Unable to Satisfy Themselves about the Adequacy of the Component Auditors' Audit or Independence (Report Drafting Illustration)
APPENDIX 10A-16: Standard Report When the Component Auditors Have Audited the Financial Statements of an Investee Accounted for by the Equity Method (Report Drafting Illustration)
APPENDIX 10A-17: Qualified Report When Component Auditors Have Audited the Financial Statement of an Investee Accounted for by the Equity Method (Report Drafting Illustration)
APPENDIX 10A-18: Standard Report on Consolidated Financial Statements When Component Auditors Have Audited a Subsidiary--Comparative Balance Sheets for Two Years and Income Statements and Cash Flows for Three Years (Report Drafting Illustration)
CHAPTER 11: SUPPLEMENTARY INFORMATION

1100 BACKGROUND INFORMATION

Authoritative Literature
Definitions
Is the Information a Part of the Basic Financial Statements?
Are Forecasts and Projections That Accompany the Basic Financial Statements Considered to Be Supplementary Information?

1101 COMPOSITION OF SUPPLEMENTARY INFORMATION

Types of Supplementary Information
Presentation of Supplementary Information

1102 REPORTING ON SUPPLEMENTARY INFORMATION IN RELATION TO THE FINANCIAL STATEMENTS AS A WHOLE

Required Procedures
Location of Report on Supplementary Information
Auditor's Standard Report on Supplementary Information as a Separate Report

The Title.
Addressing the Report.
Reference to the Report on the Financial Statements.
Location of Report on Basic Financial Statements.
Purpose of Audit.
Identification of Supplementary Information.
Purpose of Supplementary Information.
Management's Responsibility for the Supplementary Information.
Auditors' Procedures.
Auditors' Opinion on Supplementary Information.
Firm's Signature and Location.
Date of the Auditor's Report.

Restricting the Use of a Separate Report on Supplementary Information
Reporting on Supplementary Information in an Other-matter Paragraph in the Auditor's Report on the Financial Statements
Supplementary Information Presented for Periods Prior to Those of the Financial Statements

1103 MODIFIED REPORTS

Misstated Information
Effect of Qualification on Basic Financial Statements
GAAP Departure
Scope Limitation
Going Concern Uncertainty
Effect of Adverse Opinion or Disclaimer of Opinion on Basic Financial Statements
Supplementary Data for Prior Years Related to Financial Statements Audited by Other Auditors

1104 DISCLAIMER OF OPINION ON SUPPLEMENTARY INFORMATION

Nonaccounting Information and Information Not Directly Related to the Basic Financial Statements

Designating the Information.
Illustrative Report.

May a Compilation or Review Report Be Issued in Lieu of the Disclaimer?
Supplementary Information Prepared Using Different Basis of Accounting
Opinion on Supplementary Accounting Information, Disclaimer on Nonaccounting Data

1105 CONSOLIDATING OR COMBINING INFORMATION
1106 CHARTS AND GRAPHS
1107 VOLUNTARY DISCLOSURES

Voluntary Disclosure of Required Supplementary Information
Voluntary Fair Value Disclosures

1108 OTHER INFORMATION IN DOCUMENTS CONTAINING AUDITED FINANCIAL STATEMENTS

Objectives and Requirements
Auditors' Responsibilities

Material Inconsistencies.

Material Misstatement of Fact in Other Information
Reporting on Other Information in Documents Containing Audited Financial Statements
Other Documents That Contain Audited Financial Statements

Reports by Management on the Effectiveness of an Entity's Internal Control over Financial Reporting.
Other References by Management to Internal Control over Financial Reporting, Including References to the Independent Auditor.

Other Information Contained in IRS Form 5500
Other Information in Electronic Sites Containing Audited Financial Statements

1109 CLIENT-REQUESTED REPORTING ON OTHER INFORMATION IN DOCUMENTS CONTAINING AUDITED FINANCIAL STATEMENTS
1110 SUMMARY INFORMATION IN COMPARATIVE FINANCIAL STATEMENTS
APPENDIX 11A: Auditor's Reports on Supplementary Information in Relation to the Financial Statements as a Whole

APPENDIX 11A-1: Unmodified Opinion on Supplementary Information--Separate Report (Report Drafting Illustration)
APPENDIX 11A-2: Unmodified Opinion on Supplementary Information--Other-matter Paragraph of Auditor's Standard Report (Report Drafting Illustration)
APPENDIX 11A-3: Unmodified Opinion on Supplementary Information--Other-matter Paragraph of Auditor's Standard Report When Only One Financial Statement Is Presented (Report Drafting Illustration)
APPENDIX 11A-4: Disclaimer of Opinion on All Supplementary Information--Separate Report (Report Drafting Illustration)
APPENDIX 11A-5: Disclaimer of Opinion on Part of the Supplementary Information--Separate Report (Report Drafting Illustration)
APPENDIX 11A-6: Disclaimer of Opinion on Nonaccounting Data--Separate Report (Report Drafting Illustration)
APPENDIX 11A-7: Unmodified Opinion on Supplementary Accounting Information But Disclaimer on Nonaccounting Data--Separate Report (Report Drafting Illustration)
APPENDIX 11A-8: Unmodified Opinion on Supplementary Information When Information Is Presented for Some Periods for Which Basic Financial Statements Are Not Presented--Separate Report (Report Drafting Illustration)
APPENDIX 11A-9: Qualified Report on Supplementary Information--Separate Report (Report Drafting Illustration)
APPENDIX 11A-10: Auditor's Report on Financial Statements That Contain Audited Voluntary Fair Value Information When Such Information Does Not Constitute a Complete Balance Sheet (Report Drafting Illustration)
APPENDIX 11A-11: Auditor's Report on Financial Statements That Contain Unaudited Voluntary Fair Value Information (Report Drafting Illustration)

APPENDIX 11B: Auditor's Reports on Other Information in Documents Containing Audited Financial Statements

APPENDIX 11B-1: Auditor's Report When Other Information in a Document Containing Audited Financial Statements Is Inconsistent with the Financial Statements (Report Drafting Illustration)
APPENDIX 11B-2: Auditor Requested to Report on Other Information in a Document Containing Audited Financial Statements (Report Drafting Illustration)
APPENDIX 11B-3: Qualified Report on Other Information in a Document Containing Audited Financial Statements When Auditor Is Requested to Report (Report Drafting Illustration)
CHAPTER 12: OTHER ENTITIES

1200 BACKGROUND INFORMATION

Names and Form of the Financial Statements
References to the Entity in the Report
Alternate Language for the Auditor's Report

1201 PARTNERSHIPS AND JOINT VENTURES

Definitions
Bases of Accounting
Standard Report

1202 S CORPORATIONS

Definition
Bases of Accounting
Standard Report
Corporate Conversions

1203 LIMITED LIABILITY COMPANIES
1204 PROPRIETORSHIPS

Definition
Auditability
Disclosure of the Nature of the Accounts
Bases of Accounting
Standard Report

1205 PERSONAL FINANCIAL STATEMENTS

Definition
Bases of Accounting
Auditing Estimated Current Values
Consistency
Completeness
Standard Report

1206 EMPLOYEE BENEFIT PLANS

Definition
Authoritative Literature
Bases of Accounting
Supplementary Information
Reporting Requirements
Standard Report--Defined Benefit Plan
Standard Report--Defined Contribution Plan
Reporting on Supplementary Information
Scope Limitation under DOL Regulations
Health and Welfare Benefit Plans

Defined Contribution Plan.
Defined Benefit Plan.

1207 NONPROFIT ORGANIZATIONS

Specific Accounting and Auditing Literature
Basic Financial Statements
Financial Statement Titles
Fund Accounting
Bases of Accounting
Standard Report
Standard Report on Voluntary Health and Welfare Organizations
Comparative Financial Statements
Reporting on Functional Expenses as Supplementary Information
Additional Requirements for Nonprofit Organizations That Receive Federal Awards
Reporting on Financial Statements Covering Periods Longer Than 12 Months

1208 STATE AND LOCAL GOVERNMENTAL UNITS
1209 DEVELOPMENT STAGE COMPANIES

Background
Financial Statements
Standard Report
Going Concern Uncertainties
Nonoperating Development Stage Companies
Former Development Stage Companies

1210 SUBSIDIARIES, BRANCHES, DIVISIONS, OR AFFILIATES

Related Party Considerations
Financial Statement Disclosures
Unique Disclosures for Subsidiaries, Branches, Divisions, or Affiliates
Audit Procedures
Standard Report
GAAP Departures
Scope Limitations

APPENDIX 12A: Auditor's Reports for Other Entities

APPENDIX 12A-1: Partnership--Income Tax Basis (Report Drafting Illustration)
APPENDIX 12A-2: Partnership--Accounting Treatment Required by the Partnership Agreement (Report Drafting Illustration)
APPENDIX 12A-3: S Corporation--GAAP Basis (Report Drafting Illustration)
APPENDIX 12A-4: S Corporation--Income Tax Basis (Report Drafting Illustration)
APPENDIX 12A-5: Limited Liability Company--GAAP Basis (Report Drafting Illustration)
APPENDIX 12A-6: Limited Liability Company--Income Tax Basis (Report Drafting Illustration)
APPENDIX 12A-7: Proprietorship--GAAP Basis (Report Drafting Illustration)
APPENDIX 12A-8: Proprietorship--Cash Basis (Report Drafting Illustration)
APPENDIX 12A-9: Personal Financial Statements--Standard Report (Report Drafting Illustration)
APPENDIX 12A-10: Personal Financial Statements--Income Tax Basis (Report Drafting Illustration)
APPENDIX 12A-11: Personal Financial Statements--GAAP Departure (Inappropriate Valuation Method) (Report Drafting Illustration)
APPENDIX 12A-12: Personal Financial Statements--GAAP Departure (Unjustified Change in Valuation Method) (Report Drafting Illustration)
APPENDIX 12A-13: Personal Financial Statements--Disclaimer of Opinion because of a Scope Limitation (Inadequate Accounting Records) (Report Drafting Illustration)
APPENDIX 12A-14: Personal Financial Statements--Statement of Financial Condition Only (Report Drafting Illustration)
APPENDIX 12A-15: Pension or Profit Sharing Plan--Standard Report; Defined Benefit Plan (Year-end Benefit Information Date) (Report Drafting Illustration)
APPENDIX 12A-16: Pension or Profit Sharing Plan--Standard Report; Defined Contribution Plan (Report Drafting Illustration)
APPENDIX 12A-17: Nonprofit Organization Other Than a Voluntary Health and Welfare Organization--Standard Report (Report Drafting Illustration)
APPENDIX 12A-18: Voluntary Health and Welfare Organization--Standard Report (Report Drafting Illustration)
APPENDIX 12A-19: Development Stage Company--Standard Report, Single Period (Report Drafting Illustration)
APPENDIX 12A-20: Development Stage Company--Standard Report, Comparative Periods (Report Drafting Illustration)
APPENDIX 12A-21: Development Stage Company--Emphasis-of-matter (Uncertainty about Ability to Continue as a Going Concern)
CHAPTER 13: SPECIAL REPORTS

1300 BACKGROUND INFORMATION

Scope of Chapter

Authoritative Literature on "Special Reports."

1301 REPORTS ON FINANCIAL STATEMENTS PREPARED IN ACCORDANCE WITH SPECIAL PURPOSE FRAMEWORKS

General Requirements
Reports on Financial Statements Prepared in Conformity with a Basis of Accounting Other Than GAAP (OCBOA)

What Is an OCBOA?
Application of an OCBOA.
Basic Financial Statements for an OCBOA.
Statement Titles.
Disclosures in OCBOA Statements.

Engagements to Report on OCBOA Statements

Standard Report on OCBOA Statements.
Circumstances Requiring Emphasis-of-matter Paragraphs.

1302 REGULATORY BASES OF ACCOUNTING

Applicability
Report on Regulatory Basis Financial Statements Used Solely for Regulatory Filing
Report on Regulatory Basis Financial Statements That Are Not Limited to Use in Regulatory Filings (Intended for General Use)
IRS Form 990

Can Form 990 Financial Statements Be Reported on as Tax Basis Financial Statements?

1303 TAX BASIS OF ACCOUNTING

Determining the Appropriate Basis
Uncertainties Regarding Tax Positions
Consolidation of Variable Interest Entities
Standard Report on Tax Basis Financial Statements
Reporting on Consistency When Tax Basis Financial Statements Are Presented

1304 CASH BASIS OF ACCOUNTING

Modifications Having Substantial Support
Standard Report on Cash Basis Financial Statements
Statement of Cash Receipts and Disbursements Only

1305 OTHER DEFINITE SETS OF CRITERIA (OTHER BASIS)
1306 SPECIAL-PURPOSE FINANCIAL STATEMENTS PREPARED ON A CONTRACTUAL BASIS OF ACCOUNTING
1307 REPORTING ON A SPECIAL-PURPOSE FINANCIAL PRESENTATION THAT DOES NOT CONSTITUTE A COMPLETE PRESENTATION BUT ONE THAT IS OTHERWISE IN CONFORMITY WITH GAAP OR OCBOA
1308 EXPRESSING AN OPINION ON SPECIFIED ELEMENTS, ACCOUNTS, OR ITEMS OF A FINANCIAL STATEMENT

General
Scope of Engagement
Legal Interpretations
Audits of Specified Elements in Conjunction with Audits of Financial Statements
Dating of Reports
Reporting
Report in Conjunction with an Audit
Report on a Separate Engagement
Report on a Specific Element Prepared on a Basis of Accounting Other Than GAAP

1309 REPORTS ON COMPLIANCE WITH ASPECTS OF CONTRACTUAL AGREEMENTS OR REGULATORY REQUIREMENTS IN CONNECTION WITH AUDITED FINANCIAL STATEMENTS
1310 PRESCRIBED REPORT FORMS
1311 REPORTING ON COMPANIES IN INSOLVENCY AND BANKRUPTCY PROCEEDINGS

General
Basis of Accounting
When Is Liquidation Imminent?
Uncertainties
Failure of a Company in Liquidation to Use Liquidation Accounting
Reporting by Companies in Reorganization under the Bankruptcy Code

1312 REPORTS ON APPLICATION OF ACCOUNTING PRINCIPLES

General
Oral Advice
Summary of Standards
Report Illustration

1313 REPORTING ON EXPIRED BUDGETS AND BUDGETS ACCOMPANYING INTERIM HISTORICAL FINANCIAL STATEMENTS

Expired Budget
Budgets Accompanying Interim Historical Financial Statements

1314 REPORTING ON SUMMARY FINANCIAL STATEMENTS

Authoritative Literature

Definitions.
Accepting an Engagement to Report on Summary Financial Statements.
Required Procedures.

Reporting on Summary Financial Statements

Date of the Report on Summary Financial Statements Is the Same as the Date of the Report on the Financial Statements.
Date of the Report on Summary Financial Statements Is Later Than Date of the Report on the Audited Financial Statements.
Reporting on Summary Financial Statements for a Single Period When Audited Financial Statements Are Comparative.

How Modifications of the Auditor's Report on the Audited Financial Statements Affect the Summary Financial Statements.

Qualified Report on Audited Financial Statements.
Emphasis-of-matter or Other-matter Paragraph in Report on Audited Financial Statements.
Auditor's Report on the Audited Financial Statements is Restricted.
Adverse Opinion or Disclaimer of Opinion on the Audited Financial Statement.

Summary Financial Statements Audited by a Predecessor
Summary Financial Statements Not Audited
Other Information Presented with Summary Financial Statements
Reference in a Management Document to the Auditor or to the Summary Financial Statements

1315 ATTESTATION STANDARDS

General

Authoritative Literature.
Hierarchy of SSAE Literature.
Definition of an Attest Engagement.
The Need for a Written Assertion.
Criteria.
Representation Letter.

Standards of Reporting
Report Illustrations

Examination Report.
Illustrative Examination Report.
Review Report.
Illustrative Review Report.

Report Modifications

General.
Scope Limitations.
Material Misstatements.
Restricted-use Reports.
Subsequent Events.

Other Information in Documents That Contain the Practitioner's Attest Report

Material Inconsistency.
Material Misstatement of Fact.

Applicability to Engagements Subject to Other Standards
Do the Attestation Standards Apply to Litigation Services?

APPENDIX 13A: Auditor's Reports on Financial Statements Prepared in Conformity with Other Comprehensive Bases of Accounting

APPENDIX 13A-1: Regulatory Basis--Statutory Insurance Basis, Report Used Solely for Regulatory Filing (Report Drafting Illustration)
APPENDIX 13A-2: Regulatory Basis--IRS Form 990 (Including Supplementary Information), Report Used Solely for Regulatory Filing (Report Drafting Illustration)
APPENDIX 13A-3: Regulatory Basis--Financial Statements Prepared by Contractor for Inclusion in Prequalification Filing, Report Used Solely for Regulatory Filing (Report Drafting Illustration)
APPENDIX 13A-4: Regulatory Basis--Statutory Insurance Basis, Report Is Not Limited to Use in Regulatory Filing (Report Drafting Illustration)
APPENDIX 13A-5: Income Tax Basis--Standard Report (Report Drafting Illustration)
APPENDIX 13A-6: Income Tax Basis--Departure from Basis of Accounting
APPENDIX 13A-7: Income Tax Basis--Scope Limitation
APPENDIX 13A-8: Cash Basis (Modified Cash Basis)--Unmodified Opinion (Report Drafting Illustration)
APPENDIX 13A-9: Cash Basis (Modified Cash Basis)--Departure from Basis of Accounting
APPENDIX 13A-10: Cash Basis (Modified Cash Basis)--Scope Limitation
APPENDIX 13A-11: Cash Basis--Statement of Cash Receipts and Disbursements Only
APPENDIX 13A-12: Report on Financial Statements Prepared Pursuant to a Loan Agreement
APPENDIX 13A-13: Report on Financial Statements Prepared Pursuant to an Acquisition Agreement
APPENDIX 13A-14: Liquidation Basis--Single Year (Company in Liquidation or When Liquidation Is Imminent)
APPENDIX 13A-15: Liquidation Basis--Comparative Financial Statements (Company in Liquidation or When Liquidation Is Imminent)
APPENDIX 13A-16: Liquidation Basis--Year of Adoption, Single-year Financial Statements (Company in Liquidation or When Liquidation Is Imminent)
APPENDIX 13A-17: Liquidation Basis--Year of Adoption, Comparative Financial Statements (Company in Liquidation or When Liquidation Is Imminent)
APPENDIX 13A-18: Special-purpose Presentation That Does Not Constitute a Complete Presentation But Is Otherwise in Accordance with an Other Comprehensive Basis of Accounting

APPENDIX 13B: Auditor's Reports on Specified Elements, Accounts, or Items of a Financial Statement

APPENDIX 13B-1: Report on Specified Elements, Accounts, or Items of a Financial Statement Prepared in Accordance with GAAP--Engagement in Connection with an Audit of Financial Statements (Report Drafting Illustration)
APPENDIX 13B-2: Contribution to a Profit Sharing Trust--Engagement in Connection with an Audit of Financial Statements
APPENDIX 13B-3: Incentive Compensation Plan--Engagement in Connection with an Audit of Financial Statements
APPENDIX 13B-4: Prescribed Schedule of Exploration Expenditures of a Regulated Company--Engagement in Connection with an Audit of Financial Statements
APPENDIX 13B-5: Report on Specified Elements, Accounts, or Items of a Financial Statement Prepared in Accordance with GAAP--Separate Engagement (Report Drafting Illustration)
APPENDIX 13B-6: Lease Agreement--Rent Based on Gross Sales--Separate Engagement
APPENDIX 13B-7: Net Departmental Bonuses--Separate Engagement

APPENDIX 13C: Reports on the Application of Accounting Principles

APPENDIX 13C-1: Report on the Application of Accounting Principles (Report Drafting Illustration)
APPENDIX 13C-2: Long-term Lease Transaction
APPENDIX 13C-3: Issuance of Additional Shares of Common Stock to Holders of Convertible Preferred Stock

APPENDIX 13D: Reports on Attest Engagements

APPENDIX 13D-1: Report on Examination Service (Report Drafting Illustration)
APPENDIX 13D-2: Report on Review Service (Report Drafting Illustration)
CHAPTER 14: REPORTING ON INTERNAL CONTROL

1400 BACKGROUND INFORMATION

Scope of Chapter
Authoritative Literature
Definitions

1401 IDENTIFYING, EVALUATING, AND COMMUNICATING CONTROL DEFICIENCIES

Objectives and Requirements
Including Other Matters in the Communication

Inherent Limitations of Internal Control.
Nature and Extent of the Consideration of the Internal Control.
Audits of Group Financial Statements.
Other Internal Control Deficiencies.

Use of the Communication
Recurring Items
Management's Response to the Auditor's Communication
Auditor Communication When There Are No Significant Deficiencies
Oral Communications

1402 COMMUNICATING SIGNIFICANT DEFICIENCIES IN INTERNAL CONTROL IDENTIFIED AS PART OF THE AUDIT
1403 COMMUNICATING MATERIAL WEAKNESSES IN INTERNAL CONTROL IDENTIFIED AS PART OF AN AUDIT, OR COMMUNICATING WHEN THERE ARE NO MATERIAL WEAKNESSES

Illustrative Communication
Reporting When There Are No Material Weaknesses

Illustrative Communication.
Interim Communications.
Drafting Form.

1404 EXAMINATION OF AN ENTITY'S INTERNAL CONTROL OVER FINANCIAL REPORTING THAT IS INTEGRATED WITH AN AUDIT OF ITS FINANCIAL STATEMENTS

The Attestation Standards and the Clarified Auditing Standards
Objective of an Examination of Internal Control That Is Integrated with the Audit of the Financial Statements

Definitions.
Engagement Acceptance.
Management's Assertion.
Suitable and Available Criteria.
Management's Representations.

Deficiencies in Internal Control
Other Communications
Procedures for an Integrated Audit
Reporting on the Examination of Internal Control in an Integrated Audit

Form of Report.
Required Elements.
Report Date.
Auditor's Report on Internal Control and the Clarified Auditing Standards for Reporting.
Material Weakness in Internal Control.
Scope Limitations.
Management's Report on Internal Control Contains Additional Information.
Opinion Based in Part on Report of Another Auditor.
Subsequent Events.

Other Information in Documents That Contain the Auditor's Report on the Effectiveness of the Entity's Internal Control

1405 SERVICE ORGANIZATIONS

Use of Service Organizations
Responsibilities of Service Auditors under SSAE No. 16, Reporting on Controls at Service Organizations

Report on Substantive Procedures.

1406 MANAGEMENT LETTERS

Authoritative Literature
What Are Management Points?
Communicating Management Points
Introductory Content of the Management Letter
Content of the Management Point
Documenting Management Points
Example of a Management Point
Topics for Management Letters

APPENDIX 14A: AU-C 265 Internal Control Communications

APPENDIX 14A-1: Communication of Significant Deficiencies (Drafting Illustration)
APPENDIX 14A-2: Communication of Significant Deficiencies and Material Weaknesses (Drafting Illustration)
APPENDIX 14A-3: Communication of No Material Weaknesses in a Separate Report (Drafting Illustration)

APPENDIX 14B: AT 501 Examination (Integrated Audit) Reports and Communications

APPENDIX 14B-1: Separate Report on Management's Assertion about the Effectiveness of the Entity's Internal Control (Report Drafting Illustration)
APPENDIX 14B-2: Separate Report--Adverse Opinion on the Entity's Internal Control (Report Drafting Illustration)
APPENDIX 14B-3: Separate Report--Disclaimer of Opinion on the Entity's Internal Control When There Is a Limitation on the Scope of the Examination (Report Drafting Illustration)
APPENDIX 14B-4: Separate Report on the Entity's Internal Control When the Auditor's Opinion Is Based in Part on the Report of Another Auditor (Report Drafting Illustration)
APPENDIX 14B-5: Combined Report on Internal Control and on the Financial Statements (Report Drafting Illustration)
APPENDIX 14B-6: Communication of Significant Deficiencies and Material Weaknesses in an Integrated Audit

APPENDIX 14C: Management Letters

APPENDIX 14C-1: Introduction to a Management Letter (Report Drafting Illustration)
APPENDIX 14C-2: Management Letter Points
CPE and Training Solutions