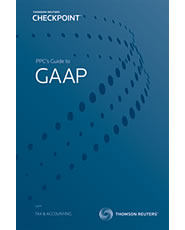 PPC's Guide to GAAP
Product Information
Frequency of Updates:

Annually

Brand:

Practitioners Publishing
Accounting principles generally accepted in the United States of America (GAAP) for nongovernmental entities are voluminous, complex, and constantly changing. PPC's Guide to GAAP is an up-to-date, comprehensive, and easy-to-use resource for researching and applying GAAP. With its clear and concise guidance, examples, practice aids, and practical considerations, you'll find this Guide to be a valuable, timesaving tool for researching and applying GAAP.
Organized by topics found in the FASB Accounting Standards Codification (ASC) and with an easy-to-use topical index and cross-reference to the FASB ASC, this Guide makes it simple to find the answers you need quickly. Rather than just repeating the underlying authoritative standards, the Guide uses clear, concise language to reduce the technical jargon of the FASB to easy-to-understand advice and guidance.
The Guide includes the following useful features:
65 chapters addressing both general and specialized industry standards
Numerous practical examples and useful guidance
A comprehensive disclosure checklist summarizing the primary disclosures that should be included in financial statements of nonpublic, nongovernmental entities
Coverage of the FASB ASC, Accounting Standards Updates of the FASB ASC, and exposure drafts of proposed new accounting standards
Available in multiple formats, this Guide can help you confidently address almost every situation you might encounter in applying GAAP.  
List of Content (Click any title to expand the list)
INTRODUCTORY MATERIAL

PREFACE
PEER REVIEW OF THIS GUIDE
HOW TO USE THE GUIDE
ACKNOWLEDGMENTS
ABOUT THE AUTHORS . . .
GENERAL STANDARDS

Chapter 1: ACCOUNTING CHANGES AND ERROR CORRECTIONS

OVERVIEW
ACCOUNTING REQUIREMENTS

CHANGE IN ACCOUNTING PRINCIPLE

Definition of a Change in Accounting Principle

Circumstances That Are Not Changes in Accounting Principle.
Change in Components of Inventory Cost.
Changes Prescribed by New or Existing Accounting Standards.
Justifying Changes in Accounting Principles.

Accounting Treatment of a Change in Accounting Principle
Retrospective Application

Method of Application.
Impracticability.

Changes in Depreciation Methods

Adopting a New Depreciation Method.
Planned Change in Depreciation Method.

Changes in Interim Periods

CHANGE IN ACCOUNTING ESTIMATE

Change in Salvage Value and Estimated Useful Life

CHANGE IN REPORTING ENTITY

Definition of a Change in Reporting Entity
Identifying a Change in Reporting Entity

PRIOR PERIOD ADJUSTMENTS

Adjustment Related to Prior Interim Periods of the Current Fiscal Year

DISCLOSURE REQUIREMENTS

ACCOUNTING CHANGES

Accounting Changes--Interim Periods
Future Accounting Changes

PRIOR PERIOD ADJUSTMENTS

Correction of an Error
Adjustment Related to a Prior Interim Period of the Current Fiscal Year

RELATED TOPICS

Chapter 2: ACCOUNTING POLICIES

OVERVIEW
DISCLOSURE REQUIREMENTS

SUMMARY OF SIGNIFICANT ACCOUNTING POLICIES

General Requirements
Applying the General Requirements
Specifically Required Accounting Policy Disclosures

RELATED TOPICS

Chapter 3: ADVERTISING

OVERVIEW
ACCOUNTING REQUIREMENTS

DIRECT-RESPONSE ADVERTISING
AMORTIZATION OF CAPITALIZED ADVERTISING COSTS
PERIODIC ASSESSMENT OF CAPITALIZED ADVERTISING COSTS
TANGIBLE ASSETS USED IN ADVERTISING

DISCLOSURE REQUIREMENTS
RELATED TOPICS

Chapter 4: ASSET RETIREMENT AND ENVIRONMENTAL OBLIGATIONS

OVERVIEW
ACCOUNTING REQUIREMENTS

ASSET RETIREMENT OBLIGATIONS

Initial Recognition and Measurement of the Liability
Recognizing and Allocating Asset Retirement Cost
Subsequent Recognition and Measurement
Funding and Assurance Provisions

ENVIRONMENTAL REMEDIATION LIABILITIES

When to Accrue a Liability
Estimating Environmental Remediation Costs
Discounting Environmental Liabilities
Allocating Shared Costs among Responsible Parties
Claims for Recovery

DISCLOSURE REQUIREMENTS

ASSET RETIREMENT OBLIGATIONS
ENVIRONMENTAL REMEDIATION LIABILITIES

Accounting Policies
Accrued Liabilities
Unaccrued Contingencies
Unasserted Claims

RELATED TOPICS

Chapter 5: BALANCE SHEET

OVERVIEW
ACCOUNTING REQUIREMENTS

CURRENT ASSETS AND CURRENT LIABILITIES

Current Assets
Current Liabilities

OFFSETTING ASSETS AND LIABILITIES

Offsetting Securities against Taxes Payable
Offsetting Derivative Instruments

Master Netting Arrangements.

Offsetting Receivables and Payables from Repurchase and Reverse Repurchase Agreements
Other Circumstances

DISCLOSURE REQUIREMENTS

CURRENT ASSETS AND CURRENT LIABILITIES
OFFSETTING ASSETS AND LIABILITIES
ADDITIONAL DISCLOSURES FOR FISCAL YEARS BEGINNING ON OR AFTER JANUARY 1, 2013

RELATED TOPICS

Chapter 6: BUSINESS COMBINATIONS

OVERVIEW

BUSINESS COMBINATIONS
TRANSACTIONS BETWEEN ENTITIES UNDER COMMON CONTROL

ACCOUNTING REQUIREMENTS

BUSINESS COMBINATIONS

Definition of a Business Combination
Method of Accounting

Identifying the Acquirer.
Determining the Acquisition Date.
Recognizing Identifiable Assets Acquired, Liabilities Assumed, and Noncontrolling Interests.
Measuring Identifiable Assets Acquired, Liabilities Assumed, and Noncontrolling Interests.
Recognition and Measurement Exceptions.
Recognizing and Measuring Goodwill.
Bargain Purchases.
Combinations Achieved in Stages.
Combinations Achieved without a Transfer of Consideration.

Consideration Transferred

Contingent Consideration.

Measurement Period
Determining What Is Part of the Business Combination

Acquisition-Related Costs.

Accounting Subsequent to the Business Combination

Reacquired Rights.
Contingencies Recognized at the Acquisition Date.
Indemnification Assets.
Contingent Consideration.

TRANSACTIONS BETWEEN ENTITIES UNDER COMMON CONTROL

DISCLOSURE REQUIREMENTS

BUSINESS COMBINATIONS

Additional Disclosures for Publicly Held Companies

TRANSACTIONS BETWEEN ENTITIES UNDER COMMON CONTROL

RELATED TOPICS

Chapter 7: CASH FLOWS STATEMENT

OVERVIEW
ACCOUNTING REQUIREMENTS

WHEN SHOULD THE STATEMENT BE PRESENTED?
DEFINITION OF CASH AND CASH EQUIVALENTS
BASIC ELEMENTS OF THE STATEMENT OF CASH FLOWS

Presenting Gross and Net Cash Flows

CASH FLOWS FROM OPERATING ACTIVITIES

What Is Included?
Formats for Presenting Cash Flows from Operations

Direct Method.
Indirect Method.
Agency Transactions.

Extraordinary Items and Discontinued Operations
Other Adjustments to Arrive at Net Cash Flows from Operating Activities

CASH FLOWS FROM INVESTING ACTIVITIES

Noncash Investing Activities
Capital Expenditures
Investments

Short-term Investments versus Cash Equivalents.
Investments That Are Not Cash Equivalents.
Interest and Dividend Income.

Making Loans
Purchase (Sale) of a Business

CASH FLOWS FROM FINANCING ACTIVITIES

Noncash Financing Activities
Cash Dividends
Issuing Stock
Short-term and Long-term Debt
Repurchase or Redemption of Shares
Derivatives That Include a Financing Element
Excess Tax Benefits under Share-based Payment Arrangements

NONCASH INVESTING AND FINANCING ACTIVITIES

Assets Acquired by Assuming Liabilities
Converting Debt to Equity
Converting Stock
Liabilities Settled by Transferring Assets or Issuing Shares
Noncash Dividends
Purchase (Sale) of a Business

CASH FLOW PER SHARE
EXAMPLE OF A STATEMENT OF CASH FLOWS

DISCLOSURE REQUIREMENTS
RELATED TOPICS

Chapter 8: CHANGING PRICES

OVERVIEW
DISCLOSURE REQUIREMENTS

SUGGESTED MINIMUM DISCLOSURES
ADDITIONAL DISCLOSURES ABOUT THE CURRENT YEAR
ADDITIONAL DISCLOSURES FOR BUSINESSES WITH MINERAL RESOURCE ASSETS
DETERMINING CURRENT COSTS

Specialized Assets

Timberlands and Growing Timber, Income-producing Real Estate, and Motion Picture Films.
Mineral Resource Assets.

RELATED TOPICS

Chapter 9: COMMITMENTS

OVERVIEW
DISCLOSURE REQUIREMENTS

GENERAL
UNCONDITIONAL PURCHASE OBLIGATIONS

Unrecorded Unconditional Purchase Obligations
Recorded Unconditional Purchase Obligations

RELATED TOPICS

Chapter 10: COMPENSATION--GENERAL

OVERVIEW
ACCOUNTING REQUIREMENTS

COMPENSATED ABSENCES
DEFERRED COMPENSATION ARRANGEMENTS

DISCLOSURE REQUIREMENTS

COMPENSATED ABSENCES
DEFERRED COMPENSATION ARRANGEMENTS

RELATED TOPICS

Chapter 11: COMPREHENSIVE INCOME

OVERVIEW
ACCOUNTING REQUIREMENTS

WHAT IS COMPREHENSIVE INCOME?
REPORTING COMPREHENSIVE INCOME

Reporting Noncontrolling Interests
Interim Reporting

REPORTING ACCUMULATED COMPREHENSIVE INCOME IN THE BALANCE SHEET

DISCLOSURE REQUIREMENTS
RELATED TOPICS

Chapter 12: CONSOLIDATION

OVERVIEW
ACCOUNTING REQUIREMENTS

CONSOLIDATION PROCEDURES

Income Taxes on Intercompany Profits

Consolidated Tax Return.
Separate Tax Returns.

Acquisition of Subsidiary during the Year
Noncontrolling Interests
Disposition of Subsidiary during the Year
Changes in Ownership Interest in a Subsidiary
Deconsolidation of a Subsidiary or Derecognition of a Group of Assets
Fiscal Years of Parent and Subsidiaries Differ
Shares of Parent Held by Subsidiary
Example of a Consolidation

VARIABLE INTEREST ENTITIES

Determining Whether an Entity Is a VIE
Who Is the Primary Beneficiary?
Measuring the VIE's Assets, Liabilities, and Noncontrolling Interests

CONSOLIDATION OF LIMITED PARTNERSHIPS

Substantive Ability to Liquidate the Limited Partnership or Remove General Partners
Substantive Participating Rights
Assessing Limited Partner Rights

CONSOLIDATION OF A CORPORATION AND PROPRIETORSHIP
COMBINED FINANCIAL STATEMENTS
PARENT COMPANY STATEMENTS

DISCLOSURE REQUIREMENTS

GENERAL
VARIABLE INTEREST ENTITIES

RELATED TOPICS

Chapter 13: CONTINGENCIES

OVERVIEW
ACCOUNTING REQUIREMENTS

LOSS CONTINGENCIES

Contingencies Arising after the Financial Statement Date
Applying the Rules to Specific Loss Contingencies

Uninsured Risks.
Expropriation of Assets.
Litigation, Claims, and Assessments.
Preacquisition Contingencies.

GAIN CONTINGENCIES
SUBSEQUENT EVENTS

DISCLOSURE REQUIREMENTS

LOSS CONTINGENCIES
GAIN CONTINGENCIES
SUBSEQUENT EVENTS

RELATED TOPICS

Chapter 14: DEBT

OVERVIEW

OBLIGATIONS EXPECTED TO BE REFINANCED
CALLABLE OBLIGATIONS
DEBT WITH CONVERSION AND OTHER OPTIONS
PARTICIPATING MORTGAGE LOANS
PRODUCT FINANCING ARRANGEMENTS
MODIFICATIONS AND EXTINGUISHMENTS
TROUBLED DEBT RESTRUCTURINGS
INSURANCE-RELATED ASSESSMENTS

ACCOUNTING REQUIREMENTS

OBLIGATIONS EXPECTED TO BE REFINANCED
CALLABLE OBLIGATIONS

Subjective Acceleration Clauses

DEBT WITH CONVERSION AND OTHER OPTIONS

Issuance of Convertible Debt
Conversion of Convertible Debt
Debt with Detachable Stock Purchase Warrants

Issuance of Debt with Detachable Stock Purchase Warrants.
Conversion of Detachable Stock Purchase Warrants.

PARTICIPATING MORTGAGE LOANS

Accounting for Participation in the Mortgaged Asset's Appreciation
Interest Expense
Extinguishment of Participating Mortgage Loans

PRODUCT FINANCING ARRANGEMENTS

Characteristics of Product Financing Arrangements
Criteria for Treatment as a Product Financing Arrangement
Accounting for Product Financing Arrangements

MODIFICATIONS AND EXTINGUISHMENTS

Modifications to Line-of-credit Arrangements
Debt Extinguishments

TROUBLED DEBT RESTRUCTURINGS

Transfers of Assets in Full Settlement
Grant of Equity Interest in Full Settlement
Modification of Terms
Combination of Types
Related Issues

Restructuring Costs.
Contingently Payable Amounts.

INSURANCE-RELATED ASSESSMENTS

Recognizing Insurance-related Assessments

Retrospective-premium-based Guaranty Fund Assessments.
Prospective-premium-based Guaranty Fund Assessments.
Prefunded-premium-based Guaranty Fund Assessments and Other Premium-based Assessments.
Loss-based Assessments.
Administrative-type Assessments.

Estimating Liabilities
Premium Tax Offsets and Policy Surcharges

DISCLOSURE REQUIREMENTS

LONG-TERM OBLIGATIONS--GENERAL
OBLIGATIONS EXPECTED TO BE REFINANCED
CALLABLE OBLIGATIONS
DEBT WITH CONVERSION AND OTHER OPTIONS
PARTICIPATING MORTGAGE LOANS
PRODUCT FINANCING ARRANGEMENTS
MODIFICATIONS AND EXTINGUISHMENTS
TROUBLED DEBT RESTRUCTURINGS
INSURANCE-RELATED ASSESSMENTS

RELATED TOPICS

Chapter 15: DERIVATIVES AND HEDGING

OVERVIEW
ACCOUNTING REQUIREMENTS

WHAT ARE DERIVATIVES?

Contracts Not Subject to the Guidance in This Chapter
Embedded Derivatives

FAIR VALUE HEDGES

Accounting for Fair Value Hedges

Hedge Ineffectiveness.
Foreign Currency Fair Value Hedges.

Illustration of Accounting for a Fair Value Hedge
Impairment

CASH FLOW HEDGES

Accounting for Cash Flow Hedges

Foreign Currency Cash Flow Hedges.

Illustration of Accounting for a Cash Flow Hedge
Impairment

FOREIGN CURRENCY HEDGES OF A NET INVESTMENT IN A FOREIGN OPERATION
SPECIAL CONSIDERATIONS FOR NOT-FOR-PROFIT ENTITIES AND OTHER ENTITIES THAT DO NOT REPORT EARNINGS
CONTRACTS IN AN ENTITY'S OWN EQUITY
WEATHER DERIVATIVES

Accounting for Nontrading Activities

Non-exchange-traded Forward-based Weather Derivatives.
Non-exchange-traded Option-based Weather Derivatives.
Embedded Premium or Discount.

Accounting for Trading Activities

DISCLOSURE REQUIREMENTS

GENERAL DISCLOSURES
CONTRACTS IN AN ENTITY'S OWN EQUITY
WEATHER DERIVATIVES

RELATED TOPICS

Chapter 16: EARNINGS PER SHARE

OVERVIEW
ACCOUNTING REQUIREMENTS

BASIC EARNINGS PER SHARE
DILUTED EARNINGS PER SHARE

General Rules
Options, Warrants, and Their Equivalents

Written Put Options.
Purchased Options.
Options and Warrants to Purchase Convertible Securities.
Debt or Other Securities Tendered as Payment of Option Price.

Convertible Debt and Convertible Preferred Stock
Contracts That May Be Settled in Stock or Cash
Contingently Issuable Shares

Contingently Returnable Shares.

Rights Issues
Share-based Compensation Plans
Example Calculation

OTHER CONSIDERATIONS

Participating Securities and Two-class Common Stock
Securities of Subsidiaries
Prior Period Adjustments

DISCLOSURE REQUIREMENTS
RELATED TOPICS

Chapter 17: EQUITY

OVERVIEW
ACCOUNTING REQUIREMENTS

CONTRIBUTED CAPITAL

Capital Stock
Additional Paid-in Capital
Stock Subscriptions Receivable
Treasury Stock

Acquiring Treasury Stock at a Price Significantly in Excess of Market Price.

RETAINED EARNINGS

Stock Dividends
Stock Splits
Appropriating Retained Earnings

TRANSACTIONS WITH NONEMPLOYEES
SPINOFFS AND REVERSE SPINOFFS

DISCLOSURE REQUIREMENTS

CAPITAL STOCK

Preferred Stock
Treasury Stock
Redeemable Stock

CONTINGENTLY CONVERTIBLE SECURITIES
CHANGES IN CAPITAL ACCOUNTS
TRANSACTIONS WITH NONEMPLOYEES

RELATED TOPICS

Chapter 18: EXIT OR DISPOSAL COST OBLIGATIONS

OVERVIEW
ACCOUNTING REQUIREMENTS

ONE-TIME TERMINATION BENEFITS

Not Required to Render Service
Required to Render Service
Changes to the Plan
Voluntary and Involuntary Benefits

CONTRACT TERMINATION COSTS
OTHER ASSOCIATED COSTS
REPORTING

DISCLOSURE REQUIREMENTS
RELATED TOPICS

Chapter 19: EXPENSES--OTHER

OVERVIEW
ACCOUNTING REQUIREMENTS

START-UP COSTS
INSURANCE COSTS

General Rule
Retroactive Contracts
Claims-made Insurance Policies

Claims-made Insurance Policies that Represent Purchased Retroactive Insurance Contracts.

Multiple-year Retrospectively Rated Contracts

CONTRIBUTIONS MADE
PROPERTY TAXES
BUSINESS AND TECHNOLOGY REENGINEERING
ELECTRONIC EQUIPMENT WASTE OBLIGATIONS
FEES PAID TO THE FEDERAL GOVERNMENT BY PHARMACEUTICAL MANUFACTURERS AND HEALTH INSURERS

DISCLOSURE REQUIREMENTS
RELATED TOPICS

Chapter 20: FAIR VALUE MEASUREMENTS

OVERVIEW
ACCOUNTING REQUIREMENTS

FAIR VALUE MEASUREMENTS AFTER THE EFFECTIVE DATE OF ASU 2011-04

The Definition of Fair Value

The Assets or Liabilities.
The Transaction.
Market Participants.
The Price.
Nonfinancial Asset Valuation Considerations.
Liabilities and Stockholders' Equity Valuation Considerations.
Measurement Exception for Financial Assets and Financial Liabilities with Offsetting Positions in Market Risks or Counterparty Credit Risk.

Initial Recognition
Valuation Techniques
Valuation Inputs and the Fair Value Hierarchy

Level 1 Inputs.
Level 2 Inputs.
Level 3 Inputs.
Bid and Ask Prices.
Investments in Entities That Calculate Net Asset Value Per Share.

Inactive Markets

FAIR VALUE MEASUREMENTS BEFORE THE EFFECTIVE DATE OF ASU 2011-04

The Definition of Fair Value

The Assets or Liabilities.
The Price.
The Market.
Market Participants.
Asset Valuation Considerations.
Liability Valuation Considerations.

Initial Recognition
Valuation Techniques
Valuation Inputs and the Fair Value Hierarchy

Level 1 Inputs.
Level 2 Inputs.
Level 3 Inputs.
Bid and Ask Prices.
Investments in Entities That Calculate Net Asset Value Per Share.

Inactive Markets

DISCLOSURE REQUIREMENTS

FAIR VALUE MEASUREMENTS AFTER THE EFFECTIVE DATE OF ASU 2011-04
FAIR VALUE MEASUREMENTS BEFORE THE EFFECTIVE DATE OF ASU 2011-04
INVESTMENTS IN ENTITIES THAT CALCULATE NET ASSET VALUE PER SHARE
OTHER DISCLOSURES

RELATED TOPICS

Chapter 21: FINANCIAL INSTRUMENTS

OVERVIEW

FAIR VALUE OPTION
REGISTRATION PAYMENT ARRANGEMENTS
FINANCIAL INSTRUMENT DISCLOSURES

ACCOUNTING REQUIREMENTS

WHAT ARE FINANCIAL INSTRUMENTS?
FAIR VALUE OPTION

Nature and Objective of the Fair Value Option
Eligible Items
Applying the Fair Value Option

Election Dates.
Application to Instruments.

Insurance Contracts

REGISTRATION PAYMENT ARRANGEMENTS

DISCLOSURE REQUIREMENTS

CONCENTRATIONS OF CREDIT RISK

Financial Instruments Excluded from Concentrations of Credit Risk Disclosure Requirements
Optional Disclosures about Market Risk

FAIR VALUE OF FINANCIAL INSTRUMENTS

Financial Instruments Excluded from Fair Value Disclosure Requirements

FAIR VALUE OPTION
REGISTRATION PAYMENT ARRANGEMENTS

RELATED TOPICS

Chapter 22: FOREIGN CURRENCY MATTERS

OVERVIEW
ACCOUNTING REQUIREMENTS

OBJECTIVES

Functional Currency

Changing the Functional Currency.

TRANSLATING FOREIGN CURRENCY STATEMENTS

Remeasuring the Books of Record into the Functional Currency

Applying Lower of Cost or Market Rules to Remeasured Inventory.

Translating Foreign Currency Statements into the Reporting Currency
Foreign Entities in Highly Inflationary Economies

FOREIGN CURRENCY TRANSACTIONS

Transaction Gains and Losses to Be Excluded from Net Income
Hedges of Firm Commitments

INCOME TAX CONSIDERATIONS
ELIMINATION OF INTERCOMPANY PROFITS

DISCLOSURE REQUIREMENTS
RELATED TOPICS

Chapter 23: GUARANTEES

OVERVIEW
ACCOUNTING REQUIREMENTS

GUARANTEES

Contributions
Residual Value Guarantees

PRODUCT WARRANTY OBLIGATIONS

DISCLOSURE REQUIREMENTS
RELATED TOPICS

Chapter 24: INCOME STATEMENT

OVERVIEW
ACCOUNTING REQUIREMENTS

COMPONENTS OF NET INCOME AND BASIC PRINCIPLES

Recognizing Revenues, Expenses, Gains, and Losses

Revenues.
Expenses.
Gains and Losses.

EXTRAORDINARY ITEMS

Examples of Items That Are Not Extraordinary Items
Costs Incurred to Defend Against a Takeover
Income Statement Presentation
Adjustment of Prior-period Extraordinary Items

UNUSUAL OR INFREQUENT ITEMS
BUSINESS INTERRUPTION INSURANCE
COLLABORATIVE ARRANGEMENTS

DISCLOSURE REQUIREMENTS

EXTRAORDINARY ITEMS
UNUSUAL OR INFREQUENT ITEMS
BUSINESS INTERRUPTION INSURANCE
COLLABORATIVE ARRANGEMENTS

RELATED TOPICS

Chapter 25: INCOME TAXES

OVERVIEW
ACCOUNTING REQUIREMENTS

IDENTIFYING TEMPORARY DIFFERENCES

Taxable versus Deductible Temporary Differences

MEASURING DEFERRED TAX ASSETS AND LIABILITIES

Selecting a Tax Rate

Selecting a Tax Rate When Graduated Rates Are a Significant Factor.
Selecting a Tax Rate When Special Rates Apply.
Special Considerations When Tax Losses Are Expected during the Reversal Period.
Should Federal Alternative Minimum Tax Rates Be Considered?
Changes in Future Tax Rates.

Considering the Need for a Deferred Tax Asset Valuation Allowance

CALCULATING THE INCOME TAX PROVISION
FINANCIAL STATEMENT PRESENTATION

Classifying Deferred Tax Assets and Liabilities

Offsetting Assets and Liabilities.

Intraperiod Tax Allocation

Allocating the Tax Benefits of Loss Carrybacks and Carryforwards.

SPECIAL AREAS

Change in Tax Status
Multiple Tax Jurisdictions
Discounting Deferred Taxes
Temporary Differences Whose Reversal Is Indefinite
Income Taxes on Intercompany Profits
Separate Financial Statements of a Subsidiary
Interim Period Financial Statements

Changes in Tax Rates or New Tax Legislation.
Uncertainty in Income Taxes.

Accounting for Investment Tax Credits
Uncertainty in Income Taxes

DISCLOSURE REQUIREMENTS
RELATED TOPICS

Chapter 26: INTANGIBLES--GOODWILL AND OTHER

OVERVIEW
ACCOUNTING REQUIREMENTS

WHAT ARE INTANGIBLE ASSETS?
ACCOUNTING FOR INTANGIBLE ASSETS OTHER THAN GOODWILL

Valuing Intangible Assets

Purchased Intangibles.
Internally Developed Intangibles.

Accounting for Intangible Assets

Intangible Assets Subject to Amortization.
Intangible Assets Not Subject to Amortization.
Accounting for Impairment.

ACCOUNTING FOR GOODWILL

Determining the Reporting Units
Two-step Goodwill Impairment Test

Testing by a Subsidiary.
Testing When a Noncontrolling Interest Exists.
Testing after Disposal of All or a Portion of a Reporting Unit.

ACCOUNTING FOR WEBSITE DEVELOPMENT COSTS

Planning the Website
Developing the Applications and Infrastructure
Developing Graphics
Developing Content
Operating the Site

DISCLOSURE REQUIREMENTS

INTANGIBLE ASSETS OTHER THAN GOODWILL
GOODWILL
FINANCIAL STATEMENT PRESENTATION

Intangible Assets
Goodwill

RELATED TOPICS

Chapter 27: INTEREST

OVERVIEW

CAPITALIZED INTEREST
IMPUTED INTEREST

ACCOUNTING REQUIREMENTS

CAPITALIZED INTEREST

Why Capitalize Interest Costs?
Qualifying Assets

Land.
Oil and Gas Producing Operations.

Determining the Amount of Interest Cost to Capitalize

Capitalization Period.
Capitalization Rate.
Average Accumulated Expenditures.
Considerations for Consolidated Entities.

Financing Qualifying Assets with Tax-exempt Borrowings

An Example with Tax-exempt Borrowings.

IMPUTED INTEREST

Determining the Appropriate Interest Rate
Discount and Premium

Amortization.
Financial Statement Presentation.

Illustration

DISCLOSURE REQUIREMENTS

CAPITALIZED INTEREST
IMPUTED INTEREST
STATEMENT OF CASH FLOWS

RELATED TOPICS

Chapter 28: INTERIM REPORTING

OVERVIEW
ACCOUNTING REQUIREMENTS

REVENUE AND EXPENSE RECOGNITION
INVENTORIES
CHANGES IN ACCOUNTING PRINCIPLES
ADJUSTMENTS RELATED TO PRIOR INTERIM PERIODS

DISCLOSURE REQUIREMENTS

DISCLOSURES FOR ACCOUNTING CHANGES AND ERROR CORRECTIONS
DISCLOSURES FOR PUBLIC COMPANIES

RELATED TOPICS

Chapter 29: INVENTORY

OVERVIEW
ACCOUNTING REQUIREMENTS

DEFINITION
INVENTORY VALUATION

Identifying Product Costs
Methods Used to Charge Inventory to Cost of Sales
Lower of Cost or Market Rule
Stating Inventories above Cost

LOSSES ON FIRM PURCHASE COMMITMENTS
CONSIGNED INVENTORIES

DISCLOSURE REQUIREMENTS
RELATED TOPICS

Chapter 30: INVESTMENTS--DEBT AND EQUITY SECURITIES

OVERVIEW
ACCOUNTING REQUIREMENTS

DEBT AND EQUITY SECURITIES

Classifying and Accounting for Investments in Securities

Held-to-maturity Securities.
Trading Securities.
Available-for-sale Securities.

Accounting for Changes in Fair Value
Financial Assets Subject to Prepayment
Impairment of Securities

Evaluating Whether an Impairment Is Other Than Temporary.
Recognizing Impairment.
Subsequent Accounting for Impaired Debt Securities.
Presentation of Other-than-temporary Impairment.

Transferring Securities between Categories
Unrealized Losses on Investments in Securities Owned by an Equity Method Investee
Debt Securities Restructured in a Troubled Debt Restructuring

DISCLOSURE REQUIREMENTS

GENERAL
IMPAIRMENT OF SECURITIES

RELATED TOPICS

Chapter 31: INVESTMENTS--EQUITY METHOD AND JOINT VENTURES

OVERVIEW
ACCOUNTING REQUIREMENTS

CRITERIA FOR USING THE EQUITY METHOD
APPLYING THE EQUITY METHOD

Accounting for Investee Losses When the Investor Has Other Investments in the Investee
Differences in Fiscal Years
Income Taxes
Changing to or from the Equity Method
Investee Capital Transactions

DISCLOSURE REQUIREMENTS
RELATED TOPICS

Chapter 32: INVESTMENTS--OTHER

OVERVIEW
ACCOUNTING REQUIREMENTS

COST METHOD INVESTMENTS
LIFE INSURANCE
INVESTMENTS IN LIFE SETTLEMENT CONTRACTS

DISCLOSURE REQUIREMENTS

COST METHOD INVESTMENTS
LIFE INSURANCE
INVESTMENTS IN LIFE SETTLEMENT CONTRACTS

RELATED TOPICS

Chapter 33: LEASES

OVERVIEW

CLASSIFYING LEASES
ACCOUNTING FOR LEASES--LESSEES
ACCOUNTING FOR LEASES--LESSORS
OTHER LEASE TRANSACTIONS

ACCOUNTING REQUIREMENTS

TYPES OF LEASES

Classifying Leases--Lessees

Ownership Transfer Test.
Bargain Purchase Option Test.
The 75% Test.
The 90% Test.

Classifying Leases--Lessors

ACCOUNTING FOR LEASES--LESSEES

Capital Leases
Operating Leases

Contingent Rentals.
Right to Control the Use of the Asset Is Equivalent to Physical Use.
Lease Incentives.

Maintenance Deposits

ACCOUNTING FOR LEASES--LESSORS

Sales-type Leases
Direct Financing Leases
Leveraged Leases
Operating Leases

Incentive Payments by Lessors.
Contingent Rentals.
Losses on Operating Leases.

CHANGES, EXTENSIONS, AND TERMINATIONS

Changes in Lease Provisions

Lessee Accounting.
Lessor Accounting.

Renewals and Extensions

Original Lease Contains a Guarantee or Penalty.
Original Lease Does Not Contain a Guarantee or Penalty.
Classifying Renewals or Extensions as Sales-type Leases.

Terminations
Changes in Estimates or Circumstances

TRANSFER OF LEASED PROPERTY, RENTAL PAYMENTS, OR RESIDUAL VALUE INTERESTS

Transfer of Leased Property or Rental Payments

Subject to Sales-type or Direct Financing Lease.
Subject to Operating Lease.

Acquisition of Residual Value Interest

LEASES INVOLVING REAL ESTATE

Leases Involving Land Only
Leases Involving Land and Buildings

Lease Transfers Ownership or Contains a Bargain Purchase Option.
Lease Does Not Transfer Ownership or Contain a Bargain Purchase Option.

Leases Involving Land, Buildings, and Equipment
Leases Involving Only Part of a Building

RELATED PARTY LEASES
SUBLEASES AND SIMILAR TRANSACTIONS

New Lessee Substituted through a New Agreement
New Lessee Substituted under the Original Agreement--New Lessee Primarily Obligated
New Lessee Substituted Under the Original Agreement--Original Lessee Primarily Obligated (Sublease)

Original Lease Was an Operating Lease.
Original Lease Was a Capital Lease.

Losses on Subleases

BUSINESS COMBINATIONS
LEASES WITH GOVERNMENTAL ENTITIES

Fiscal Funding Clauses
Property Owned by a Governmental Unit or Authority

MONEY-OVER-MONEY LEASE TRANSACTIONS
SALE-LEASEBACK TRANSACTIONS

Purchaser-lessor Accounting
Seller-lessee Accounting

Sale-leaseback Transactions Involving Real Estate.

WRAP LEASE TRANSACTIONS
LEASES AND ASSET RETIREMENT OBLIGATIONS

DISCLOSURE REQUIREMENTS

GENERAL DISCLOSURES ABOUT LEASES
LEVERAGED LEASES
SALE-LEASEBACK TRANSACTIONS

RELATED TOPICS

Chapter 34: LIABILITIES VS EQUITY

OVERVIEW
ACCOUNTING REQUIREMENTS

FINANCIAL INSTRUMENTS WITH CHARACTERISTICS OF LIABILITIES AND EQUITY

Mandatorily Redeemable Shares
Obligations to Repurchase the Issuer's Equity Shares by Transferring Assets
Certain Obligations to Issue a Variable Number of Shares

RECOGNITION AND MEASUREMENT

DISCLOSURE REQUIREMENTS
RELATED TOPICS

Chapter 35: LIMITED LIABILITY ENTITIES

OVERVIEW
DISCLOSURE REQUIREMENTS

WHAT ARE LIMITED LIABILITY ENTITIES?
PRESENTATION AND DISCLOSURE MATTERS

Presentation of the Equity Section
Comparative Financial Statements
Other Disclosure Matters

RELATED TOPICS

Chapter 36: NONMONETARY TRANSACTIONS

OVERVIEW
ACCOUNTING REQUIREMENTS

ACCOUNTING FOR NONMONETARY TRANSACTIONS

Exchanges Facilitating Sales to Customers or that Lack Commercial Substance
Nonreciprocal Transfers to Owners
Fair Value Not Determinable

DISCLOSURE REQUIREMENTS
RELATED TOPICS

Chapter 37: POSTEMPLOYMENT BENEFITS

OVERVIEW
ACCOUNTING REQUIREMENTS
DISCLOSURE REQUIREMENTS
RELATED TOPICS

Chapter 38: PRESENTATION OF FINANCIAL STATEMENTS

OVERVIEW
ACCOUNTING REQUIREMENTS

COMPARATIVE FINANCIAL STATEMENTS
DISCONTINUED OPERATIONS

Disposal of a Component of an Entity
Allocation of Interest to Discontinued Operations
Allocation of Overhead to Discontinued Operations
Long-lived Asset or Disposal Group Held for Sale

GOING CONCERN

DISCLOSURE REQUIREMENTS

COMPARATIVE FINANCIAL STATEMENTS
DISCONTINUED OPERATIONS

Disposal of a Component of an Entity
Assets Sold or Held for Sale

GOING CONCERN

RELATED TOPICS

Chapter 39: PROPERTY, PLANT, AND EQUIPMENT

OVERVIEW
ACCOUNTING REQUIREMENTS

LONG-LIVED ASSETS, DEPRECIATION, AND IMPAIRMENT

Asset Cost
Depreciation

Estimated Useful Life.
Salvage Value.
Depreciation Methods.

Impairment or Disposal of Long-lived Assets

Assets to Be Held and Used.
Assets to Be Disposed of Other Than by Sale.
Long-lived Assets to Be Disposed of by Sale.

REAL ESTATE SALES (OTHER THAN RETAIL LAND SALES)

Scope
Methods of Accounting

Full Accrual Method.
Deposit Method.
Cost Recovery Method.
Installment Method.
Reduced Profit Method.
Percentage-of-completion Method.

Determining the Appropriate Method of Accounting

All Criteria for Revenue Recognition Have Been Met.
Sale Has Not Been Consummated.
Initial Investment Does Not Qualify.
Continuing Investment Does Not Qualify.
Receivable Subject to Future Subordination.
Seller Has Continuing Involvement.

DISCLOSURE REQUIREMENTS

DEPRECIATION
IMPAIRMENT
ASSETS HELD FOR SALE
REAL ESTATE SALES (OTHER THAN RETAIL LAND SALES)

Installment Method
Cost Recovery Method
Deposit Method

RELATED TOPICS

Chapter 40: RECEIVABLES

OVERVIEW
ACCOUNTING REQUIREMENTS

GENERAL

Factoring Arrangements
Uncollectible Receivables

LOAN IMPAIRMENT

When Is a Loan Impaired?
Measuring Impairment

Using the Expected Cash Flows Method to Measure the Loan.

Recognizing Income on Impaired Loans

ACCOUNTING FOR LOAN FEES AND COSTS

Loan Origination Fees and Costs
Commitment Fees and Costs
Fees and Costs in Refinancings or Restructurings
Purchased Loan Fees and Costs
Syndication Fees
Amortization of Deferred Fees and Costs

Variable Loan Rates.
Demand Loans.
Revolving Lines of Credit.
Nonaccrual Loans.

Financial Reporting

Balance Sheet Classification.
Income Statement Classification.

LOANS AND DEBT SECURITIES ACQUIRED WITH DETERIORATED CREDIT QUALITY

DISCLOSURE REQUIREMENTS

GENERAL

Nonaccrual and Past Due Receivables
Allowance for Credit Losses Related to Loans
Credit Quality Information

LOAN IMPAIRMENT
LOAN FEES AND COSTS
LOANS AND DEBT SECURITIES ACQUIRED WITH DETERIORATED CREDIT QUALITY

RELATED TOPICS

Chapter 41: RELATED PARTY DISCLOSURES

OVERVIEW
DISCLOSURE REQUIREMENTS

DEFINITION OF A RELATED PARTY
DISCLOSURES

RELATED TOPICS

Chapter 42: REORGANIZATIONS

OVERVIEW

QUASI-REORGANIZATIONS
ACCOUNTING DURING AND AFTER A CHAPTER 11 BANKRUPTCY REORGANIZATION

ACCOUNTING REQUIREMENTS

QUASI-REORGANIZATIONS

Accounting for a Quasi-reorganization
Accounting for Operations after a Quasi-reorganization
Accounting for a Tax Benefit

ACCOUNTING FOR AN ENTITY DURING AND AFTER A CHAPTER 11 BANKRUPTCY REORGANIZATION

Plan of Reorganization
Disclosure Statement
Reorganization Value
Financial Reporting during the Reorganization Proceeding

Balance Sheet.
Statement of Operations.
Statement of Cash Flows.
Condensed Combined Financial Statements.

Financial Reporting upon Emergence from Chapter 11 Bankruptcy

Fresh-start Reporting.
Reporting by an Entity Not Qualifying for Fresh-start Reporting.

DISCLOSURE REQUIREMENTS

QUASI-REORGANIZATIONS
DURING A CHAPTER 11 REORGANIZATION PROCEEDING
UPON EMERGENCE FROM CHAPTER 11 BANKRUPTCY WITH ADOPTION OF FRESH-START REPORTING

RELATED TOPICS

Chapter 43: RESEARCH AND DEVELOPMENT

OVERVIEW
ACCOUNTING REQUIREMENTS

DEFINITION OF RESEARCH AND DEVELOPMENT ACTIVITIES
ACCOUNTING FOR RESEARCH AND DEVELOPMENT COSTS

Computer Software Costs

Software Purchased or Developed for Internal Use.
Software Purchased or Developed to Be Sold, Leased, or Otherwise Marketed.

RESEARCH AND DEVELOPMENT ARRANGEMENTS

Obligation Is a Liability to Repay the Other Parties
Obligation Is to Perform Contractual Services
Other Issues

Loans or Advances to the Other Parties.
Issuance of Warrants or Similar Instruments.
Acquiring the Results of a Research and Development Arrangement by Issuing Stock.
Consolidation of Research and Development Arrangements.

DISCLOSURE REQUIREMENTS
RELATED TOPICS

Chapter 44: RETIREMENT BENEFITS

OVERVIEW

DEFINED BENEFIT PLANS
DEFINED CONTRIBUTION PLANS

ACCOUNTING REQUIREMENTS

TYPES OF PLANS
ACCOUNTING FOR DEFINED BENEFIT PENSION PLANS

Recognizing Net Periodic Pension Cost

Service Cost.
Interest Cost.
Actual Return on Plan Assets.
Amortization of Prior Service Cost or Credit.
Gains and Losses.
Amortization of Net Transition Obligation or Asset.

Recognition of Liabilities and Assets

Measurement Date.
Annuity Contracts.
Business Combinations.

Employers with More Than One Defined Benefit Plan
Settlements and Curtailments of Defined Benefit Pension Plans

Settlements.
Curtailments.

Termination Benefits

ACCOUNTING FOR DEFINED BENEFIT POSTRETIREMENT PLANS OTHER THAN PENSIONS

Determining the Net Periodic Postretirement Benefit Cost and Obligation

Service Cost.
Interest Cost.
Actual Return on Plan Assets.
Amortization of Prior Service Cost or Credit.
Gains and Losses.
Amortization of Net Transition Obligation or Asset.
Retrospective Adjustments.

Recognition of Liabilities and Assets

Measuring Plan Assets.
Insurance Contracts.
Measurement Date.
Business Combinations.

Employers with More Than One Defined Benefit Postretirement Plan
Settlements and Curtailments of Defined Benefit Postretirement Plans

Settlements.
Curtailments.

Termination Benefits
Accounting Related to the Medicare Prescription Drug, Improvement and Modernization Act of 2003

ACCOUNTING FOR DEFINED CONTRIBUTION PLANS
MULTIEMPLOYER PLANS
MULTIPLE-EMPLOYER PLANS
FOREIGN PLANS

DISCLOSURE REQUIREMENTS

DEFINED BENEFIT PENSION AND POSTRETIREMENT PLANS

Disclosure Requirements for Public Entities
Reduced Disclosure Requirements for Nonpublic Entities

MEDICARE PRESCRIPTION DRUG, IMPROVEMENT AND MODERNIZATION ACT OF 2003
DEFINED CONTRIBUTION PLANS
MULTIEMPLOYER PLANS

Disclosure Requirements for Years Ending on or before December 15, 2012
Disclosure Requirements for Employers That Participate in Multiemployer Plans That Provide Pension Benefits--Years Ending after December 15, 2012
Disclosure Requirements for Multiemployer Plans That Provide Postretirement Benefits Other Than Pensions--Years Ending after December 15, 2012

RELATED TOPICS

Chapter 45: REVENUE RECOGNITION

OVERVIEW
ACCOUNTING REQUIREMENTS

RECOGNIZING REVENUE WHEN A RIGHT OF RETURN EXISTS
REVENUE FROM MULTIPLE DELIVERABLE ARRANGEMENTS
THE MILESTONE METHOD OF REVENUE RECOGNITION
SEPARATELY PRICED EXTENDED WARRANTY AND PRODUCT MAINTENANCE CONTRACTS
REPORTING REVENUE GROSS AS A PRINCIPAL VERSUS NET AS AN AGENT
INVOLUNTARY CONVERSIONS OF NONMONETARY ASSETS TO MONETARY ASSETS
ADVERTISING BARTER TRANSACTIONS
CONSIDERATION GIVEN BY A VENDOR TO A CUSTOMER

Cash Consideration
Sales Incentive Offered as a Result of a Single Exchange Transaction with a Customer
Contingent Sales Incentive

CONSTRUCTION CONTRACTORS

Percentage-of-completion Method
Completed-contract Method
Selection of Method
Contract Claims
Provision for Anticipated Losses
Balance Sheet Accounts

DISCLOSURE REQUIREMENTS

REVENUE FROM MULTIPLE DELIVERABLE ARRANGEMENTS
THE MILESTONE METHOD OF REVENUE RECOGNITION
BARTER TRANSACTIONS
CONSTRUCTION CONTRACTORS

General
Contract Claims
Percentage-of-Completion Method
Completed Contract Method

RELATED TOPICS

Chapter 46: RISKS AND UNCERTAINTIES

OVERVIEW
DISCLOSURE REQUIREMENTS

NATURE OF OPERATIONS DISCLOSURES
USE OF ESTIMATES IN THE PREPARATION OF FINANCIAL STATEMENTS
CERTAIN SIGNIFICANT ESTIMATES
CURRENT VULNERABILITY DUE TO CERTAIN CONCENTRATIONS

RELATED TOPICS

Chapter 47: SEGMENT REPORTING

OVERVIEW
DISCLOSURE REQUIREMENTS

SEGMENT DISCLOSURES

What Is an Operating Segment?
Selecting Reportable Segments
Required Disclosures

Reconciliations.
Interim Periods.
Restating Previously Reported Segment Information.
Example Disclosure.

ENTITY-WIDE INFORMATION

Applicability of Foreign Operations Disclosure Requirements to a U.S. Company's Operations in Puerto Rico and Other U.S. Sovereignties (FASB ASC 280-10-55-25)

RELATED TOPICS

Chapter 48: STOCK COMPENSATION

OVERVIEW

TRANSACTIONS WITH EMPLOYEES
EMPLOYEE STOCK OWNERSHIP PLANS

ACCOUNTING REQUIREMENTS

TRANSACTIONS WITH EMPLOYEES

Measuring Share-Based Payment Transactions

Awards of Equity Instruments.
Awards Classified as Liabilities.

Recognizing Compensation Cost

Equity Awards.
Liability Awards.

Repurchases or Cancellations of Equity Awards
Employee Share Purchase Plans

Noncompensatory Plans.
Employee Share Purchase Plans with a Look-back Option.

Accounting for Income Tax Benefits under the Fair Value Method

Excess Tax Benefits.
Income Tax Benefits of Dividends.

Awards Granted Prior to Current Standards

EMPLOYEE STOCK OWNERSHIP PLANS

Leveraged ESOPs
Nonleveraged ESOPs

DISCLOSURE REQUIREMENTS

SHARE-BASED PAYMENTS
EMPLOYEE STOCK OWNERSHIP PLANS

RELATED TOPICS

Chapter 49: TRANSFERS AND SERVICING

OVERVIEW
ACCOUNTING REQUIREMENTS

DEFINITION OF A FINANCIAL ASSET
TRANSFERS OF FINANCIAL ASSETS

Conditions for a Sale of Financial Assets
Accounting for Transfers of Financial Assets
Accounting for Transfers of Participating Interests
Agreements That Maintain Effective Control Over Transferred Assets
Financial Assets Subject to Prepayment
Transfers of Receivables with Recourse
Transfers of Leased Property or Rental Payments under Sales-type or Direct Financing Leases

ACCOUNTING FOR SECURED BORROWINGS
ACCOUNTING FOR SERVICING ASSETS AND SERVICING LIABILITIES

DISCLOSURE REQUIREMENTS
RELATED TOPICS
INDUSTRY STANDARDS

Chapter 50: BROADCASTERS

OVERVIEW
ACCOUNTING REQUIREMENTS

LICENSE AGREEMENTS FOR PROGRAM MATERIAL

Scope
Acquisition Costs
Amortizing Program Rights

BARTER TRANSACTIONS
NETWORK AFFILIATION AGREEMENTS

DISCLOSURE REQUIREMENTS
RELATED TOPICS

Chapter 51: CABLE TELEVISION ENTITIES

OVERVIEW
ACCOUNTING REQUIREMENTS

ACCOUNTING FOR INITIAL COSTS

Prematurity Period
Accounting for Costs during the Prematurity Period

Cable Television Plant.
Subscriber-related Costs.
Programming and Other System Costs.

HOOKUP REVENUE AND COSTS
FRANCHISE COSTS
RECOVERABILITY

RELATED TOPICS

Chapter 52: DEPOSITORY AND LENDING INSTITUTIONS

OVERVIEW
ACCOUNTING REQUIREMENTS

FINANCIAL STATEMENT PRESENTATION

Offsetting Amounts in the Balance Sheet
Reporting Cash Receipts and Payments in the Cash Flow Statement
Reciprocal Balances
Premises and Equipment
Borrowings
Liquidating Banks and Trust-preferred Securities

LOAN IMPAIRMENT AT ORIGINATION
FEDERAL HOME LOAN BANK OR FEDERAL RESERVE BANK STOCK
NATIONAL CREDIT UNION SHARE INSURANCE FUND DEPOSITS
DEPOSITS AND OTHER LIABILITIES

Short Sales of Securities
Deposits
Redeemable Preferred Stock Dividends

DEFERRED TAX ASSETS AND LIABILITIES OF STOCK AND MUTUAL SAVINGS AND LOAN ASSOCIATIONS AND MUTUAL SAVINGS BANKS
OTHER MATTERS

Commissions
Trust Department Operations
Financing Corporation Assessments

DISCLOSURE REQUIREMENTS

GENERAL
DEPOSITS AND OTHER LIABILITIES
REGULATORY CAPITAL

Bank and Savings Institutions
Credit Unions
Trust Operations

DEFERRED TAX ASSETS AND LIABILITIES OF STOCK AND MUTUAL SAVINGS AND LOAN ASSOCIATIONS AND MUTUAL SAVINGS BANKS

RELATED TOPICS

Chapter 53: DEVELOPMENT STAGE ENTITIES

OVERVIEW
ACCOUNTING REQUIREMENTS

WHAT IS A DEVELOPMENT STAGE COMPANY?
ACCOUNTING FOR DEVELOPMENT STAGE COMPANIES

DISCLOSURE REQUIREMENTS
RELATED TOPICS

Chapter 54: FRANCHISORS

OVERVIEW
ACCOUNTING REQUIREMENTS

FRANCHISE FEES

Individual Franchise Sales
Area Franchise Sales
Affiliate Relationships
Continuing Franchise Fees
Commingled Revenue

Tangible Assets Included in Franchise Fees.
Allocating Fees to Specific Services.

"Bargain Price" Product Sales
Purchase Options

FRANCHISING COSTS
AGENCY RELATIONSHIPS
REPOSSESSED FRANCHISES

DISCLOSURE REQUIREMENTS
RELATED TOPICS

Chapter 55: GOVERNMENT CONTRACTORS

OVERVIEW
ACCOUNTING REQUIREMENTS

COST-PLUS-FIXED-FEE CONTRACTS

What Are Cost-plus-fixed-fee Contracts?
When Should Fees Be Accrued?
What Should Be Included in Revenue?
How Should Costs Be Reported in the Balance Sheet?

CONTRACTS SUBJECT TO RENEGOTIATION
TERMINATED FIXED-PRICE CONTRACTS

When Is Profit Recognized?
How Is the Claim Amount Determined?
Financial Statement Presentation
Subcontractors' Claims
Disposal Credits
No-cost Settlements

DISCLOSURE REQUIREMENTS
RELATED TOPICS

Chapter 56: INSURANCE ENTITIES

OVERVIEW

REVENUE AND COST RECOGNITION

Short-duration Contracts
Long-duration Contracts

INVESTMENT CONTRACTS
ACQUISITION COSTS
INVESTMENTS
REINSURANCE

ACCOUNTING REQUIREMENTS

CLASSIFICATION OF INSURANCE CONTRACTS
PREMIUM REVENUE RECOGNITION

Short-duration Contracts
Financial Guarantee Contracts
Long-duration Contracts

COST RECOGNITION

Unpaid Claim Costs
Liability for Future Policy Benefits

Financial Guarantee Contracts.

Acquisition Costs
Premium Deficiency Costs

Short-duration Contracts.
Long-duration Contracts.

ACCOUNTING FOR SPECIAL TYPES OF LONG-DURATION CONTRACTS

Investment Contracts
Limited-payment Contracts
Universal Life-type Contracts

Internal Replacement Transactions.

POLICYHOLDER DIVIDENDS
CONTINGENT COMMISSIONS
INVESTMENTS
SEPARATE ACCOUNTS
DEFERRED INCOME TAXES
REINSURANCE

Has the Insurer Obtained Indemnification?

Short-duration Contracts.
Long-duration Contracts.

Accounting for Reinsurance Transactions

Reporting Assets and Liabilities Related to Reinsurance Transactions.
Revenue and Cost Recognition.

ACCOUNTING AND REPORTING BY MUTUAL LIFE INSURANCE COMPANIES
CATASTROPHE LOSSES OF PROPERTY AND CASUALTY INSURANCE COMPANIES
INSURANCE AND REINSURANCE CONTRACTS ACQUIRED IN A BUSINESS COMBINATION

DISCLOSURE REQUIREMENTS
RELATED TOPICS

Chapter 57: MORTGAGE BANKING ACTIVITIES

OVERVIEW
ACCOUNTING REQUIREMENTS

ACCOUNTING FOR CERTAIN FEES AND COSTS

Expired Commitments and Prepayments
Loan Placement Fees
Fees for Services Rendered by Third Parties
Loan Commitment Costs

ACCOUNTING FOR MORTGAGE LOANS AND MORTGAGE-BACKED SECURITIES

Mortgages Held for Sale
Mortgages Held for Long-term Investment
Transactions with an Affiliated Company

DISCLOSURE REQUIREMENTS
RELATED TOPICS

Chapter 58: NOT-FOR-PROFIT ENTITIES

OVERVIEW
ACCOUNTING REQUIREMENTS

GAAP FOR NOT-FOR-PROFIT ORGANIZATIONS
DEPRECIATION
INVESTMENTS

Reporting Losses on Endowment Fund Investments

BUSINESS COMBINATIONS
CONTRIBUTIONS

Contributions Received
Contributed Services
Promises to Give
Contributions of Collections

ORGANIZATIONS THAT RAISE OR HOLD CONTRIBUTIONS FOR OTHERS

Accounting by Beneficiaries

FINANCIAL STATEMENTS

Statement of Financial Position

Permanently Restricted Net Assets.
Temporarily Restricted Net Assets.
Unrestricted Net Assets.
Format Considerations.

Statement of Activities

Revenues and Expenses.
Contributions.
Gains and Losses.
Additional Classifications.
Format Considerations.

Statement of Cash Flows
Statement of Functional Expenses

DISCLOSURE REQUIREMENTS

ACCOUNTING POLICIES
LONG-LIVED ASSETS
INVESTMENTS
ENDOWMENT FUNDS
RESTRICTIONS ON NET ASSETS
CONTRIBUTIONS

Contributions of Collections

ORGANIZATIONS THAT RAISE OR HOLD CONTRIBUTIONS FOR OTHERS
OTHER

RELATED TOPICS

Chapter 59: OIL AND GAS ACTIVITIES

OVERVIEW
ACCOUNTING REQUIREMENTS

ACQUISITION COSTS

Unproved Properties

Impairment Assessment.
Reclassification to Proved Properties.

Proved Properties

Depletion of Acquisition Costs.
Impairment Assessment.

Surrender or Abandonment of Properties

Unproved Properties.
Proved Properties.

EXPLORATION COSTS

Geological and Geophysical Studies
Uncompleted Wells

DEVELOPMENT COSTS

Depreciation of Development Costs

PRODUCTION COSTS
SUPPORT EQUIPMENT AND FACILITIES
MINERAL PROPERTY CONVEYANCES
INCOME TAXES
INTEREST CAPITALIZATION UNDER THE FULL COST METHOD

DISCLOSURE REQUIREMENTS

DISCLOSURES FOR ALL ENTITIES
DISCLOSURES FOR PUBLIC COMPANIES

Proved Oil and Gas Reserve Quantities
Capitalized Costs Related to Oil and Gas Producing Activities
Costs Incurred for Property Acquisition, Exploration, and Development Activities
Results of Operations for Oil and Gas Producing Activities
Standardized Measure of Discounted Future Net Cash Flows

RELATED TOPICS

Chapter 60: PLAN ACCOUNTING--DEFINED BENEFIT PENSION PLANS

OVERVIEW
ACCOUNTING REQUIREMENTS

INTRODUCTION
REQUIRED FINANCIAL STATEMENTS

Comparative Financial Statements
Statement of Cash Flows

STATEMENT OF NET ASSETS AVAILABLE FOR BENEFITS

Contributions Receivable
Investments
Contracts with Insurance Companies
Operating Assets
Accrued Liabilities
401(h) Accounts

STATEMENT OF CHANGES IN NET ASSETS AVAILABLE FOR BENEFITS
INFORMATION ABOUT THE ACTUARIAL PRESENT VALUE OF ACCUMULATED PLAN BENEFITS

Presentation Requirements
Determining the Actuarial Present Value of Accumulated Plan Benefits

INFORMATION ABOUT CHANGES IN THE ACTUARIAL PRESENT VALUE OF ACCUMULATED PLAN BENEFITS
TERMINATING PLANS

DISCLOSURE REQUIREMENTS

MASTER TRUSTS

401(h) ACCOUNTS
Terminating Plans

RELATED TOPICS

Chapter 61: REAL ESTATE

OVERVIEW
ACCOUNTING REQUIREMENTS

REAL ESTATE TIME-SHARING TRANSACTIONS

Sales Value Considerations
Buyer's Initial and Continuing Investments
Upgrade and Reload Transactions
Accounting for Uncollectibility

RETAIL LAND SALES

Recognizing Profits from Retail Land Sales

Full Accrual Method.
Percentage-of-completion Method.
Installment Method.
Deposit Method.

REAL ESTATE ACQUISITION, DEVELOPMENT, AND CONSTRUCTION COSTS

Preacquisition Costs
Property Taxes and Insurance
Project Costs
Amenities
Incidental Operations

ALLOCATION OF CAPITALIZED COSTS
REVISIONS OF ESTIMATES
ABANDONMENTS AND CHANGES IN USE
SELLING COSTS
RENTAL COSTS

Initial Rental Operations

RECOVERABILITY

DISCLOSURE REQUIREMENTS

TIME-SHARING TRANSACTIONS
RETAIL LAND SALES

RELATED TOPICS

Chapter 62: RECORD AND MUSIC INDUSTRY

OVERVIEW
ACCOUNTING REQUIREMENTS

LICENSOR ACCOUNTING

Revenues

License Agreements.
Minimum Guarantees.

Artist Compensation Cost
Cost of Record Masters

LICENSEE ACCOUNTING

DISCLOSURE REQUIREMENTS
RELATED TOPICS

Chapter 63: REGULATED OPERATIONS

OVERVIEW
ACCOUNTING REQUIREMENTS

ACCOUNTING FOR REGULATED OPERATIONS IN GENERAL

Capitalizing Costs
Recording Liabilities

ALLOWANCE FOR FUNDS USED DURING CONSTRUCTION
SALES TO AFFILIATES
INCOME TAXES
GOODWILL
ABANDONMENTS AND DISALLOWANCES OF PLANT COSTS

Abandonments

Full Return Is Likely.
Partial or No Return Is Likely.
Income Taxes.

Disallowances of Costs of Recently Completed Plants

ACCOUNTING FOR PHASE-IN PLANS

Interrelationship of Phase-in Plans and Disallowances
Financial Statement Classification

ALLOWANCE FOR EARNINGS ON SHAREHOLDERS' INVESTMENT
DISCONTINUATION OF REGULATED OPERATIONS
ALTERNATIVE REVENUE PROGRAMS
SALE-LEASEBACK TRANSACTIONS

DISCLOSURE REQUIREMENTS
RELATED TOPICS

Chapter 64: SOFTWARE

OVERVIEW
ACCOUNTING REQUIREMENTS

ACCOUNTING FOR COSTS OF INTERNALLY-DEVELOPED COMPUTER SOFTWARE TO BE SOLD, LEASED, OR OTHERWISE MARKETED

Research and Development Costs
Production Costs
Amortization and Evaluation of Software Costs
Inventory Costs

ACCOUNTING FOR COSTS OF PURCHASED COMPUTER SOFTWARE TO BE SOLD, LEASED, OR OTHERWISE MARKETED
ACCOUNTING FOR COMPUTER SOFTWARE REVENUE

General Requirements

Persuasive Evidence of Sale.
Delivery Has Taken Place.
Revenue Is Fixed or Determinable.
Collectibility Is Probable.

Arrangements Involving Multiple Elements

Residual Method of Revenue Recognition.
Upgrades and Enhancements.
Additional Software and Software-related Products.
Rights to Exchange or Return.
Postcontract Customer Support (PCS).
Service Revenue.

Funded Software-development Arrangements

EXCHANGES OF SOFTWARE TECHNOLOGY OR PRODUCTS

Exchanges to Facilitate Sales to Customers
Exchanges for Internal Use

DISCLOSURE REQUIREMENTS
RELATED TOPICS

Chapter 65: TITLE PLANT

OVERVIEW
ACCOUNTING REQUIREMENTS

CAPITALIZATION OF TITLE PLANT
TITLE PLANT MAINTENANCE AND TITLE SEARCHES
STORAGE AND RETRIEVAL
SALE OF TITLE PLANT

DISCLOSURE REQUIREMENTS
RELATED TOPICS
DISCLOSURE REQUIREMENTS FOR FINANCIAL STATEMENTS OF NONPUBLIC COMPANIES (LONG-FORM DISCLOSURE CHECKLIST)
CROSS-REFERENCE TO FASB ACCOUNTING STANDARDS CODIFICATION
CROSS-REFERENCE TO AUTHORITATIVE STANDARDS
Guide to GAAP Sample

View