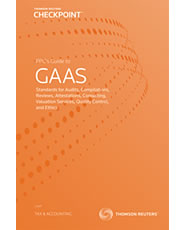 PPC's Guide to GAAS

Product Information
Frequency of Updates:

Annually

Brand:

Practitioners Publishing
PPC's Guide to GAAS is the ultimate GAAS reference guide. It provides complete coverage of professional standards for audits, compilations, reviews, attestations, consulting, valuation services, quality control, and ethics. The Guide is more than a simple recitation of the standards; written in simple, easy-to-follow language, it includes practical considerations and critical insights that help you understand what the standards require and what they don't.
PPC's Guide to GAAS covers:
Generally accepted auditing standards (AU-C)
Attestation standards (AT)
Standards for accounting and review services (AR)
Standards for consulting services (CS)
Standards for valuations services (VS)
Quality control standards (QC)
Ethics standards (ET)
The Guide also provides the ultimate quick-reference resource for determining the status of professional standards issued. The Guide's comprehensive List of Authoritative Pronouncements presents all of the related professional standards issued to date and either cross-references to where they are discussed in the Guide or indicates when and by what standards they were superseded.
List of Content (Click any title to expand the list)
INTRODUCTORY MATERIAL

PREFACE
PEER REVIEW OF THIS GUIDE
HOW TO USE THE GUIDE
ACKNOWLEDGMENT OF COPYRIGHTS
ABOUT THE AUTHORS . . .
LIST OF AUTHORITATIVE PRONOUNCEMENTS
LIST OF RELEVANT WEBSITES
GLOSSARY OF AUDITING TERMS
AUDITING STANDARDS

Chapter 1: GENERAL AUDITING GUIDANCE

RESPONSIBILITIES OF AUDITORS AND MANAGEMENT

Purpose of an Audit and Premise Upon Which an Audit Is Conducted
Management's Responsibilities
The Auditor's Responsibilities
Authority of Auditing Guidance

Auditing Standards.
Interpretive Publications.
Other Auditing Publications.

Application of GAAS to Engagements
Form and Structure of Auditing Standards

Preface.
Glossary.
AU-C Sections, Exhibits and Appendixes.

AUDITING STANDARDS FOR PUBLIC COMPANIES
QUALITY CONTROL

Chapter 2: GENERAL PRINCIPLES AND RESPONSIBILITIES

INTRODUCTION
OVERALL OBJECTIVES AND CONDUCT OF AN AUDIT

Introduction
Objectives
Requirements

Ethical Requirements.
Professional Skepticism and Judgment.
Compliance with Standards.
Authority of Requirements.

QUALITY CONTROL

Introduction
Objective
Requirements

Leadership Responsibilities for Quality on Audits.
Relevant Ethical Requirements.
Acceptance and Continuance of Client Relationships and Audit Engagements.
Assignment of Engagement Teams.
Engagement Performance.
Monitoring.
Documentation.

Chapter 3: AUDIT DOCUMENTATION

INTRODUCTION
OBJECTIVE AND REQUIREMENTS

Objective
Timeliness
Form, Content, and Extent of Audit Documentation
Assembly of Audit Documentation
Access to Audit Documentation

DOCUMENTATION REQUIRED BY OTHER AU-C SECTIONS

Audits

Terms of Engagement.
Quality Control.
Consideration of Fraud.
Consideration of Laws and Regulations.
Communication with Those Charged with Governance.
Communicating Internal Control Related Matters.
Planning.
Understanding the Entity and Its Environment and Assessing the Risks of Material Misstatement.
Materiality.
Performing Audit Procedures in Response to Assessed Risks and Evaluating Audit Evidence Obtained.
Evaluation of Misstatements.
Attorney Letters.
Analytical Procedures.
Accounting Estimates.
Related Parties.
The Auditor's Consideration of an Entity's Ability to Continue as a Going Concern.
Audits of Group Financial Statements.
Compliance Audits.

Other Services

Reports on Application of Requirements of an Applicable Financial Reporting Framework.
Interim Financial Information.

Chapter 4: PRE-ENGAGEMENT ACTIVITIES

INTRODUCTION
TERMS OF ENGAGEMENT

Objective
Requirements

Preconditions for an Audit.
When the Auditor Is a Successor Auditor.
Engagement Letters.
Changes to Engagement Terms.
Communicating with Those Charged with Governance.
Requirements of Laws and Regulations.

OPENING BALANCES

Objective
Requirements

Predecessor Auditors.
Procedures on Opening Balances.
Conclusions about Opening Balances.
Consistency.

Chapter 5: PLANNING AND MATERIALITY

INTRODUCTION
PLANNING

Objective
Requirements

Preliminary Activities.
Audit Strategy.
Audit Plan.
Initial Audits.
Supervision.
Use of Specialists.
Documentation.

PLANNING THE USE OF OTHER PROFESSIONALS

Specialists
Component Auditors
Internal Auditors

MATERIALITY IN PLANNING

Objective
Requirements

Group Audits.
Government Audits.
Documentation.

Chapter 6: RISK ASSESSMENT

INTRODUCTION
OBJECTIVE
RISK ASSESSMENT PROCEDURES

Required Procedures

Inquiries of Management and Others.
Analytical Procedures.
Observation and Inspection.
Information Obtained in Prior Periods.
Consideration of Fraud Risk.
Engagement Team Discussion.

Understanding the Entity and Its Environment

External Matters.
Nature of the Entity.
Accounting Policies.
Objective and Strategies.
Business Performance Measures.
Internal Control.

ASSESSING RISKS

Risks at the Financial Statement Level
Risks at the Assertion Level
Assessing Risks
Significant Risks
Revision of Risk Assessment

DOCUMENTATION

Chapter 7: CONSIDERATION OF FRAUD AND LAWS AND REGULATIONS

INTRODUCTION
FRAUD

Overview
Objectives
Requirements

Skepticism.
Engagement Team Discussion.
Inquiries of Management and Others.
Assessing Fraud Risk.
Responses to Fraud Risk.
Management Override of Controls.
Evaluation of Audit Evidence.
Auditor Is Unable to Continue the Engagement.
Communications.
Documentation.

CONSIDERATION OF LAWS AND REGULATIONS

Objectives
Requirements

When Noncompliance Is Identified or Suspected.
Reporting Noncompliance.
Effect of Noncompliance on the Audit.
Documentation.

Chapter 8: INTERNAL CONTROL

INTRODUCTION
GENERAL INTERNAL CONTROL CONCEPTS

Components of Internal Control

Control Environment.
Risk Assessment Process.
Information and Communication.
Control Activities.
Monitoring.

UNDERSTANDING INTERNAL CONTROL

Objective
Requirements

Control Environment.
Risk Assessment Process.
Information and Communication.
Control Activities.
Information Technology.
Monitoring.
Controls over Significant Risks.
Documentation of the Understanding.

TESTS OF CONTROLS

Objective
Requirements

Overall Approach to Testing Controls.
Nature of Tests of Controls.
Extent of Tests of Controls.
Timing of Tests of Controls.
Selecting Items for Testing.

Evaluating the Operating Effectiveness of Controls
Documentation

INTERNAL CONTROL AT SERVICE ORGANIZATIONS

Objectives
Requirements

Service Auditor Reports.
Control Weaknesses.
Fraud, Noncompliance, or Uncorrected Misstatements Communicated by the Service Organization.
Effect on Report.

COMMUNICATING INTERNAL CONTROL DEFICIENCIES

Objective
Identification of Weaknesses
Control Deficiencies
Evaluating Deficiencies

Magnitude.
Likelihood.
Multiple Deficiencies.
Material Weaknesses.
Prudent Official Test.
Laws and Regulations.

Communication Requirements

Contents.
Illustrative Communication of Material Weaknesses and Significant Deficiencies.
No Material Weakness Letter.

Chapter 9: PERFORMING SUBSTANTIVE PROCEDURES

INTRODUCTION
OBJECTIVE
RESPONSES TO RISK

Overall Responses
Assertion Level Responses

SUBSTANTIVE PROCEDURES

General Guidance
Confirmations
Closing Process
Significant Risks
Interim Testing
Other Matters Affecting Substantive Procedures

Item Selection.
Presentation and Disclosure.
Evaluating Audit Evidence.

Documentation

Chapter 10: AUDIT EVIDENCE

INTRODUCTION
AUDIT EVIDENCE

Objective
Requirements

Sufficient Appropriate Audit Evidence.
Information Prepared by Management's Specialists.
Entity-prepared Information.
Inconsistencies.
Inability To Obtain Evidence about Tax Accruals.

AUDIT EVIDENCE FOR SPECIFIC ITEMS

Objectives
Investments in Securities and Derivatives

Valuation Based on the Investee's Financial Results.
Valuation Based on Fair Value.

Inventory

Timing of the Inventory.
Inventory Held by Third Parties.

Litigation, Claims, and Assessments

Identifying Legal Issues.
Correspondence with Counsel.
The Lawyer's Response.

Segment Information

EXTERNAL CONFIRMATIONS

Objective
Requirements

Preparing and Sending the Request.
Management's Refusal to Allow Confirmation.
Confirmation Responses.
Evaluation.

ANALYTICAL PROCEDURES

Objectives
Substantive Analytical Procedures

Step 1: Suitability.
Step 2: Reliability.
Step 3: Expectations.
Step 4: Comparison.
Step 5: Investigation.

Overall Review
Documentation

Chapter 11: AUDIT SAMPLING

INTRODUCTION

Situations Not Involving Audit Sampling

OBJECTIVE
REQUIREMENTS

Designing the Sample
Determining Sample Size
Sample Selection
Performing Audit Procedures
Projecting Sampling Results
Evaluating Sample Results
Documentation

Chapter 12: AUDITING ACCOUNTING ESTIMATES

INTRODUCTION
OBJECTIVE
REQUIREMENTS FOR ESTIMATES (INCLUDING FAIR VALUE ESTIMATES)

Identifying Estimates
Assessing Risks
Responding to Risks

Corroboration through Subsequent Events.
Testing Management's Calculation.
Testing Internal Control and Performing Substantive Procedures.
Developing an Independent Estimate.
Management Bias.
Significant Risks.

Evaluating Results and Determining Misstatements
Disclosures
Management Representations
Communication with Those Charged with Governance
Documentation

Chapter 13: RELATED PARTIES

INTRODUCTION
OBJECTIVES
REQUIREMENTS

Identifying and Understanding Related Parties and Transactions
Assessing Risk
Performing Procedures to Respond to Related Party Risks
Transactions outside the Normal Course of Business
Evaluating Related Party Disclosures
Communicating Related Party Findings
Documentation

Chapter 14: EVALUATING AND COMMUNICATING MISSTATEMENTS

INTRODUCTION
OBJECTIVES
REQUIREMENTS

Accumulating Misstatements
Considering Misstatements during the Audit
Communicating and Correcting Misstatements
Evaluating Uncorrected Misstatements

Reassessing Materiality.
Uncorrected Misstatements.
Qualitative Materiality.
Uncorrected Prior Period Misstatements.

Documentation

Chapter 15: WRITTEN REPRESENTATIONS

INTRODUCTION
OBJECTIVES
REQUIREMENTS

Who Signs the Representation Letter
Dating the Letter
Period Covered
Problems with Management's Representations
Materiality Considerations
Content of the Letter
Additional Representations

WRITTEN REPRESENTATIONS REQUIRED BY OTHER STANDARDS

Written Representations Required by Other AU-C Sections
Reissued Reports
Restated Financial Statements
Supplementary Information
Summary Financial Statements
Compliance Audits
Comfort Letters
SEC Filings
Reviews of Interim Financial Information
Written Representations Required or Suggested by Other Standards

Chapter 16: EVENTS AFTER THE BALANCE SHEET DATE

INTRODUCTION
SUBSEQUENT EVENTS AND SUBSEQUENTLY DISCOVERED FACTS

Introduction
Objectives
Procedures between the Financial Statement Date and Auditor's Report Date
Procedures between the Auditor's Report Date and Report Release Date
Procedures after the Report Release Date

Management Refusal to Revise.
Predecessor Auditors.

OMITTED PROCEDURES

Chapter 17: GOING CONCERN

INTRODUCTION
OBJECTIVES
REQUIREMENTS

Identifying Going Concern Issues
Considering Management's Plans
If Substantial Doubt about Going Concern Remains

Financial Statement Disclosure.
The Auditor's Report.
Communication with Those Charged with Governance.

If Substantial Doubt about Going Concern Is Mitigated

Financial Statement Disclosure.
Reporting on Comparative Financial Statements.
Resolution after the Report Is Issued.

Management Representations
Documentation
When Liquidation Is Expected

Chapter 18: COMMUNICATION WITH THOSE CHARGED WITH GOVERNANCE

INTRODUCTION
COMMUNICATIONS REQUIRED IN EVERY AUDIT

Objectives
With Whom the Communication Is Made
Timing of the Communication
Form of the Communication
Content of the Communication
Effectiveness of the Communication
Documentation

COMMUNICATIONS REQUIRED BY OTHER STANDARDS

AU-C 210--Terms of Engagement
AU-C 240--Fraud
AU-C 250--Laws and Regulations
AU-C 265--Weaknesses in Internal Control
AU-C 505--Confirmations
AU-C 550--Related Parties
AU-C 560--Subsequent Events and Subsequently Discovered Facts
AU-C 600--Group Financial Statements
AU-C 705--Report Modifications
AU-C 706--Emphasis-of-matter and Other-matter Paragraphs
AU-C 720--Other Information
AU-C 730--Required Supplementary Information
AU-C 930--Interim Financial Information
AU-C 935--Compliance Audits

Chapter 19: USING THE WORK OF OTHERS

INTRODUCTION
GROUP FINANCIAL STATEMENTS

Introduction

Group Auditor.
Component Auditor.
Responsibilities.

Objectives
Overview
Requirements That Apply in All Group Audit Situations

Understanding of Component Auditor.
Decision to Refer to Component Auditor.
Materiality.
Consolidation Process.
Subsequent Events.
Communications.
Conclusion.
Documentation.
Reporting.
Modified Component Report.

Additional Requirements When No Reference Is Made to the Component Auditor

Materiality.
Work to Be Performed.
Subsequent Events.
Communications.
Conclusion.
Documentation.

INTERNAL AUDITORS

Requirements
Understanding the Internal Audit Function
Assessing Internal Auditors' Competence and Objectivity
Effect of Internal Auditors on the Audit

USING THE WORK OF AN AUDITOR'S SPECIALIST

Objectives
Requirements

The Auditor's Understanding.
Adequacy of the Specialist's Work.
Use of a Specialist's Opinion on the Isolation Criterion for a Transfer of Assets.
Reporting.
Documentation.

Chapter 20: AUDIT REPORTS

INTRODUCTION
AUDIT CONCLUSIONS AND THE STANDARD REPORT

Introduction
Objectives
Forming an Opinion
Expressing An Opinion
The Auditor's Report

Illustrative Report.
Other Reporting Responsibilities.

Comparative Financial Statements and Information

Illustrative Report.
Revisions to Prior Period Financial Statements.
Prior Period Audited by Predecessor Auditor.
Prior Period Not Audited.

Additional Information in the Financial Statements
Prescribed Report Language

MODIFIED OPINIONS

Objective
Types of Modified Opinions

Misstatements.
Scope Limitations.
Opinions on Individual Financial Statements.
Lack of Independence.
Disclaimer of Opinion.
Rule 203 Opinion.

Form of Modified Opinion

Basis for Modification Paragraph.
Other Paragraphs in a Modified Report.
Communication with Those Charged with Governance.
Illustrative Reports.

REFERENCE TO COMPONENT AUDITORS

Two or More Component Auditors
Component Auditor's Report Is Modified

EMPHASIS-OF-MATTER AND OTHER-MATTER PARAGRAPHS

Objective
Emphasis-of-Matter Paragraph
Other-matter Paragraph
Communication with Those Charged with Governance

CONSISTENCY

Objectives
General Requirements
Change in Accounting Principle
Correction of Prior Period Financial Statements
Changes in Classification

REPORT RESTRICTIONS

Objective
General Requirements
Adding Other Specified Parties
By-product Reports

Chapter 21: REPORTING ON INFORMATION ACCOMPANYING THE FINANCIAL STATEMENTS

INTRODUCTION
OTHER INFORMATION IN DOCUMENTS CONTAINING AUDITED FINANCIAL STATEMENTS

Objective
Requirements

Material Inconsistencies.
Misstatements of Fact.

SUPPLEMENTARY INFORMATION IN RELATION TO THE FINANCIAL STATEMENTS

Objective
Required Conditions and Procedures

Consideration of Subsequent Events.

Standard Reports

Additional Paragraph in a Combined Report.
Separate Report.

Modified Reports

Modified Report on the Financial Statements.
Modified Report on the Supplementary Information.

REQUIRED SUPPLEMENTARY INFORMATION

Objectives
Required Procedures
Reporting

Other-matter Paragraph When All of the Required Supplementary Information Is Included.
All Required Supplementary Information Is Omitted.
Inability to Complete the Procedures.
Missing Information.
Departure from Prescribed Guidelines.
Unresolved Doubts.

Chapter 22: SPECIAL REPORTING CONSIDERATIONS

INTRODUCTION
FINANCIAL STATEMENTS BASED ON SPECIAL PURPOSE FRAMEWORKS

Objective
Requirements Applicable to All Special Purpose Frameworks
Reports

Illustrative Report--Cash Basis.
Illustrative Report--Tax Basis.

Requirements Applicable to Regulatory Basis and Contractual Basis Financial Statements

Illustrative Report--Contractual Basis.
Illustrative Report--Regulatory Basis--Not Intended for General Use.
Illustrative Report--Regulatory Basis--Intended for General Use.

AUDITS OF FINANCIAL STATEMENT AND SINGLE FINANCIAL STATEMENTS

Objective
Required Procedures

The Financial Reporting Framework.
Extent of Testing.
Materiality.

Reports

Illustrative Report on an Element.
Illustrative Report on a Single Financial Statement--General Purpose Framework.
Illustrative Report on a Single Financial Statement--Special Purpose Framework.

Engagements in Conjunction with Complete Financial Statements

Form of Report.
Modified Opinions.

Incomplete Presentations

CONTRACTUAL OR REGULATORY COMPLIANCE IN CONNECTION WITH AN AUDIT

Objective
Requirements

Illustrative Report on Compliance.
Illustrative Report Indicating Noncompliance.
Waiver Obtained for Noncompliance.
Illustrative Report Indicating Noncompliance When the Auditor Has Disclaimed an Opinion on the Financial Statements.
Combined Report.
Illustrative Combined Report on Compliance.

SUMMARY FINANCIAL STATEMENTS

Objectives
Engagement Acceptance Requirements
Required Procedures
Reports

Illustrative Report--Unmodified Opinion.
Reporting Modifications.
Illustrative Report--Unmodified Opinion on Summary Financial Statements; Qualified Opinion on Audited Financial Statements.
Illustrative Report--Disclaimer of Opinion on Summary Financial Statements Due to Adverse Opinion on Audited Financial Statements.
Illustrative Report--Adverse Opinion on Summary Financial Statements.
Comparative Presentations.

Accompanying Information

REPORTING ON FOREIGN COUNTRY GAAP

Objective
Applicable Standards
The Financial Reporting Framework
Consideration of Auditing Standards
Report Intended for Use Outside of the United States

Illustrative Report--U.S. Report for Foreign Use.

Report Intended for Use Inside the United States
Other Reporting Considerations

REPORTS ON THE APPLICATION OF ACCOUNTING PRINCIPLES

Objective
Engagement Acceptance
Required Procedures
Report

Contents of a Written Report.
Oral Advice.
Illustrative Report.

Chapter 23: OTHER SPECIAL CONSIDERATIONS

INTRODUCTION
LETTERS FOR UNDERWRITERS

Objectives
Engagement Acceptance
Scope of the Services
When the Underwriter Has Not Been Selected
Contents of the Letter

Date.
Addressee.
Introductory Paragraph.
References to the Auditor or Auditor Reports.
Reference to Representation Letter.
Independence.
Compliance with SEC Requirements.
Commenting on Information Other Than Audited Financial Statements.
Unaudited Interim Financial Information.
Capsule Financial Information.
Pro Forma Financial Information.
Financial Forecasts.
Subsequent Changes.
Tables, Statistics, and Other Financial Information.
Conformity with Regulation S-K.
Use Restriction.
Subsequently Discovered Matters.

Illustrative Comfort Letter

SEC FILINGS UNDER THE 1933 ACT

Objective
Requirements

Subsequent Events.
Material Misstatements.

Experts Section

Chapter 24: INTERIM FINANCIAL INFORMATION

INTRODUCTION
OBJECTIVE AND REQUIREMENTS

Objective
Engagement Acceptance Requirements
Review Procedures

Understanding the Entity and Its Environment.
Analytical Procedures.
Inquiries and Other Procedures.
Attorney Letters.
Going Concern.
Corroboration of Management's Responses.

Accumulation and Evaluation of Misstatements
Written Representations
Required Communications
Documentation

REVIEW REPORT ON INTERIM FINANCIAL INFORMATION

Report Requirements
Illustrative Standard Review Report
Comparative Presentations

Interim Financial Information Presented with Prior Period Interim Financial Information.
Interim Financial Information Presented with Condensed Balance Sheet Information.

Report Modifications
Subsequent Discovery of Facts

Interim Financial Information Included in a Report, Document, or Written Communication.

Interim Financial Information Accompanying Audited Financial Statements

Chapter 25: COMPLIANCE AUDITS

INTRODUCTION
OBJECTIVES AND REQUIREMENTS OF AU-C 935
PERFORMANCE REQUIREMENTS

Adapt and Apply GAAS
Establish and Apply Materiality
Identify Programs and Compliance Requirements to Test
Perform Risk Assessment Procedures
Assess Risks of Material Noncompliance
Perform Further Audit Procedures

Tests of Details and Tests of Transactions.
Tests of Controls.

Address Supplementary Governmental Audit Requirements

Outdated or Conflicting Guidance.

Obtain Management Representations
Address Subsequent Events

Subsequent Events to Date of Report.
Noncompliance after the Report Date.

Evaluate the Sufficiency and Appropriateness of Audit Evidence

REPORTING REQUIREMENTS

Opinion on Compliance
Report Contents

Report on Compliance Only.
Combined Report on Compliance and Internal Control over Compliance.
Modified Opinion because of Noncompliance.
Written Response Accompanies Report.
Separate Report on Internal Control over Compliance.

Reissuance of Compliance Report

Other-matter Paragraph.
Date of Reissued Report.

COMMUNICATION WITH THOSE CHARGED WITH GOVERNANCE
DOCUMENTATION

Chapter 26: AGREED-UPON PROCEDURES

INTRODUCTION

Authoritative Literature

Specific to Agreed-upon Procedures.
SSAE No. 13.
SSAE No. 14.
Other Engagements.

CONDITIONS FOR ACCEPTANCE OF AGREED-UPON PROCEDURES ENGAGEMENTS
REQUIRED PROCEDURES

Engagement Understanding

Change from Another Type of Service.

Knowledge
Establishing the Procedures

Obtaining the Specified Parties' Agreement on Procedures.
Adding a Specified Party.

Nature, Timing, and Extent of Procedures
Representations
Documentation

AGREED-UPON PROCEDURES REPORT

Report Contents
Reporting Findings

Negative Assurance.
Exceptions from Other Sources.
Limitations on Procedures.

Illustrative Agreed-upon Procedures Reports

Specified Elements, Accounts, or Items of a Financial Statement.
Nonfinancial-statement Assertion.

Combined Report

Chapter 27: EXAMINATIONS OF INTERNAL CONTROL INTEGRATED WITH FINANCIAL STATEMENT AUDITS

INTRODUCTION

Overview
Applicability
Objectives of an Integrated Examination and Audit

ENGAGEMENT PERFORMANCE STANDARDS

Engagement Acceptance Requirements

Suitable and Available Criteria.
Management's Assertion.

Integrating the Examination of Internal Control with the Financial Statement Audit
Planning the Examination

Role of Risk Assessment.
Addressing Fraud Risks.
Using the Work of Others.
Materiality.

Testing the Controls

Top-down Approach to Testing Controls.
Entity-level Controls.
Evaluating the Control Environment.
Evaluating the Financial Reporting Process.
Identifying Significant Accounts and Disclosures and Their Relevant Assertions.
Likely Sources of Misstatement.
Selecting Controls to Test.
Evaluating Design Effectiveness.
Testing Operating Effectiveness.
Relationship of Risk to the Evidence to Be Obtained.
Nature of Tests of Controls.
Timing and Extent of Tests of Controls.
Rollforward of Interim Testing.
Subsequent Years' Examinations.

Evaluating Deficiencies Identified in an Examination of Internal Control

Indicators of Material Weaknesses.

Concluding Procedures

Forming an Opinion on the Effectiveness of Internal Control.
Evaluating Elements of Management's Report.

Written Representations
Subsequent Events

ENGAGEMENT REPORTING STANDARDS

Type of Opinion
Required Elements
Report Date
Illustrative Reports

Combined or Separate Reports?
Combined Report.
Report Directly on Internal Control.
Report on Management's Assertion.

Reporting When There Is a Material Weakness
Reporting When There Are Scope Limitations

Disclaimer of Opinion because of Scope Limitation.
Disclaimer of Opinion for Scope Limitation When Material Weaknesses Exist.

Management's Report on Internal Control Contains Additional Information

Reference to Other Auditors.

Other Communications about Controls

Other Communications of Significant Deficiencies and Material Weaknesses.
Other Communications.

Chapter 28: OTHER ATTESTATION ENGAGEMENTS

INTRODUCTION

Authoritative Literature

SSAE No. 10.
SSAE No. 13.
SSAE No. 14.
SSAE No. 16.
SSAE No. 17.

ATTESTATION STANDARDS

Definition of Attest Engagement

Elements of Attest Engagements.
Engagements That Are Not Attest Engagements.
Attest Services Performed in Connection with Consulting and Valuation Services Engagements.
Reports on Solvency.
Litigation Services.
Defense Industry Questionnaire on Business Ethics and Conduct.
Agreed-upon Procedures Engagements on XBRL-tagged Data.
Reporting on the Design of Internal Control.
Reporting on Service Organization Controls Other Than Those over Financial Reporting.
Attest Engagements on Greenhouse Gas Emissions Information.
Global Investment Performance Standards.
Investment Company Compliance.

The Attestation Standards

Quality Control Standards.

Required Conditions for Attest Engagements

Responsible Party.
Written Assertion.

Planning and Supervision

Understanding with the Client.
Supervision.
Use of Specialists.
Presentation Criteria.
Levels of Attestation Risk.
Materiality.

Procedures Applied

Representation Letters.
Other Information in Client-prepared Documents.
Subsequent Events.

Documentation
Reports

Examination Report Contents.
Illustrative Examination Report on Subject Matter.
Examination Report on Assertion.
Modified Examination Report.
Consistency.
Report Restrictions.
Review Report Contents.
Illustrative Review Report on Subject Matter.
Modified Review Report.
Agreed-upon Procedures Report.

FINANCIAL FORECASTS AND PROJECTIONS

Definitions
Presentation Guidelines for Prospective Financial Statements

Title.
Format.
Other Disclosures.
Length of the Prospective Period.

Accountant's Association with Prospective Financial Statements

Exception for Budgets.
Other Information in Client-prepared Documents.
Litigation Services.
Financial Analyses.
Inappropriate Use of Projections.

Compilation

Definition.
Compilation Procedures.
Compilation Documentation.
Compilation Report Contents.
Illustrative Compilation Report--Forecast.
Illustrative Compilation Report--Projection.
Modified Compilation Report.
Withdrawal from Compilation Engagement.

Examination

Definition.
Understanding with the Client.
Support for Assumptions.
Examination Documentation.
Examination Report Contents.
Illustrative Examination Report--Forecast.
Illustrative Examination Report--Projection.
Modified Examination Report.

Agreed-upon Procedures

Illustrative Agreed-upon Procedures Report.

Internal-use Statements
Partial Presentations

Definition.
Title.
Disclosure of Assumptions.
Accountant's Service.
Report.

PRO FORMA FINANCIAL INFORMATION

Definition
Presentation Guidelines
Accountant's Services
Examination and Review Procedures
Report
Examination

Examination Report Contents.
Illustrative Examination Report.

Review

Review Report Contents.
Illustrative Review Report.

Report Restrictions
Modified Reports

COMPLIANCE ATTESTATION

Conditions for All Compliance Attestation Engagements

Engagement Acceptance.
Written Assertion.
Knowledge of Subject Matter.
Representation Letters.
Other Information.
Documentation.

Guidance Specific to Agreed-upon Procedures Engagements

Report Contents.
Illustrative Agreed-upon Procedures Report on Compliance.
Illustrative Agreed-upon Procedures Report on Controls over Compliance.
Report Modifications.

Guidance Specific to Examinations

Engagement Acceptance.
Examination Procedures.
Consideration of Risk.
Consideration of Materiality.
Regulatory Requirements.
Consideration of Subsequent Events.
Report Contents.
Illustrative Compliance Examination Report--Opinion Directly on Compliance.
Illustrative Compliance Examination Report--Opinion on the Responsible Party's Assertion.
Material Noncompliance.
Other Report Modifications.

REPORTING ON MANAGEMENT'S DISCUSSION AND ANALYSIS

Applicability
Engagement Objectives
Engagement Acceptance Requirements
Contrast of MD&A Services to Financial Statement Services
Materiality
Required Procedures
Other Responsibilities

Identification of Accountant in Client-prepared Document.
Communication with the Audit Committee.
Other Information in Documents Containing MD&A.

Reports on MD&A

Standard Examination Report.
Modified Examination Report.
Review Report.
Illustrative Standard Review Report.
Modified Review Report.

REPORTING ON CONTROLS AT A SERVICE ORGANIZATION

Service Auditors' Reports
Engagement Acceptance and Continuance
Criteria
Assertions

Type 1 Engagement Assertion.
Type 2 Engagement Assertion.

Subservice Organizations

Inclusive Method.
Carve-out Method.

Consideration of Materiality
Internal Auditors
Written Representations
Consideration of Other Information
Subsequent Events
Communications about Noncompliance, Fraud, and Uncorrected Errors
Documentation
Type 1 Engagements

Engagement Procedures.
Required Elements--Type 1 Report.
Illustrative Type 1 Report.

Type 2 Engagements

Engagement Procedures.
Required Elements--Type 2 Report.
Illustrative Type 2 Report.

Modified Opinions
SOC Reports

Chapter 29: ACCOUNTING AND REVIEW SERVICES PERFORMANCE STANDARDS

INTRODUCTION

Authority of SSARS and Related Interpretations
SSARS Hierarchy
SSARS Pronouncements Issued

SSARS No. 19--Professional Requirements.

Applicability of Ethics Standards to Accounting and Review Services
Applicability of Quality Control Standards to Accounting and Review Services
Applicability of Peer Review Requirements to Accounting and Review Services

Applicability of Peer Review Requirements to Compilations of Management-use-only Financial Statements.

Applicability of SSARS

Applicability of SSARS when Performing Controllership or Other Management Services.
Services to Which SSARS Do Not Apply.
Submission of Draft Financial Statements.
Applicability of SSARS When Preparing Financial Statements for Use by an Entity's Auditors.
Applicability of SSARS to Litigation Services.
Interim Financial Information of a Nonissuer.
Applicability of SSARS to Compilations of Specified Elements, Accounts, or Items.
Applicability of SSARS to Compilations of Pro Forma Financial Information.

Definitions Related to SSARS

Nonissuer.
Compilation.
Review.
Financial Statements.
Submission of Financial Statements.
Management.
Those Charged with Governance.
Third Party.
Financial Reporting Framework.
Other Comprehensive Basis of Accounting (OCBOA).

Elements of a Compilation or Review Engagement
Materiality Considerations

ENGAGEMENT ACCEPTANCE

Independence
Communication between a Successor and a Predecessor Accountant

Requirements of the Successor.
Requirements of the Predecessor.

Understanding with the Client

Compilation Engagement Letter.
Performing Additional Procedures in a Compilation.
Review Engagement Letter.
Performing Additional Procedures in a Review.

COMPILATION PROCEDURES

Planning and Supervision
Procedures
Compilation of Specified Elements, Accounts, or Items
Compilation of Pro Forma Financial Information

REVIEW PROCEDURES

Planning and Supervision
Procedures
Obtaining an Updating Representation Letter

OTHER COMPILATION AND REVIEW PERFORMANCE STANDARDS

Supplementary Information Accompanying the Financial Statements
Change in Level of Engagement
Going Concern Considerations
Subsequent Events Considerations
Subsequent Discovery of Facts Existing at the Date of the Report
Financial Statements Reported on by a Predecessor
Restated Prior-period Financial Statements

COMPILATION OF MANAGEMENT-USE-ONLY FINANCIAL STATEMENTS

Management
The Understanding with the Entity
The Accountant's Responsibility When There Is Third-party Use

Chapter 30: ACCOUNTING AND REVIEW SERVICES REPORTING STANDARDS

INTRODUCTION
COMPILATION REPORTS

Standard Compilation Report

Report Contents.
Illustrative Standard Compilation Report.
Compilation Report on One Financial Statement.

Compilation Report When Financial Statements Omit Substantially All Disclosures

Selected Disclosures Presented in Compiled Financial Statements.
Compilation Report on OCBOA Financial Statements.

Compilation Report When the Accountant Is Not Independent
Compilation Report on Management-use-only Financial Statements
Compilation Report on Financial Statements in Prescribed Form

Compilation Report When There Is a Departure From the Applicable Financial Reporting Framework Other Than Departures Called for in the Prescribed Form.
Compilation Report When a Preprinted Form Does Not Conform with SSARS Requirements.
Compilation Report--Prescribed Form Fails to Request Disclosures When Statements for the Same Period Have Been Reviewed.

Compilation Report on Specified Elements, Accounts, or Items of a Financial Statement

Illustrative Compilation Report on Specified Elements, Accounts, or Items of a Financial Statement.

Compilation Report on Pro Forma Financial Information

Illustrative Compilation Report on Pro Forma Financial Information.
Compilation Report on Pro Forma Financial Information--Disclosures Are Omitted.

Other Reporting Guidance Applicable to Compilations

REVIEW REPORTS

Standard Review Report

Report Contents.
Illustrative Standard Review Report.
Review Report on One Financial Statement.
Review Report on OCBOA Financial Statements.

Required Procedures Not Performed
Independence Requirement for a Review Report
Omission of Disclosures in Reviewed Financial Statements
Review Report When Other Accountants Are Involved
Other Reporting Guidance Applicable to Reviews

REPORTING GUIDANCE APPLICABLE TO COMPILATIONS AND REVIEWS

Reporting Responsibilities

General Reporting Responsibilities.
Reporting on the Highest Level of Service Provided.

Reporting When There Are Departures From the Applicable Financial Reporting Framework

Report Modification.
Illustrative Compilation Report Modified for a GAAP Departure.
Illustrative Review Report Modified for a GAAP Departure.
Emphasis Paragraph for a GAAP Departure.
Report When There Are GAAP Departures That Keep the Financial Statements from Being Misleading.
Withdrawal from an Engagement because of a GAAP Departure.

Emphasis Paragraphs

Inconsistency in Accounting Principle.
Uncertainty.

Subsequent Events
Restricting the Use of a Report

Combined Reports.
Separate Restricted Use and General Use Reports in the Same Document.
Adding Other Specified Parties.
Report Language.

COMPILATION AND REVIEW REPORTS ON OTHER PRESENTATIONS

Reporting on Supplementary Information That is Not Required

Compiled Basic Financial Statements Accompanied by Supplementary Information.
Reviewed Basic Financial Statements Accompanied by Supplementary Information.

Reporting on Required Supplementary Information

Compiled Basic Financial Statements with Required Supplementary Information.
Reviewed Basic Financial Statements with Required Supplementary Information.

Reporting on Tax Returns
Reporting on Special-purpose Financial Statements

Report When Agreement Specifies an Incomplete Presentation That Otherwise Conforms with GAAP or an OCBOA.
Complete Presentation Prepared on a Basis of Accounting Prescribed in an Agreement That Is Not In Conformity with GAAP or an OCBOA.

Reporting on Personal Financial Statements Included in Written Personal Financial Plans

Requirements for Exemption from SSARS Procedures.
Required Report if Exemption Is Elected.
Illustrative Report on Financial Statements Included in a Written Financial Plan.

COMPILATION AND REVIEW REPORTS ON COMPARATIVE FINANCIAL STATEMENTS

Client-prepared Statements
Compiled Statements for Some, but Not All, Periods Omit Substantially All Disclosures
Report of Continuing Accountant

Same or Higher Level of SSARS Service Performed by Continuing Accountant.
Lower Level of SSARS Service Performed by Continuing Accountant.
Changed Reference to GAAP Departure in Continuing Accountant's Report.

Change in Previous Financial Statements to Omit Substantially All Disclosures
Current Period Audited and Prior Period Compiled or Reviewed
Current Period Compiled or Reviewed and Prior Period Audited
Report When There Was a Predecessor Accountant

Predecessor Accountant Issued a Compilation or Review Report on Prior-period Statements.
Successor Accountant Makes Reference to Predecessor's Compilation or Review Report.
Predecessor Accountant Reissues Compilation or Review Report.

Restated Prior-period Financial Statements

Illustrative Compilation Report on the Restatement Adjustments.
Illustrative Review Report on the Restatement Adjustments.

Financial Statements with Different Bases of Accounting for the Same Period

Chapter 31: CONSULTING SERVICES STANDARDS

INTRODUCTION

Authority and Applicability of SSCS
Definition of Consulting Services

REQUIREMENTS OF SSCS NO. 1
CONSULTING SERVICES FOR ATTEST CLIENTS

Chapter 32: VALUATION SERVICES STANDARDS

INTRODUCTION

Authority and Applicability of SSVS

Excluded Engagements.
Jurisdictional Exception.

GENERAL ENGAGEMENT CONSIDERATIONS

Professional Competence
Nature and Risks of Valuation Services and Client Expectations
Objectivity and Conflict of Interest
Independence
Establishing an Understanding with the Client
Use of Specialists
Scope Restrictions or Limitations
Consideration of Subsequent Events
Documentation

TYPES OF VALUATION SERVICES ENGAGEMENTS

Valuation Engagement

Analysis of the Subject Interest.
Valuation Approaches and Methods.
Using Rules of Thumb or Benchmarks.
Valuation Adjustments.
Conclusion of Value.

Calculation Engagement

VALUATION REPORTS

Valuation Engagement Reports

Detailed Report.
Summary Report.

Calculation Engagement Reports
Oral Reports

Chapter 33: QUALITY CONTROL STANDARDS

INTRODUCTION

Authoritative Literature
Applicability
Professional Requirements
Objective
Glossary

SYSTEM OF QUALITY CONTROL

Unconditional Requirement to Establish a Quality Control System
Applying and Complying with Relevant Requirements
Requirement to Document and Communicate Quality Control Policies and Procedures
Requirement to Document the Operation of Quality Control Policies and Procedures
Requirement for Retention of Documentation

LEADERSHIP RESPONSIBILITIES FOR QUALITY WITHIN THE FIRM

Requirements
Application Guidance

RELEVANT ETHICAL REQUIREMENTS

Requirements
Application Guidance

Fundamental Principles of Professional Ethics.

ACCEPTANCE AND CONTINUANCE OF CLIENT RELATIONSHIPS AND SPECIFIC ENGAGEMENTS

Requirements
Application Guidance

Consideration of Competence, Capabilities, and Resources to Perform an Engagement.
Evaluation of a Client's Integrity.
Continuance of a Client Relationship.
Obtaining an Understanding with the Client.
Withdrawal from an Engagement or Client Relationship.

HUMAN RESOURCES

Requirements

Advancement of Personnel.
Assignment of Engagement Teams.

Application Guidance

Recruitment and Hiring.
Competencies and Capabilities.
Professional Development.
Performance Evaluation, Compensation, and Advancement.
Relationship of the Competency Requirement of the Uniform Accountancy Act to the Human Resource Element.
Assignment of Engagement Teams--Engagement Partner.
Assignment of Engagement Teams--Other Considerations.

ENGAGEMENT PERFORMANCE

Requirements

Consultation.
Engagement Quality Control Review.
Differences of Opinion.
Engagement Documentation.

Application Guidance

Consistency in the Quality of Engagement Performance.
Supervision.
Review.
Consultation.
Engagement Quality Control Review.
Differences of Opinion.
Engagement Documentation.

MONITORING

Requirements

Evaluating, Communicating, and Remedying Identified Deficiencies.
Communicating Results of Monitoring Procedures.
Complaints and Allegations.

Application Guidance

General Guidance.
Review of Work Performed.
Communication of Deficiencies.
Complaints and Allegations.

Chapter 34: ETHICS STANDARDS

INTRODUCTION

AICPA Bylaws
AICPA Code of Professional Conduct

Principles.
Rules.
Interpretations and Rulings.
Compliance with Rules, Interpretations, and Rulings.

Glossary

PRINCIPLES OF PROFESSIONAL CONDUCT

Article I--Responsibilities
Article II--The Public Interest
Article III--Integrity
Article IV--Objectivity and Independence
Article V--Due Care
Article VI--Scope and Nature of Services

INDEPENDENCE, INTEGRITY, AND OBJECTIVITY

Conceptual Framework for AICPA Independence Standards
Rule 101--Independence

Interpretation 101-1 of Rule 101.
Conceptual Framework for AICPA Independence Standards.
Interpretation 101-2--Employment or Association With Attest Clients.
Interpretation 101-3--Nonattest Services.
Interpretation 101-4--Honorary Directorships and Trusteeships of Not-for-profit Organization.
Interpretation 101-5--Loans from Financial Institution Clients and Related Terminology.
Interpretation 101-6--The Effect of Actual or Threatened Litigation on Independence.
Interpretation 101-7.
Interpretation 101-8.
Interpretation 101-9.
Interpretation 101-10--The Effect on Independence of Relationships With Entities Included in the Governmental Financial Statements.
Interpretation 101-11--Modified Application of Rule 101 for Engagements Performed in Accordance With Statements on Standards for Attestation Engagements.
Interpretation 101-12--Independence and Cooperative Arrangements with Clients.
Interpretation 101-13.
Interpretation 101-14--The Effect of Alternative Practice Structures on the Applicability of Independence Rules.
Interpretation 101-15--Financial Relationships.
Interpretation 101-17--Networks and Network Firms.
Interpretation 101-18--Application of the Independence Rules to Affiliates.
Interpretation 101-19--Permitted Employment With Client Educational Institution.

Rule 102--Integrity and Objectivity

Interpretation 102-1--Knowing Misrepresentations in the Preparation of Financial Statements or Records.
Interpretation 102-2--Conflicts of Interest.
Interpretation 102-3--Obligations of a Member to His or Her Employer's External Accountant.
Interpretation 102-4--Subordination of Judgment by a Member.
Interpretation 102-5--Applicability of Rule 102 to Members Performing Educational Services.
Interpretation 102-6--Professional Services Involving Client Advocacy.

RULINGS ON INDEPENDENCE, INTEGRITY, AND OBJECTIVITY

Ruling 1--Acceptance of a Gift
Ruling 2--Association Membership
Ruling 3--Member as Signer or Cosigner of Checks
Ruling 4--Payroll Preparation Services
Ruling 6--Member's Spouse as Accountant of Client
Ruling 7--Member Providing Contract Services
Ruling 8--Member Providing Advisory Services
Ruling 9--Member as Representative of Creditor's Committee
Ruling 10--Member as Legislator
Ruling 11--Member Designated to Serve as Executor or Trustee
Ruling 12--Member as Trustee of Charitable Foundation
Ruling 14--Member on Board of Federated Fund-raising Organization
Ruling 16--Member on Board of Directors of Nonprofit Social Club
Ruling 17--Member of Social Club
Ruling 19--Member on Deferred Compensation Committee
Ruling 20--Member Serving on Governmental Advisory Unit
Ruling 21--Member as Director and Auditor of an Entity's Profit Sharing and Retirement Trust
Ruling 29--Member as Bondholder
Ruling 31--Performance of Services for Common Interest Realty Associations (CIRAs), Including Cooperatives, Condominium Associations, Planned Unit Developments, Homeowners Associations, and Timeshare Developments
Ruling 33--Member as Participant in Employee Benefit Plan
Ruling 35--Stockholder in Mutual Funds
Ruling 36--Participation in Investment Club
Ruling 38--Member as Co-Fiduciary With Client Bank
Ruling 39--Member as Officially Appointed Stock Transfer Agent or Registrar
Ruling 41--Financial Services Company Client Has Custody of a Member's Assets
Ruling 48--Faculty Member as Auditor of a Student Fund
Ruling 51--Member Providing Legal Services
Ruling 52--Unpaid Fees
Ruling 54--Member Providing Appraisal, Valuation, or Actuarial Services
Ruling 55--Independence During Systems Implementation
Ruling 56--Executive Search
Ruling 58--Member as Lessor
Ruling 60--Employee Benefit Plans--Member's Relationships With Participating Employer
Ruling 61--Participation of Member's Spouse in Client's Stock Ownership Plans (Including an ESOP)
Ruling 64--Member Serves on Board of Organization for Which Client Raises Funds
Ruling 65--Use of the CPA Designation by Member Not in Public Practice
Ruling 66--Member's Retirement or Savings Plan Has Financial Interest in Client
Ruling 67--Servicing of Loan
Ruling 68--Blind Trust
Ruling 69--Investment With a General Partner
Ruling 70--Member's Depository Relationship With Client Financial Institution
Ruling 71--Use of Nonindependent CPA Firm on an Engagement
Ruling 72--Member on Advisory Board of Client
Ruling 73--Meaning of the Period of a Professional Engagement
Ruling 74--Audits, Reviews, or Compilations and a Lack of Independence
Ruling 75--Membership in Client Credit Union
Ruling 77--Individual Considering or Accepting Employment With the Client
Ruling 79--Member's Investment in a Partnership That Invests in Client
Ruling 80--The Meaning of a Joint Closely Held Business Investment
Ruling 81--Member's Investment in a Limited Partnership
Ruling 82--Campaign Treasurer
Ruling 85--Bank Director
Ruling 86--Partially Secured Loans
Ruling 87--Loan Commitment or Line of Credit
Ruling 88--Loans to Partnership in Which Members are Limited Partners
Ruling 89--Loan to Partnership in Which Members are General Partners
Ruling 90--Credit Card Balances and Cash Advances
Ruling 91--Member Leasing Property to or from a Client
Ruling 92--Joint Interest in Vacation Home
Ruling 93--Service on Board of Directors of Federated Fund-raising Organization
Ruling 94--Indemnification Clause in Engagement Letters
Ruling 95--Agreement with Attest Client to Use ADR Techniques
Ruling 96--Commencement of ADR Proceeding
Ruling 98--Member's Loan From a Nonclient Subsidiary or Parent of an Attest Client
Ruling 99--Member Providing Services for Company Executives
Ruling 100--Actions Permitted When Independence Is Impaired
Ruling 101--Client Advocacy and Expert Witness Services
Ruling 102--Indemnification of a Client
Ruling 103--Attest Report on Internal Controls
Ruling 104--Operational Auditing Services
Ruling 105--Frequency of Performance of Extended Audit Procedures
Ruling 106--Member Has Significant Influence Over an Entity That Has Significant Influence Over a Client
Ruling 107--Participation in Employee Benefit Plan Sponsored by Client
Ruling 108--Participation of Member, Spouse, or Dependent in Retirement, Savings, or Similar Plan Sponsored by, or That Invests in, Client
Ruling 109--Member's Investment in Financial Services Products That Invest in Clients
Ruling 110--Member is Connected With an Entity That Has a Loan to or From a Client
Ruling 111--Employee Benefit Plan Sponsored by Client
Ruling 112--Use of a Third-Party Service Provider to Assist a Member in Providing Professional Services
Ruling 113--Acceptance or Offering of Gifts or Entertainment
Ruling 114--Acceptance or Offering of Gifts or Entertainment to or from an Attest Client

GENERAL STANDARDS AND ACCOUNTING PRINCIPLES

Rule 201--General Standards

Interpretation 201-1--Competence.

Rule 202--Compliance with Standards
Rule 203--Accounting Principles

Interpretation 203-1--Departures From Generally Accepted Accounting Principles.
Interpretation 203-2--Status of FASB, GASB, and FASAB Interpretations.
Interpretation 203-3.
Interpretation 203-4--Responsibility of Employees for the Preparation of Financial Statements in Conformity with GAAP.
Interpretation 203-5--Financial Statements Prepared Pursuant to Financial Reporting Frameworks Other Than GAAP.

Rulings on General and Technical Standards

Ruling 8--Subcontractor Selection for Management Consulting Service Engagements.
Ruling 9--Supervision of Technical Specialist on Management Consulting Services Engagements.
Ruling 10--Submission of Financial Statements by a Member in Public Practice.
Ruling 11--Applicability of Rule 203 to a Member Performing Litigation Support Services.
Ruling 12--Applicability of General and Technical Standards When Using a Third-party Service Provider.

RESPONSIBILITIES TO CLIENTS

Rule 301--Confidential Client Information

Interpretation 301-3--Confidential Information and the Purchase, Sale, or Merger of a Practice.

Rule 302--Contingent Fees

Interpretation 302-1--Contingent Fees in Tax Matters.

RULINGS ON RESPONSIBILITIES TO CLIENTS

Ruling 1--Use of a Third-party Service Provider to Provide Professional Services to Clients or Administrative Support Services to the Members
Ruling 2--Disclosure of Client Information to Third Parties
Ruling 3--Information to Successor Accountant about Tax Return Irregularities
Ruling 5--Records Retention Agency
Ruling 6--Revealing Client Information to Competitors
Ruling 7--Revealing Names of Clients
Ruling 14--Use of Confidential Information on Management Consulting Service Engagements
Ruling 15--Earlier Similar Management Consulting Service Study With Negative Outcome
Ruling 16--Disclosure of Confidential Client Information
Ruling 17--Definition of the Receipt of a Contingent Fee or a Commission
Ruling 18--Bank Director
Ruling 19--Receipt of Contingent Fees or Commissions by Member's Spouse
Ruling 20--Disclosure of Confidential Client Information to Professional Liability Insurance Carrier
Ruling 21--Member Providing Services for Company Executives
Ruling 22--Member Removing Client Files From an Accounting Firm
Ruling 23--Disclosure of Confidential Client Information in Legal or Alternative Dispute Resolution Proceedings
Ruling 24--Investment Advisory Services
Ruling 25--Commission and Contingent Fee Arrangements With Nonattest Client

OTHER RESPONSIBILITIES AND PRACTICES

Rule 501--Acts Discreditable

Interpretation 501-1--Response to Requests by Clients and Former Clients for Records.
Interpretation 501-2--Discrimination and Harassment in Employment Practices.
Interpretation 501-3--Failure to Follow Standards and/or Procedures or Other Requirements in Governmental Audits.
Interpretation 501-4--Negligence in the Preparation of Financial Statements or Records.
Interpretation 501-5--Failure To Follow Requirements of Governmental Bodies, Commissions, or Other Regulatory Agencies.
Interpretation 501-6--Solicitation or Disclosure of CPA Examination Questions and Answers.
Interpretation 501-7--Failure to File Tax Return or Pay Tax Liability.
Interpretation 501-8--Failure to Follow Requirements of Governmental Bodies, Commissions, or Other Regulatory Agencies on Indemnification and Limitation of Liability Provisions in Connection with Audit and Other Attest Services.
Interpretation 501-9--Confidential Information Obtained From Employment or Volunteer Activities.
Interpretation 501-10--False, Misleading, or Deceptive Acts in Promoting or Marketing Professional Services.

Rule 502--Advertising and Other Forms of Solicitation

Interpretation 502-2--False, Misleading, or Deceptive Acts in Advertising or Solicitation.
Interpretation 502-5--Engagements Obtained through Efforts of Third Parties.

Rule 503--Commissions and Referral Fees
Rule 505--Form of Organization and Name

Interpretation 505-1--Investment in Accounting Organization.
Interpretation 505-2--Application of Rules of Conduct to Members Who Own a Separate Business.
Interpretation 505-3--Application of Rule 505 to Alternative Practice Structures.
Interpretation 505-4--Misleading Firm Names.
Interpretation 505-5--Common Network Brand in Firm Name.

RULINGS ON OTHER RESPONSIBILITIES AND PRACTICES

Ruling 2--Fees: Collection of Notes Issued in Payment
Ruling 3--Employment by a Non-CPA Firm
Ruling 33--Course Instructor
Ruling 38--CPA Title, Controller of Bank
Ruling 78--Letterhead: Lawyer-CPA
Ruling 82--Newsletter
Ruling 108--Member Interviewed by the Press
Ruling 117--Consumer Credit Company Director
Ruling 134--Association of Accountants Not Partners
Ruling 135--Association of Firms Not Partners
Ruling 136--Audit with Former Partner
Ruling 137--Nonproprietary Partners
Ruling 138--Partner Having Separate Proprietorship
Ruling 139--Partnership with Non-CPA
Ruling 140--Political Election
Ruling 141--Responsibility for Non-CPA Partner
Ruling 144--Title: Partnership Roster
Ruling 145--Firm Name of Merged Partnerships
Ruling 146--Membership Designation
Ruling 158--Operation of Separate Data Processing Business by a Public Practitioner
Ruling 176--Member's Association With Newsletters and Publications
Ruling 177--Data Processing: Billing Services
Ruling 179--Practice of Public Accounting under Name of Association or Group
Ruling 182--Termination of Engagement Prior to Completion
Ruling 183--Use of the AICPA Personal Financial Specialist Designation
Ruling 184--Definition of the Receipt of a Contingent Fee or a Commission
Ruling 185--Sale of Products to Clients
Ruling 186--Billing for Subcontractor's Services
Ruling 187--Receipt of Contingent Fees or Commissions by Member's Spouse
Ruling 188--Referral of Products of Others
Ruling 189--Requests for Records Pursuant to Interpretation 501-1
Ruling 190--Non-CPA Partner
Ruling 191--Member Removing Client Files From an Accounting Firm
Ruling 192--Commission and Contingent Fee Arrangements with Nonattest Client
Guide to GAAS Sample

View