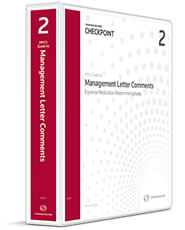 PPC's Guide to Management Letter Comments: Expense Reduction
Product Information
Frequency of Updates:

Annually

Brand:

Practitioners Publishing
Do you have trouble composing meaningful management letter comments (recommendations)? Add value to your audit with PPC's Guide to Management Letter Comments: Expense Reduction Recommendations. This valuable resource helps you quickly identify expense reduction opportunities for your clients. With this Guide, you'll receive more than 820 ready-to-use cost-saving recommendations that will add value to your management letters and to your audit engagements. Using just one could save your clients more money than the cost of the audit.
Each chapter contains a checklist to quickly identify your clients' expense reduction opportunities.Don't waste valuable time retyping recommendations - get the Guide on CD and paste them right into your word processing document. The comments can be used as is or tailored to fit your preferences or your client's situation.
One of the most often asked questions by public practitioners is "What kind of value-added service can I provide my audit clients that will give me a competitive advantage but will not significantly increase the cost of my audit?" The answer is practical expense reduction recommendations. This Guide is designed to give you that competitive advantage by assisting you in providing valuable recommendations to your clients that will make you look good and make them more profitable.
Audits are often considered fungible commodities that are available from a variety of service providers. Therefore, in this time of increased competition most firms are looking for ways to set their firm apart from the competition. The recommendations included in this Guide could save your clients thousands of dollars, possibly even more than the cost of your audit, and will demonstrate your genuine interest in their financial success. By incorporating into your audit a proactive approach to making your clients more successful (i.e. profitable) you will distinguish your firm from those offering only generic audit services.
Using this Guide you are quickly guided through diagnostic checklists designed to identify areas of potential expense reduction. Each question is designed to be answered either "Yes," "No," or "Not Applicable." Those items answered "No" indicate a potential expense reduction opportunity. Each question corresponds to one or more paragraphs in the chapter which contain typical management letter comments and recommendations that you can use in your management letter to recommend expense reduction opportunities to your client. Presenting positive recommendations will distinguish you from those who only include negative comments in their management letters. This will also demonstrate your interest in the client's success by offering suggestions that will enhance