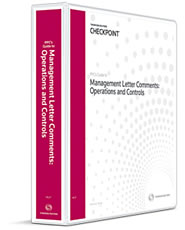 PPC's Guide to Management Letter Comments: Operations and Controls

Product Information
Frequency of Updates:




Annually

Brand:

Practitioners Publishing
One of the best ways to add value to your audit engagements is to provide meaningful management letter comments, and PPC's Guide to Management Letter Comments: Operations and Controls will help you identify and provide such comments in an efficient way. The Guide provides over 1,000 illustrative comments in the areas where most management comments are developed - operations and controls. The comments are categorized by audit area to help you find just the right one. The audit areas include:
Cash
Inventory
Accounts receivable
Accounts payable
Sales
And many more.
The Guide also covers other important areas such as corporate governance (including board and audit committee activities), company communications, personnel issues, the internal audit function, e-business, and information technology.
You can also use the listing of comments as a memory-jogger to identify potential comments during your audit. By purchasing an online version of the Guide, you can easily paste the comments right into your management letter and tailor them for your specific engagement.
Management Letter Comments: Operations and Controls

INTRODUCTORY MATERIAL

Chapter 1 Communication of Management Comments

Chapter 2 Cash

Chapter 3 Receivables

Chapter 4 Sales

Chapter 5 Inventory

Chapter 6 Cost of Sales

Chapter 7 Property

Chapter 8 Investments

Chapter 9 Prepaids and Other Assets

Chapter 10 Notes Payable and Long-term Debt

Chapter 11 Accounts Payable

Chapter 12 Accruals/Expenses

Chapter 13 Payroll/Personnel

Chapter 14 Other Income/Expenses and Taxes

Chapter 15 Equity

Chapter 16 General Company Administrative

Chapter 17 General Accounting

Chapter 18 Other Areas

Chapter 19 Specialized Industries

INDEX

--A--

--B--

--C--

--D--

--E--

--F--

--G--

--I--

--J--

--M--

--N--

--O--

--P--

--R--

--S--

--T--

--U--

--V--
---