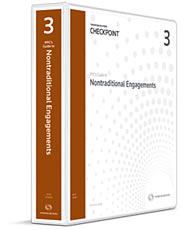 PPC's Guide to Nontraditional Engagements

Product Information
Frequency of Updates:

Annually

Brand:

Practitioners Publishing
When a client has an unusual service need - one that falls outside your traditional practice - are you ready to deliver? PPC's Guide to Nontraditional Engagements gives you everything you need to perform the most requested specialized services, including the following:
Agreed-upon procedures
Engagements to report on specified elements
Internal control engagements
Attestation engagements, including examinations and reviews
Compliance with terms of a lease or other contract
Engagements to report on pro forma financial information
Ownership changes and due diligence services
Ballot counting services
Special requests by lenders
Assurance services (including ElderCare and performance measurement)
The Guide provides you with comprehensive discussions of the professional standards that apply to each type of engagement and a complete set of practice aids. You'll get engagement letters, management representation letters, and procedures and reporting checklists to ensure you can efficiently and effectively perform your nontraditional engagements. It also discusses specific criteria used in certain nontraditional engagements, including COSO, Webtrust, and Systrust.
PPC's Guide to Nontraditional Engagements has provided the guidance and tools CPAs need for nearly 20 years.
List of Content (Click any title to expand the list)
INTRODUCTORY MATERIAL

PREFACE
PEER REVIEW OF THIS GUIDE
HOW TO USE THE GUIDE
ACKNOWLEDGMENTS
ACKNOWLEDGMENT OF COPYRIGHTS
ABOUT THE AUTHORS . . .
LIST OF SUBSTANTIVE CHANGES AND ADDITIONS
CHAPTER 1: NONTRADITIONAL ENGAGEMENTS--AN INTRODUCTION

100 WHAT ARE THEY?

When Do They Occur?
What Are Their Advantages?
What Are Their Disadvantages?
How Does This Guide Help?
How to Use This Guide

101 OVERVIEW OF THIS GUIDE

Agreed-upon Procedures
Performance Measurement Services
Lease Agreements
Specified Financial Statement Elements
Contracts
Compliance
Pro Forma Information
Attestation Engagements
Internal Control
COSO
Ownership Changes

Acquisition Assistance Engagements.

Other Nontraditional Engagements
Eldercare Services
Risk Assessment Services

102 OVERVIEW OF THE APPLICABLE STANDARDS

Code of Professional Conduct

When It Applies.
Form and Content.
Independence Considerations.
Conceptual Framework for AICPA Independence Standards.
Independence and Nonattest Services.
Interpretation 101-11: Modified Application of Rule 101 in SSAE Engagements.
Informing Clients of Outsourcing Arrangements.

Statements on Auditing Standards (SASs)

When They Apply.
Form and Content.

Statements on Standards for Accounting and Review Services (SSARSs)

When They Apply.
Form and Content.

Statements on Standards for Attestation Engagements (SSAEs)

When They Apply.
Form and Content.
SSAE Hierarchy.
Conforming Changes to the Attestation Standards Due to the Clarified Audit Standards.
Project to Clarify the Attestation Standards.

Statements on Standards for Consulting Services (SSCSs)

When They Apply.
Form and Content.

Statements on Standards for Valuation Services (SSVSs)
Statements on Quality Control Standards (SQCS)
Current Developments in Standard Setting for Audits of Nonpublic Entities

Standard-setting for Nonpublic Entities.
Clarity Project of the Auditing Standards Board.

Current Developments in Standard Setting for Compilation and Reviews for Nonpublic Entities

New Compilation and Review Interpretations on Required Supplementary Information.
Technical Practice Aid TIS 9150.29, "Effects on Compilation and Review Engagements When Management Does Not Assess Whether the Reporting Entity Is the Primary Beneficiary of a Variable Interest Entity and Instructs the Accountant to Not Perform the Assessment."
Technical Practice Aid TIS 9150.30, "Disclosure of Independence Impairment in the Accountant's Compilation Report on Comparative Financial Statements When the Accountant's Independence Is Impaired in Only One Period."
Proposed Clarified SSARS, Association With Unaudited Financial Statements.
Proposed Clarified SSARS, Compilation of Financial Statements.
Proposed Clarified SSARS, Review of Financial Statements.

Developments in Accounting Standard Setting
Current Developments in Professional Ethics Standards

Recently Issued Guidance.
Proposed Revision to ET 101-3.

103 RECENT DEVELOPMENTS IN NONTRADITIONAL ENGAGEMENTS--ASSURANCE SERVICES

What Are Assurance Services?
Why All the Commotion?
History of Assurance Services
What Are the Relevant Standards?
Why Is the AICPA Involved?

Establishing Criteria.
Creating a Market.
Identifying Specific Opportunities.

Why Should I Expand My Practice through Assurance Services?
Why I Might Not Offer Assurance Services
Additional Guidance and Practice Aids

104 MARKETING NEW SERVICES

Identifying Clients

General Characteristics.
Specialized Industry Experience.
Ideal Client Characteristics.

Practitioner as Trusted Business Advisor

Client Interaction.
Knowledge and Skills.
Personal Characteristics.

Identifying Potential Services

Identifying Needs.
Identifying the Benefits of the Service.
Pricing.
Feedback.

Obtaining New Clients
CHAPTER 2: AGREED-UPON PROCEDURES ENGAGEMENTS

200 INTRODUCTION

Introduction
Agreed-upon Procedures Engagements

Definition.
Purpose.
Example.

201 AUTHORITATIVE LITERATURE

SSAE No. 10
AT 101, Attestation Standards
AT 201, Agreed-upon Procedures Engagements
Engagements Performed under Other Authoritative Literature
Applicability of General, Fieldwork, and Reporting Standards
Definitions and Terms

What Constitutes a Written Assertion?
Is a Written Assertion Required?
What Is the Subject Matter?
What Are the Criteria?
Who Is the Responsible Party?
Who Are the Specified Parties?

202 DECIDING BETWEEN AN AGREED-UPON PROCEDURES ENGAGEMENT AND A CONSULTING ENGAGEMENT

Adding Credibility
Third-party Involvement
Determining Whether the Services Can Be Performed as an Agreed-upon Procedures Engagement

Determining If the Procedures Are Appropriate.
Determining Whether Other Conditions Can Be Met.
Other Engagement Alternatives.

Dual Engagements
Case Study

203 ACCEPTING AN AGREED-UPON PROCEDURES ENGAGEMENT

Conditions for Engagement Acceptance
Prospective Client's Reputation

Factors to Consider When Evaluating Integrity.
Gathering Evidence of Integrity.
Communication with a Predecessor or Primary Accountant.

Meeting Professional Standards and Other Requirements

Assessment of Required Services.
Adequate Training and Knowledge.
Independence.

Subject Matter, Criteria, and Procedures
Engagement Acceptance Form
Existing Client

204 CONSIDERING THE USE OF A SPECIALIST

Appropriate and Inappropriate Uses of a Specialist's Work
Responsibility for Deciding Whether a Specialist Is Needed
Responsibility for Evaluating the Competency of a Specialist

205 ESTABLISHING THE TERMS OF THE ENGAGEMENT

Responsibilities of the Specified Parties and the Practitioner
Obtaining Agreement on Procedures

Obtaining Written Acknowledgment.

Engagement Letters

Required Elements.
Other Matters.
When the Client Is Not the Responsible Party.
Who Should Sign the Letter?
When Should the Letter Be Obtained?
Sample Engagement Letter.

Modifying Terms after the Engagement Has Begun
Adding Users after the Engagement Has Begun

206 PLANNING AN AGREED-UPON PROCEDURES ENGAGEMENT

Responsibilities of the Practitioner

Engagement Risk.
Knowledge of the Subject Matter.
Understanding of the Procedures.

Assignment of Personnel
Planning Form

207 DESIGNING PROCEDURES

Users' Responsibilities
Practitioner's Responsibilities

Performing Procedures That Are Also Performed in an Examination or Review.
Applying Agreed-upon Procedures to All, or Substantially All, of the Elements, Accounts, or Items in a Financial Statement.
Evidential Matter.

Appropriate Procedures
Inappropriate Procedures
Illustrative Procedures
Materiality and Sampling

Applicability to an Agreed-upon Procedures Engagement.
Responsibility for Determining Materiality.
Responsibility for Adequacy of Sample Sizes.
Planning the Extent of Procedures.
Documenting Materiality Levels and Sample Sizes in the Engagement Letter.

Information Obtained through Other Means
Subsequent Events
Other Information in a Document Containing the Practitioner's Report
Use of Client Personnel and Internal Auditors
Use of Procedures Checklists

Example Checklist.
Tailoring the Checklist.

208 WORKPAPERS

Basic Requirements
Recommended Content

209 REVIEW AND EVALUATION

Summarization of Findings
Review of Workpapers

Detailed Review.
Supervisory Review.
Engagement Quality Control and Technical Review.

Supervision, Review, and Approval Form

210 REPRESENTATION LETTER

Reasons for Obtaining a Letter

Matters to Be Included.
Matters to Be Included When Client Is Not the Responsible Party.

Refusal to Furnish a Representation Letter
Signing and Dating the Representation Letter
Example Representation Letter

211 REPORTING

Content of the Report
Clearly Distinguishable Reports
Identifying the Subject Matter
Heading the Report
Addressing the Report
Dating the Report
Nature of the Practitioner's Conclusions

Procedures and Findings.
Reporting All Findings.

Providing Negative Assurance
Restricting Use of the Report
Communicating Other Matters

Deciding Whether to Report Such Matters.
Acknowledging Responsibility in the Engagement Letter.

Considering Subsequent Events
Scope Restrictions
Other Explanatory Language
Combined or Included Reports
Complete Financial Statements Presented with the Practitioner's Agreed-upon Procedures Report

212 CHANGES IN TYPE OF ENGAGEMENT AFTER COMMENCEMENT

Change to an Agreed-upon Procedures Engagement
Change to a Consulting Engagement

213 QUALITY CONTROL AND PEER REVIEWS

Statement on Quality Control Standard No. 8

Professional Requirements.
Elements of a Quality Control System.
Documentation and Communication of the Firm's QC Policies and Procedures.
Quality Control Audit Guidance.

AICPA Peer Review Standards

Types of Reviews.
Applicability of Peer Review and Quality Control Standards to AUP Engagements.

Common Deficiencies Noted in Peer Reviews

APPENDIX 2A: Agreed-upon Procedures Checklist--Attestation Engagements
APPENDIX 2B: Agreed-upon Procedures Engagement Acceptance Form
APPENDIX 2C: Agreed-upon Procedures Correspondence Letters

APPENDIX 2C-1: Engagement Letter--Applying Agreed-upon Procedures
APPENDIX 2C-2: Engagement Letter Addendum
APPENDIX 2C-3: Request for Specified Party's Comments on Procedures

APPENDIX 2D: Agreed-upon Procedures Planning Form
APPENDIX 2E: Findings Summary Form--Agreed-upon Procedures Engagements
APPENDIX 2F: Representation Letters

APPENDIX 2F-1: Representation Letter--Applying Agreed-upon Procedures
APPENDIX 2F-2: Client Representation Letter--Client Is Not the Responsible Party

APPENDIX 2G: Supervision, Review, and Approval Form--Agreed-upon Procedures Engagements
APPENDIX 2H: Attestation Reporting Checklist--Agreed-upon Procedures
APPENDIX 2I: Reports on Applying Agreed-upon Procedures

APPENDIX 2I-1: Report on Applying Agreed-upon Procedures
APPENDIX 2I-2: Report on Applying Agreed-upon Procedures to Financial Information--Claims of Creditors, Materiality Limits Stated, Restriction on Performance of Procedures
APPENDIX 2I-3: Report on Applying Agreed-upon Procedures to Financial Information--Merger or Acquisition
APPENDIX 2I-4: Report on Applying Agreed-upon Procedures to Financial Information--Acquisition, Procedures, and Findings Described in a Separate Schedule
APPENDIX 2I-5: Report on Applying Agreed-upon Procedures to Financial Information--Royalty Calculation
APPENDIX 2I-6: Report on Applying Agreed-upon Procedures to Financial Information--Bonus Calculation, Matters outside the Agreed-upon Procedures
APPENDIX 2I-7: Report on Applying Agreed-upon Procedures to Financial Information--Count of Cash and Securities, Report Is a Matter of Public Record
APPENDIX 2I-8: Combined Report on Applying Agreed-upon Procedures to Financial and Nonfinancial Information

APPENDIX 2J: Illustrative Agreed-upon Procedures
CHAPTER 3: PERFORMANCE MEASUREMENT SERVICES

300 BACKGROUND INFORMATION

Introduction
Benefits to Companies That Implement a Performance Measurement System
About This Chapter

301 THE CPA'S ROLE IN PERFORMANCE MEASUREMENT

Introduction
Background Information

The Special Committee on Assurance Services.

AICPA Performance Measurement Task Force
Benefits of Providing Performance Measurement Services
Overview of the Performance Measurement Services CPAs Might Perform
Consulting Services

Facilitating the Process.
Assisting with the Development of Performance Measures.
Developing Systems for Capturing and Monitoring Performance Measures.
Identifying Resources for Benchmarking.
Holding Quarterly Meetings.
Professional Standards.

Overview of a Performance Measurement Consulting Engagement

Establishing the Terms of the Engagement.
Obtaining an Understanding of the Subject Matter.
Designing the Procedures to Be Performed.
Obtaining an Engagement Letter.
Performing the Procedures.
Preparing the Summary of Findings (the Report).
Consider the Need for a Representation Letter.
Workpapers.
Practice Aids.

Financial Statement Services

Historical Financial Information.
Prospective Financial Information.

Attestation Services

302 PRACTICE ISSUES

Introduction
Engagement Acceptance

Clients of Questionable Integrity.
Information outside the Basic Financial Statements.
Intended Users.
Engagement Acceptance Form.
Engagement Acceptance for Existing Clients.

Establishing the Terms of the Engagement
Engagement Letters

Illustrative Engagement Letters.

Independence
Liability Insurance
Client Representation Letters
Practice Aids
Quality Control and Peer Review Standards

Quality Control.
Peer Review.

303 THE PERFORMANCE MEASUREMENT PROCESS

Introduction
The Performance Measurement Process
Overview of Phase 1: Defining the Strategy

Developing a Mission Statement.
Analyzing the Market.
Identifying Other Key External Factors.
Analyzing the Company.
Identifying Critical Success Factors.
Determining the Organization's Objectives and Strategies.
Communicating the Strategies throughout the Organization.

Overview of Phase 2: Developing Performance Measures

Determining Action Plans.
Considering the Need for Process Improvement.
Determining the Framework for Measures.
Choosing the Right Measures.
Considering Commonly Used Performance Measures.
Establishing Targets.
Performing Sanity Checks.
Communicating Measures throughout the Organization.
The Accountant as Facilitator.

Overview of Phase 3: Implementing a Performance Measurement System

Considering Data Collection Methods.
Determining the Frequency of Measurement.
Assigning Responsibilities for Performance Data.
Reporting Performance Measurement Results.

Overview of Phase 4: Monitoring the Results of the Performance Measurement System

Considering How to Analyze Performance Data.
Obtaining Feedback from Report Users.
Deciding Which Actions to Take When Anticipated Results Are Not Being Achieved.

304 BENCHMARKING

Introduction
Planning
Measuring the Company's Own Performance
Gathering External Data
Analyzing the Data
Implementing Improvements
Maintaining the Ongoing Process

APPENDIX 3A: Performance Measurement Engagement Acceptance Form
APPENDIX 3B: Performance Measurement Consulting Services--Practice Aids

APPENDIX 3B-1: Illustrative Engagement Letter--Comprehensive Performance Measurement Engagement
APPENDIX 3B-2: Illustrative Engagement Letter--Developing Performance Measurements
APPENDIX 3B-3: Performance Measurement Engagement Letter Addendum
APPENDIX 3B-4: Comprehensive Performance Measurement Engagement Procedures Checklist
APPENDIX 3B-5: Illustrative Consulting Report--Comprehensive Performance Measurement Engagement
APPENDIX 3B-6: Illustrative Representation Letter--Comprehensive Performance Measurement Engagement

APPENDIX 3C: SWOT Analysis

APPENDIX 3C-1: SWOT Analysis Overview
APPENDIX 3C-2: Internal Strengths and Weaknesses Form
APPENDIX 3C-3: External Opportunities and Threats Form
APPENDIX 3C-4: SWOT Recap Form

APPENDIX 3D: Scorecard Template
CHAPTER 4: REPORTING REQUIRED BY LEASE AGREEMENTS

400 INTRODUCTION

Lease Terms

Percentage Rent.
Which Sales Are Included?
Calculating the Breakpoint.

Defining the Engagement

Level of Service.
Type of Presentation.
Reporting on a Schedule of Sales as Supplementary Information.
Reporting on a Schedule of Sales as a Separate Specified Element.

Engagement Decision Tree

401 REPORTING ON A SCHEDULE OF SALES AS SUPPLEMENTARY INFORMATION

Definitions
Compiled Supplementary Information

Authoritative Literature.
Workpapers.
Engagement Reporting.
Illustrative Report.

Reviewed Supplementary Information

Authoritative Literature.
Engagement Scope.
Workpapers.
Engagement Reporting.
Illustrative Reports.

Audited Supplementary Information

Authoritative Literature.
Engagement Scope and Planning Materiality.
Required Procedures.
Workpapers.
Engagement Reporting.
Modifications to the Opinion on the Schedule.
Modifications to the Opinion on the Basic Financial Statements.
Can Supplementary Information Be Provided Separately from the Financial Statements?
Illustrative Reports.

Additional Guidance

402 REPORTING ON A SCHEDULE OF SALES AS A SEPARATE SPECIFIED ELEMENT

What Constitutes a Specified Element, Account, or Item of a Financial Statement?
Authoritative Literature

403 COMPILING A SEPARATE SCHEDULE OF SALES

Authoritative Literature
Workpaper Documentation

Procedures, Review, and Approval Form for a Compilation of a Separate Schedule of Sales.

Engagement Reporting

Illustrative Report.
Independence
Basis of Accounting.
Reconciliation of Sales.
Report Date.

404 REVIEWING A SEPARATE SCHEDULE OF SALES

Authoritative Literature

Applicability of AT 101.
The Decision to Perform a Review?

Performing a Review

Objective of a Review.
Applying the Attestation Standards to a Review.
The Need for a Written Assertion.
Internal Control Considerations.
Considering the Criteria.
Reconciliation of Sales.
Independence.

Review Procedures
Suggested Workpapers

Minimum Level of Documentation.
Checklist for a Review of a Separate Schedule of Sales.

Engagement Reporting

Basic Reporting Requirements.
Report Restrictions.
Additional Commentary.
Scope Limitations.
Interpretations of the Lease.
Illustrative Reports.

405 AUDITING A SEPARATE SCHEDULE OF SALES

Authoritative Literature

Statements on Auditing Standards.

Engagement Acceptance Considerations
Engagement Scope and Planning Materiality

Scope of Engagement.
Planning Materiality.

Suggested Workpapers

AU-C 230 Guidance.
Minimum Level of Documentation.
Audit Program for a Schedule of Sales.
Time between Engagements.
Reconciliation of Sales.
Representation Letter.

Engagement Reporting

When Financial Statements Have Been Audited.
Basis of Accounting.
Limitations on Use of the Report.
Lease Interpretations.
Dating the Report.

406 APPLYING AGREED-UPON PROCEDURES TO A SEPARATE SCHEDULE OF SALES

Authoritative Literature
Requirements for Accepting an Engagement

Independence.
Who Are the Specified Parties?
Considering the Criteria.
Obtaining Agreement on the Procedures.
Engagement Letter.
Suggested Content of Engagement Letter
Who Needs to Sign the Letter?
When Is the Letter Obtained?
Sample Engagement Letter.
Modifying Terms after the Engagement Has Begun.

Designing Procedures

Specified Party's Responsibilities.
Practitioner's Responsibilities.
Evidential Matter.
Appropriate Procedures.
Inappropriate Procedures.
Materiality and Sampling.
Responsibility for Determining Materiality.
Responsibility for Adequacy of Sample Sizes.
Documenting Materiality Levels and Sample Sizes in the Engagement Letter.
Information Obtained through Other Means.
Use of Procedures Checklists.

Suggested Workpapers

Basic Requirements.
Minimum Level of Documentation.

Representation Letter

Reasons for Obtaining the Letter.
Refusal to Provide a Letter.
Signing and Dating the Representation Letter.
Example Representation Letter.

Engagement Reporting

Content of the Report.
Heading the Report.
Addressing the Report.
Dating the Report.
Procedures and Findings.
Reporting Findings.
Providing Negative Assurance.
Communicating Other Matters.
Scope Restrictions.
Other Explanatory Language.
Interpretations of the Lease.
What Kind of Engagement Is It?

407 COMPLIANCE WITH LEASE COVENANTS
408 WHEN WORKING FOR THE LANDLORD

Reporting on Schedules of Sales
Types of Reports
Other Types of Engagements

Occupancy Costs.
Other Schedules.

APPENDIX 4A: Reports on Supplementary Information

APPENDIX 4A-1: Compilation--Combined Report on Compiled Supplementary Information and Compiled Basic Financial Statements
APPENDIX 4A-2: Review--Combined Report on Compiled Supplementary Information and Reviewed Basic Financial Statements
APPENDIX 4A-3: Review--Combined Report on Reviewed Supplementary Information and Reviewed Basic Financial Statements
APPENDIX 4A-4: Audit--Combined Report, Unmodified Opinion on Supplementary Information and Financial Statements
APPENDIX 4A-5: Audit--Separate Unmodified Opinion on Supplementary Information
APPENDIX 4A-6: Audit--Separate Disclaimer of Opinion on Supplementary Information
APPENDIX 4A-7: Audit--Separate Qualified Opinion on Supplementary Information

APPENDIX 4B: Practice Aids for a Compilation of a Separate Schedule of Sales

APPENDIX 4B-1: Procedures, Review, and Approval Form for a Compilation of a Separate Schedule of Sales
APPENDIX 4B-2: Engagement Acceptance and Continuance Form--Compilation of a Separate Schedule of Sales
APPENDIX 4B-3: Illustrative Engagement Letter--Compilation of a Separate Schedule of Sales
APPENDIX 4B-4: Client Information Form--Compilation of a Separate Schedule of Sales
APPENDIX 4B-5: Sales Reconciliation Form
APPENDIX 4B-6: Compilation Report--Separate Schedule of Sales

APPENDIX 4C: Practice Aids for a Review of a Separate Schedule of Sales

APPENDIX 4C-1: Checklist for a Review of a Separate Schedule of Sales
APPENDIX 4C-2: Illustrative Engagement Letter--Review of a Separate Schedule of Sales
APPENDIX 4C-3: Client Representation Letter--Review of a Separate Schedule of Sales
APPENDIX 4C-4: Review Report--Separate Schedule of Sales
APPENDIX 4C-5: Review Report--Separate Schedule of Sales, Emphasis of a Matter

APPENDIX 4D: Practice Aids for an Audit of a Separate Schedule of Sales

APPENDIX 4D-1: Illustrative Engagement Letter--Audit of a Separate Schedule of Sales
APPENDIX 4D-2: General Audit Program for Audit of a Separate Schedule of Sales
APPENDIX 4D-3: Audit Program for an Audit of a Separate Schedule of Sales
APPENDIX 4D-4: Client Representation Letter--Audit of a Separate Schedule of Sales
APPENDIX 4D-5: Supervision, Review, and Approval Form--Audit of a Separate Schedule of Sales
APPENDIX 4D-6: Audit Report--Separate Schedule of Sales--Engagement in Connection with an Audit of Financial Statements
APPENDIX 4D-7: Audit Report--Separate Engagement--Schedule of Sales

APPENDIX 4E: Practice Aids for Agreed-upon Procedures Applied to a Separate Schedule of Sales

APPENDIX 4E-1: Checklist for Agreed-upon Procedures Applied to a Separate Schedule of Sales
APPENDIX 4E-2: Illustrative Engagement Letter--Agreed-upon Procedures Applied to a Separate Schedule of Sales
APPENDIX 4E-3: Client Representation Letter--Agreed-upon Procedures Applied to a Separate Schedule of Sales
APPENDIX 4E-4: Agreed-upon Procedures Report--Separate Schedule of Sales
APPENDIX 4E-5: Agreed-upon Procedures Report--Separate Schedule of Sales--Interpretation of Lease
APPENDIX 4E-6: Agreed-upon Procedures Report--Schedule of Common Area Maintenance
CHAPTER 5: REPORTING ON SPECIFIED ELEMENTS

500 INTRODUCTION

What Is a Specified Element?

How Do Specified Elements Differ from Incomplete Presentations?

When Might Presentations of Specified Elements Be Needed?
Types of Services Relating to Specified Elements

Defining the Terms of the Engagement.
Type of Presentation.
Presentation as Supplementary Information.
Separate Specified Element.

What This Chapter Covers

501 AUDITING A SPECIFIED ELEMENT

Authoritative Literature

Overview of This Section.

Suggested Workpapers

AU-C 230 Guidance.
Support for Auditor's Report.
Other Purposes of Workpapers.
Basic Requirements for Content.
Dating the Audit Report and Documenting Revisions after That Date.
Retention.
Minimum Level of Documentation.

Engagement Acceptance and Planning

Accepting the Engagement and Planning and Performing the Audit.
Risk Assessment Process.
Establishing Terms of the Engagement.
Analytical Procedures in Planning.
Materiality Considerations.
Internal Control Considerations.
Risk of Material Misstatement.

Substantive Procedures

Considerations for Testing Understatement.
Reconciliation to the Financial Statements.
Substantive Procedures Required in Every Audit.
Audit Approach.
Tailoring the Audit Programs--Selecting Extended Procedures (Procedures for Additional Assurance).
Documenting the Response.

Representation Letters
Attorney Letters
Reporting on Audits of Specified Elements

Example Reports.
Presentation in Conformity with a Contract or Legal Agreement.
Modified Opinion.
Going Concern.
Reporting When the Financial Statements Were Audited.
Reporting When the Financial Statement Audit Report Was Other than a Standard Report.
Considerations When Audit Evidence Is Destroyed by Fire, Flood, or Natural Disaster.
Other Required Communications.

502 REVIEWING A SPECIFIED ELEMENT

Applicability of AT 101
Performing a Review

Objective of a Review.
Applying the Attestation Standards to a Review.
The Need for a Written Assertion.
Internal Control Considerations.
Considering the Criteria.
Independence.

Review Procedures
Suggested Workpapers

Minimum Level of Documentation.
Checklist for a Review of a Specified Element.

Reporting on Reviews of Specified Elements

Additional Commentary.
Scope Limitations.
Report Restrictions.
Significant Interpretations.

503 COMPILING A SPECIFIED ELEMENT

Authoritative Literature
Understanding with the Entity
Performing a Compilation
Workpaper Documentation

Procedures, Review, and Approval Form for a Compilation of a Specified Element.

Reporting on Compilations of Specified Elements

Illustrative Report.
Independence.
Basis of Accounting Specified by a Legal Agreement.

504 REPORTING ON SUPPLEMENTARY INFORMATION

Definitions
Audited Supplementary Information

Authoritative Literature.
Engagement Scope and Planning Materiality.
Required Procedures
Workpapers.
Engagement Reporting.
Modifications to the Report on the Supplementary Information.
Modifications to the Report on the Basic Financial Statements.
Can Supplementary Information Be Provided Separately from the Financial Statements?
Illustrative Reports.

Information Not Audited
Reviewed Supplementary Information

Authoritative Literature.
Engagement Scope.
Workpapers.
Engagement Reporting.
Illustrative Reports.
Information Not Covered by Review Procedures.

Compiled Supplementary Information

Authoritative Literature.
Workpapers.
Engagement Reporting.
Illustrative Report.

Additional Guidance

APPENDIX 5A: Practice Aids for an Audit of a Specified Element

APPENDIX 5A-1: Illustrative Engagement Letter--Audit of a Specified Element
APPENDIX 5A-2: General Audit Program for an Audit of a Specified Element
APPENDIX 5A-3: Client Representation Letter--Audit of a Specified Element
APPENDIX 5A-4: Supervision, Review, and Approval Form--Audit of a Specified Element
APPENDIX 5A-5: Auditor's Report--Report on Specified Elements, Accounts, or Items of a Financial Statement Prepared in Accordance with GAAP--Separate Engagement (Report Drafting Illustration)
APPENDIX 5A-6: Auditor's Report--Separate Engagement (Schedule of Accounts Receivable)
APPENDIX 5A-7: Auditor's Report--Separate Engagement (Drilling Revenue and Expense)
APPENDIX 5A-8: Auditor's Report--Separate Engagement (Reimbursable Overhead Expenses)
APPENDIX 5A-9: Auditor's Report--Separate Engagement (Royalties)
APPENDIX 5A-10: Auditor's Report--Separate Engagement (Net Departmental Bonuses)
APPENDIX 5A-11: Auditors Report--Report on Specified Elements, Accounts, or Items of a Financial Statement Prepared in Accordance with GAAP--Engagement in Connection with an Audit of Financial Statements (Report Drafting Illustration)
APPENDIX 5A-12: Auditor's Report--Separate Specified Element--Engagement in Connection with an Audit of Financial Statements (Profit Participation)
APPENDIX 5A-13: Auditor's Report--Separate Specified Element--Engagement in Connection with an Audit of Financial Statements (Contribution to a Profit Sharing Trust)
APPENDIX 5A-14: Auditor's Report--Separate Specified Element--Engagement in Connection with an Audit of Financial Statements (Contribution to a Sinking Fund)
APPENDIX 5A-15: Auditor's Report--Separate Specified Element--Engagement in Connection with an Audit of Financial Statements (Amount Available for Dividends)
APPENDIX 5A-16: Auditor's Report--Separate Specified Element--Engagement in Connection with an Audit of Financial Statements (Incentive Compensation Plan)
APPENDIX 5A-17: Auditor's Report--Separate Specified Element--Engagement in Connection with an Audit of Financial Statements (Prescribed Schedule of Exploration Expenditures of a Regulated Company)

APPENDIX 5B: Practice Aids for a Review of a Specified Element

APPENDIX 5B-1: Checklist for a Review of a Specified Element
APPENDIX 5B-2: Illustrative Engagement Letter--Review of a Specified Element
APPENDIX 5B-3: Client Representation Letter--Review of a Specified Element
APPENDIX 5B-4: Review Report--Separate Specified Element

APPENDIX 5C: Practice Aids for a Compilation of a Specified Element

APPENDIX 5C-1: Procedures, Review, and Approval Form for a Compilation of a Specified Element
APPENDIX 5C-2: Engagement Acceptance and Continuance Form--Compilation of a Specified Element
APPENDIX 5C-3: Illustrative Engagement Letter--Compilation of a Specified Element
APPENDIX 5C-4: Client Information Form--Compilation of a Specified Element
APPENDIX 5C-5: Compilation Report--Separate Specified Element

APPENDIX 5D: Reporting on Specified Elements as Supplementary Information

APPENDIX 5D-1: Compilation Report--Combined Report of Compiled Supplementary Information and Compiled Basic Financial Statements
APPENDIX 5D-2: Review Report--Combined Report of Reviewed Supplementary Information and Reviewed Basic Financial Statements
APPENDIX 5D-3: Review Report--Combined Report of Compiled Supplementary Information and Reviewed Basic Financial Statements
APPENDIX 5D-4: Audit Report--Combined Report, Unmodified Opinion on Supplementary Information and Financial Statements
APPENDIX 5D-5: Audit Report--Separate Unmodified Opinion on Supplementary Information
APPENDIX 5D-6: Audit Report--Separate Disclaimer of Opinion on Supplementary Information
APPENDIX 5D-7: Audit Report--Separate Qualified Opinion on Supplementary Information
CHAPTER 6: REPORTING REQUIRED BY CONTRACTUAL AGREEMENTS

600 INTRODUCTION
601 REPORTING ON COMPLIANCE WITH CONTRACTUAL AGREEMENTS IN CONNECTION WITH AN AUDIT OF THE FINANCIAL STATEMENTS

Conditions for Providing Negative Assurance

Limitation to Accounting Matters.

Modifications to Audit Procedures
Documentation

Client Representation Letter Considerations.

Reporting Considerations

Separate Reports.
Combined with Report on Audited Financial Statements.
Other Reporting Considerations.
Interpretations of Contractual Agreements.
Reporting on Noncompliance.

Reporting on Compliance When the Financial Statements Are Compiled or Reviewed

602 REPORTING ON CONTRACTUAL BASIS FINANCIAL STATEMENTS

What Are Contractual Basis Financial Statements?
Presentation Considerations for Contractual Basis Financial Statements
Providing Services Relating to Contractual Basis Financial Statements
Auditing Contractual Basis Financial Statements

Auditor's Reports.
Illustrative Report Language.

Reviewing Contractual Basis Financial Statements
Compiling Contractual Basis Financial Statements

603 REPORTING ON INCOMPLETE PRESENTATIONS

What Is an Incomplete Presentation?
Incomplete Presentations That Are Otherwise in Conformity with GAAP

Authoritative Literature.
General Presentation Considerations.

Auditing Incomplete Presentations
Reviewing Incomplete Presentations
Compiling Incomplete Presentations
Incomplete Presentations That Are Otherwise in Conformity with an OCBOA or the Contractual Basis of Accounting

APPENDIX 6A: Illustrative Reports on Compliance in Connection with Financial Statement Audits

APPENDIX 6A-1: Compliance Report--Combined with Report on Audited Financial Statements
APPENDIX 6A-2: Compliance Report--Separate Report--Report on Audited Financial Statements Was Unmodified
APPENDIX 6A-3: Compliance Report--Separate Report--Example of Noncompliance

APPENDIX 6B: Illustrative Reports on Contractual Basis Financial Statements

APPENDIX 6B-1: Audit--Complete Set of Financial Statements Prepared Pursuant to a Contract
APPENDIX 6B-2: Review--Complete Set of Financial Statements Prepared Pursuant to a Loan Agreement
APPENDIX 6B-3: Compilation--Complete Set of Financial Statements Prepared Pursuant to an Acquisition Agreement

APPENDIX 6C: Illustrative Reports on Incomplete Presentations That Are Otherwise in Conformity with GAAP

APPENDIX 6C-1: Audit--Incomplete Presentation That Is Otherwise in Conformity with GAAP
APPENDIX 6C-2: Review--Incomplete Presentation That Is Otherwise in Conformity with GAAP
APPENDIX 6C-3: Compilation--Incomplete Presentation That Is Otherwise in Conformity with GAAP
CHAPTER 7: REPORTING ON COMPLIANCE

700 INTRODUCTION

Types of Compliance Engagements
Scope of AT 601

Attestation Standard for Agreed-upon Procedures Engagements.

What This Chapter Covers

701 AGREED-UPON PROCEDURES--PRE-ENGAGEMENT CONSIDERATIONS

Engagement Acceptance

AT 601 Requirements.
Management's Responsibilities.
Written Assertion.
Compliance Criteria.
Independence.
Independence Considerations for Engagements Involving Compliance with Contractual Agreements.
Engagement Acceptance Form.
Acceptance Considerations for Existing Clients.

702 AGREED-UPON PROCEDURES--PLANNING AND PERFORMING THE ENGAGEMENT

Establishing the Terms of an Agreed-upon Procedures Engagement

Responsibilities of the Specified Parties.
Responsibilities of the Practitioner.
Determining Appropriate Procedures.
Materiality and Sampling Considerations.
Engagement Letters.

Planning Considerations

Obtaining an Understanding of the Specified Compliance Requirements.
Planning Form.

Performing the Agreed-upon Procedures
Use of Client Personnel and Internal Auditors
Workpapers

703 AGREED-UPON PROCEDURES--REPORTING CONSIDERATIONS

General Considerations
Description of the Procedures
Significant Interpretations
Reporting on Noncompliance

Information about Noncompliance Obtained from Other Sources.
Subsequent Noncompliance.

Scope Limitations

704 COMPLIANCE EXAMINATION ENGAGEMENTS

Engagement Acceptance and Continuance Considerations

Written Assertion.
Compliance Criteria.
Engagement Letters.

Overview of the Engagement
Planning the Engagement

Materiality.
Attestation Risk.

Considering the Internal Control over Compliance

Obtaining an Understanding of Controls over Compliance.
Tests of Controls.
Communication of Significant Control Deficiencies.
Consideration of the Internal Audit Function.

Obtaining Evidence

Use of Management Interpretations.
Considerations for Entities with Multiple Components.

Considering Subsequent Events
Representation Letters
Forming an Opinion

Effect on the Financial Statement Audit.

Other Engagement Considerations
Reporting on Compliance Examinations

Standard Report.
Compliance Criteria.
Restricting the Use of the Report.
Disclosure of Significant Interpretations.
Reporting When There Is Material Noncompliance.
Reporting on Noncompliance That Is Not Material.
Scope Limitations.
Opinion Based in Part on Report of Another Practitioner.

705 ENGAGEMENTS REGARDING INTERNAL CONTROLS OVER COMPLIANCE

Agreed-upon Procedures Engagements

Written Assertion.
Criteria for Evaluating Controls.
Report on Controls over Compliance.
Report on Both Compliance and Controls over Compliance.

Examination of Internal Control over Compliance

APPENDIX 7A: Agreed-upon Procedures Engagements

APPENDIX 7A-1: Agreed-upon Procedures Checklist--Compliance Attestation Engagements
APPENDIX 7A-2: Representation Letter--Attestation Engagement Relating to Compliance
APPENDIX 7A-3: Attestation Reporting Checklist--Agreed-upon Procedures Report on Compliance or the Effectiveness of Internal Control over Compliance
APPENDIX 7A-4: Agreed-upon Procedures Report on Management's Assertion about the Entity's Compliance with Specified Requirements--Standard Report
APPENDIX 7A-5: Agreed-upon Procedures Report on the Entity's Compliance with Specified Requirements--Standard Report
APPENDIX 7A-6: Agreed-upon Procedures Report on Management's Assertion about the Entity's Compliance with Specified Requirements--Scope Limitation
APPENDIX 7A-7: Agreed-upon Procedures Report on Management's Assertion about Controls over Compliance--Standard Report
APPENDIX 7A-8: Agreed-upon Procedures Report on Controls over Compliance--Standard Report

APPENDIX 7B: Compliance Examination Engagements

APPENDIX 7B-1: Examination Procedures Checklist--Compliance Attestation Engagements
APPENDIX 7B-2: Attestation Engagement Acceptance Form--Addendum for Compliance Examination
APPENDIX 7B-3: Attestation Planning Form--Addendum for Compliance Examination
APPENDIX 7B-4: Attestation Reporting Checklist--Examination Report on Compliance with Specified Requirements or an Assertion Thereon
APPENDIX 7B-5: Examination Report on Management's Assertion about the Entity's Compliance with Specified Requirements--Standard Report
APPENDIX 7B-6: Examination Report on the Entity's Compliance with Specified Requirements--Standard Report
APPENDIX 7B-7: Compliance Examination Report--Report Qualified for Noncompliance
APPENDIX 7B-8: Compliance Examination Report--Adverse Opinion
CHAPTER 8: PRO FORMA FINANCIAL INFORMATION

800 INTRODUCTION

What Is Pro Forma Financial Information?
Types of Services a Practitioner Might Provide

801 ACCEPTING A PRO FORMA ENGAGEMENT

Examination or Review Engagements
Compilation Engagements
Other Considerations and Other Engagements

802 WHEN ENGAGED TO ISSUE OR DO ISSUE AN EXAMINATION OR REVIEW REPORT ON PRO FORMA FINANCIAL INFORMATION

What Standards Apply?

Is a Separate Written Assertion Required?
Considering the Criteria.
Independence.

Performance Standards
Basis of Accounting
Presentation Guidelines
Reporting Guidelines

Examination Report.
Review Report.
Restricting the Report.
Dating the Report.
Report Modifications.
Scope Restrictions
Other Considerations.

803 WHEN ENGAGED TO COMPILE OR ISSUE A COMPILATION REPORT ON PRO FORMA FINANCIAL INFORMATION

Understanding with the Entity
Performance Requirements
Presentation Guidelines
Reporting

804 ASSEMBLY OF STAND-ALONE PRO FORMA FINANCIAL INFORMATION

Assembly Procedures
Presentation Guidelines
Reporting Guidelines

805 REPORTING ON SUPPLEMENTARY INFORMATION

Pro Forma Financial Statements Presented with Audited Financial Statements
Pro Forma Financial Statements Presented with Compiled or Reviewed Financial Statements

806 PRO FORMA FINANCIAL INFORMATION PRESENTED WITH PROSPECTIVE FINANCIAL INFORMATION
807 PRO FORMA PRESENTATIONS REQUIRED BY GAAP
APPENDIX 8A: Engagement Acceptance Form--Addendum for Engagement Related to Pro Forma Financial Information
APPENDIX 8B: Practice Aids for an Examination of Pro Forma Financial Information

APPENDIX 8B-1: Examination Procedures Checklist--Pro Forma Financial Information
APPENDIX 8B-2: Engagement Letter--Examination of Pro Forma Financial Information
APPENDIX 8B-3: Representation Letter--Examination of Pro Forma Financial Information
APPENDIX 8B-4: Attestation Reporting Checklist--Examination Report on Pro Forma Financial Information
APPENDIX 8B-5: Examination Report--Pro Forma Financial Information

APPENDIX 8C: Practice Aids for a Review of Pro Forma Financial Information

APPENDIX 8C-1: Review Procedures Checklist--Pro Forma Financial Information
APPENDIX 8C-2: Engagement Letter--Review of Pro Forma Financial Information
APPENDIX 8C-3: Attestation Reporting Checklist--Review Report on Pro Forma Financial Information
APPENDIX 8C-4: Review Report--Pro Forma Financial Information

APPENDIX 8D: Compilation Procedures Checklist--Addendum for Supplementary Pro Forma Financial Information
APPENDIX 8E: Practice Aids for a Compilation of Pro Forma Financial Information

APPENDIX 8E-1: Compilation Procedures, Review, and Approval Form--Pro Forma Financial Information
APPENDIX 8E-2: Engagement Letter--Compilation of Pro Forma Financial Information
APPENDIX 8E-3: Compilation Report--Pro Forma Financial Information

APPENDIX 8F: Practice Aids for an Assembly of Pro Forma Financial Information

APPENDIX 8F-1: Assembly Checklist--Pro Forma Financial Information
APPENDIX 8F-2: Engagement Letter--Assembly of Pro Forma Financial Information
APPENDIX 8F-3: Assembly Report--Stand-alone Pro Forma Financial Information
CHAPTER 9: ATTESTATION EXAMINATION AND REVIEW ENGAGEMENTS

900 INTRODUCTION

Purpose of This Chapter
Overview of an Attestation Engagement

What Is an Attestation Engagement?
How Does the Practitioner Report?
Who Is the Responsible Party?
What Is Subject Matter?
What Are Criteria?
What Is an Assertion?
Must a Written Assertion Be Obtained from the Responsible Party?

901 APPLICABILITY OF THE ATTESTATION STANDARDS

Purpose of the Standards
The Attestation Standards and the Clarified Auditing Standards
Organization of the Standards
Are Attestation Engagements Subject to Peer Review?

902 ATTESTATION ENGAGEMENTS (EXAMINATION AND REVIEW ENGAGEMENTS)

Definition of an Attestation Engagement
Do the Standards Apply If the Practitioner Is Engaged to Apply Examination Procedures and Report Orally?
What Is the Subject Matter?

Does the Subject Matter Need to Be in Writing?

What Is an Assertion?

Is a Written Assertion Required in All Engagements?

Who Is the Responsible Party?

What If the Responsible Party Is Not the Client?
What If There Is No Responsible Party?
Use of the Report.

Engagements That Are Not Attestation Engagements
What Standards Apply?
The 11 Attestation Standards

The General, Fieldwork, and Reporting Standards.

Types of Attestation Engagements

903 ACCEPTING AN ATTESTATION ENGAGEMENT

Can I Accept the Engagement?

Competence.
Criteria.
Suitability.
Availability.
Reasonably Consistent Estimation.
Independence.
Other Engagement Alternatives.

Should I Accept the Engagement?

Risks and Rewards.
Prospective Client's Reputation.
Factors to Consider When Evaluating Integrity.
Gathering Evidence of Integrity.
Communication with a Predecessor or Primary Practitioner.
Assessment of Required Services.
Engagement Acceptance and Continuation Forms.
Annual Evaluation for Continuing Engagement.

Should I Restrict the Use of My Report?

904 ENGAGEMENT PLANNING

Establishing the Terms of the Engagement

Required Understanding.
Other Matters.
When the Client Is Not the Responsible Party.
Engagement Letters.

Understanding the Subject Matter
Materiality
Attestation Risk
Administrative Aspects of Planning
Planning the Procedures
Reports
Applicability of Risk Assessment Auditing Standards to Attest Engagements

905 WORKPAPERS

Authoritative Literature
Purpose and Basic Requirements of Workpapers

Support for Practitioner's Report.
Aid to Conduct and Supervision.
Signatures and Sign-offs.
Basic Requirements for Content.

Other Workpaper Considerations

Workpaper Ownership, Access, and Retention.
Access by Regulators to Workpapers.
Access to Records by Clients and Former Clients.

906 EXAMINATION ENGAGEMENTS

Level of Testing

Internal Control.
Testing Controls.
Considering Inherent Risk.
Detection Procedures.
Nature of Tests.
Timing of Tests.

Extent of Tests--Numeric Information

A Basic Approach.
Sampling.
Selecting the Sample.
Projecting the Misstatement.
Considering Sampling Risk.
Considering Qualitative Characteristics.
Unacceptable Sampling Risk.
Documentation of the Sampling Application.

Extent of Tests--Nonnumeric Information
Evaluation of Results

Numeric Information.
Quantitative Considerations.
Qualitative Considerations.
Risk of Further Misstatement.
Nonnumeric Information.

Use of a Specialist
Representation Letters
Subsequent Events
Other Information in a Document Containing the Practitioner's Report
Workpaper Documentation
Examination Reports

Consistency.
Scope Limitations.
Misstatements.
Report Restrictions.
Including a Description of Tests of Controls or Other Procedures in an Examination Report.

907 REVIEW ENGAGEMENTS

Should You Do a Review?
Review Procedures

Internal Control.
Level of Procedures.
Representation Letters.

Subsequent Events
Other Information in a Document Containing the Practitioner's Report
Workpaper Documentation
Review Reports

Illustrative Review Report on Subject Matter.
Consistency.
Modified Review Report.
Report Restrictions.

908 ENGAGEMENT WRAP-UP, SUPERVISION, AND ADMINISTRATION

Workpaper Review
Other Practitioners
Other Communications
Changing the Level of Service
Withdrawal

APPENDIX 9A: General Attestation Practice Aids

APPENDIX 9A-1: Attestation Engagement Acceptance Form
APPENDIX 9A-2: Attestation Planning Form
APPENDIX 9A-3: Planning Materiality Worksheet
APPENDIX 9A-4: Request for Primary or Predecessor Accountant to Release Information
APPENDIX 9A-5: Attestation Supervision, Review, and Approval Form--Examination or Review Engagement
APPENDIX 9A-6: Resignation Letter--Drafting Form
APPENDIX 9A-7: ET Interpretation 101-3 Documentation Form
APPENDIX 9A-8: Accounting and Engagement Issues

APPENDIX 9B: Examination Practice Aids

APPENDIX 9B-1: Examination Procedures Checklist--Attestation Engagements
APPENDIX 9B-2: Engagement Letter--Examination
APPENDIX 9B-3: Planning Worksheet to Determine Extent of Substantive Procedures
APPENDIX 9B-4: Sampling Planning and Evaluation Form--Substantive Procedures
APPENDIX 9B-5: Attribute Sampling Planning and Evaluation Form
APPENDIX 9B-6: Representation Letter--Examination
APPENDIX 9B-7: Client Representation Letter--Client Is Not the Responsible Party
APPENDIX 9B-8: Test of Controls Form
APPENDIX 9B-9: Attestation Reporting Checklist--Examination Report on Subject Matter or an Assertion Thereon

APPENDIX 9C: Examination Reports

APPENDIX 9C-1: Standard Examination Report on Subject Matter
APPENDIX 9C-2: Standard Examination Report on an Assertion
APPENDIX 9C-3: Standard Examination Report--Examination of an Assertion; Opinion on Subject Matter
APPENDIX 9C-4: Examination Report--Disclaimer of Opinion because of a Scope Restriction
APPENDIX 9C-5: Examination Report--Restricted because the Criteria Are Available Only to Specified Parties
APPENDIX 9C-6: Examination Report--Qualified for Material Misstatements or Deviations from the Criteria
APPENDIX 9C-7: Examination Report--Use Restriction because No Written Assertion Provided by the Nonclient Responsible Party

APPENDIX 9D: Review Practice Aids

APPENDIX 9D-1: Review Procedures Checklist--Attestation Engagements
APPENDIX 9D-2: Engagement Letter--Review
APPENDIX 9D-3: Representation Letter--Review
APPENDIX 9D-4: Attestation Reporting Checklist--Review Report on Subject Matter or an Assertion Thereon

APPENDIX 9E: Review Reports

APPENDIX 9E-1: Standard Review Report on Subject Matter
APPENDIX 9E-2: Standard Review Report on an Assertion
APPENDIX 9E-3: Review Report on Subject Matter--Use Restriction Because Nonclient Responsible Party Did Not Provide a Written Assertion
CHAPTER 10: REPORTING ON INTERNAL CONTROL

1000 TYPES OF ENGAGEMENTS

Internal Control Audits for Public Companies
AT 501 and the Clarified Auditing Standards
What This Chapter Covers

1001 INTEGRATED EXAMINATION (AUDIT) OF INTERNAL CONTROL--SSAE NO. 15

Introduction

Definitions.
Integrated Audit.

Engagement Acceptance
Planning the Engagement

Preliminary Judgments about Materiality and Risk Assessment.
Complexity and Size of the Entity.
Risk of Fraud.
Using the Work of Others.

Using the Top-down Approach
Identifying Entity-level Controls
Identifying Significant Accounts and Disclosures and Related Relevant Assertions
Selecting Controls to Test
Testing Controls

Controls to Be Tested.
Testing Design Effectiveness.
Testing Operating Effectiveness.
Tests of Controls in an Integrated Audit Using Audit Sampling.
Using Data Extraction Software (DES) for Sampling in Tests of Controls.
Determining the Amount of Evidence to Obtain.
Roll-forward Procedures.
Considerations in Subsequent Years' Audits.
Benchmarking for Tests of Automated Application Controls.

Evaluating the Effectiveness of the Design and Operation of Controls

Evaluating Whether Control Deficiencies Are Significant Deficiencies or Material Weaknesses.
Forming an Opinion on Control Effectiveness.

Management Representations

Required Representations.
Combined or Separate Representation Letter.

Considering Subsequent Events
Using Service Organizations

Audit Procedures Related to the Service Organization.

Required Communications
Management's Report on Internal Control
Reporting on Internal Control
Use of Other Auditors
Reporting under FDICIA

1002 REPORTING ON THE INTERNAL CONTROLS OF SERVICE ORGANIZATIONS

Overview of SOC 1 Engagements under SSAE No. 16 (AT 801)
Procedures and Reporting Applicable to Both Type 1 and Type 2 Reports

Criteria.
Assertions.
Materiality.
Management's Description of the Service Organization's System and Service Auditor's Opinion on Fair Presentation.
Service Auditor's Opinion on Suitability of Design.

Additional Procedures and Reporting for Type 2 Engagements

Service Auditor's Opinion on Operating Effectiveness.
Other Procedures.
Report Illustrations.

SOC 2 Reports
SOC 3 Reports

1003 OTHER REPORTS ON INTERNAL CONTROL

Stand-alone Examinations of Internal Control Effectiveness
Examinations of the Design of Internal Control
Examinations Based Solely on the Auditor's Consideration of Internal Control Done as Part of the Audit
Examination of Management's Ability to Establish Effective Internal Controls
Internal Control over Compliance with Laws
Reports on Non-financial Controls That Describe Tests Applied
Reports Related to Financial Statement Audits

Communications of Significant Deficiencies, Material Weaknesses, and Other Internal Control Deficiencies.

Objectives and Requirements

Reports Required for Governmental Entities.
Management Letters.

Consulting Services
Internal Auditing

APPENDIX 10A: AT 501--Examination (Integrated Audit) of Internal Control

APPENDIX 10A-1: Addendum to Audit Engagement Acceptance Form for an AT 501 Examination
APPENDIX 10A-2: Audit Engagement Letter--AT 501 Examination (Integrated Audit)
APPENDIX 10A-3: Management Representation Letter--AT 501 Examination (Integrated Audit)
APPENDIX 10A-4: Audit Programs

APPENDIX 10A-4a: Addendum to Audit Program for General Procedures--AT 501 Examination
APPENDIX 10A-4b: Audit Program for Internal Control--AT 501 Examination (Integrated Audit)

Other Audit Procedures for Internal Control
APPENDIX 10A-5: Reporting Checklist--AT 501--Examination (Audit) of Internal Control
APPENDIX 10A-6: AT 501 Examination (Audit) Reports

APPENDIX 10A-6a: Separate Report Directly on the Entity's Internal Control (Report Drafting Illustration)
APPENDIX 10A-6b: Separate Report on Management's Assertion about the Effectiveness of the Entity's Internal Control (Report Drafting Illustration)
APPENDIX 10A-6c: Separate Report--Adverse Opinion on the Entity's Internal Control (Report Drafting Illustration)
APPENDIX 10A-6d: Separate Report--Disclaimer of Opinion on the Entity's Internal Control When There Is a Limitation on the Scope of the Examination (Report Drafting Illustration)
APPENDIX 10A-6e: Separate Report on the Entity's Internal Control When the Auditor's Opinion Is Based in Part on the Report of Another Auditor (Report Drafting Illustration)
APPENDIX 10A-6f: Combined Report on Internal Control and on the Financial Statements (Report Drafting Illustration)

APPENDIX 10A-7: Practice Aids for Evaluating and Communicating Internal Control Deficiencies

APPENDIX 10A-7a: Control Deficiency Evaluation Worksheet--AT 501 Integrated Audit
APPENDIX 10A-7b: Control Deficiency Comment and Management Point Development Worksheet
APPENDIX 10A-7c: Communication of Significant Deficiencies and Material Weaknesses in an Integrated Audit

APPENDIX 10B: Activity and Entity-level Control Forms

APPENDIX 10B-1: Entity-level Control Form for Control Environment
APPENDIX 10B-2: Entity-level Control Form for Risk Assessment
APPENDIX 10B-3: Entity-level Control Form for Information and Communication
APPENDIX 10B-4: Entity-level Control Form for Monitoring
APPENDIX 10B-5: Control Activities Form for General Computer Controls
APPENDIX 10B-6: Control Activities Form for Financial Close and Reporting
APPENDIX 10B-7: Control Activities Form for Cash
APPENDIX 10B-8: Control Activities Form for Accounts Receivable and Sales
APPENDIX 10B-9: Control Activities Form for Inventory and Cost of Sales
APPENDIX 10B-10: Control Activities Form for Property
APPENDIX 10B-11: Control Activities Form for Investments and Derivatives
APPENDIX 10B-12: Control Activities Form for Other Assets
APPENDIX 10B-13: Control Activities Form for Accounts Payable and Other Liabilities
APPENDIX 10B-14: Control Activities Form for Notes Payable and Long-term Debt
APPENDIX 10B-15: Control Activities Form for Income Taxes
APPENDIX 10B-16: Control Activities Form for Equity
APPENDIX 10B-17: Control Activities Form for Income and Expenses
APPENDIX 10B-18: Common Control Objectives by Audit Area and Transaction Class

APPENDIX 10C: Tests of Controls

APPENDIX 10C-1: Test of Controls Form--AT 501 Internal Control Examination (Integrated Audit)
APPENDIX 10C-2: Tests of Controls Sampling Planning and Evaluation Form--AT 501 Internal Control Examination (Integrated Audit)

APPENDIX 10D: Service Organization Engagement

APPENDIX 10D-1: SSAE No. 16 Report on a Description of a Service Organization's System and the Suitability of the Design of Controls (Type 1 Service Auditor's Report)
APPENDIX 10D-2: SSAE No. 16 Report on a Description of a Service Organization's System and the Suitability of the Design and Operating Effectiveness of Controls (Type 2 Service Auditors Report)

APPENDIX 10E: AT 101--Reports on Stand-alone Examinations of Internal Control

APPENDIX 10E-1: AT 101 Examination Report on Internal Control
APPENDIX 10E-2: AT 101 Examination Report on the Design of Internal Control
APPENDIX 10E-3: AT 101 Examination Report on the Design of Internal Control--Proposed System Not Yet Implemented
CHAPTER 11: THE COSO REPORT

1100 INTRODUCTION

What Is the COSO Report?
Why Is It Significant?
Background

The Foreign Corrupt Practices Act of 1977.
The Cohen Commission.
SEC Initiatives.
Other Events.
The Treadway Commission.
The COSO Report.
Other Initiatives.
COSO Studies on Fraudulent Financial Reporting.
Enterprise Risk Management Framework.

1101 OVERVIEW OF THE COSO REPORT

Basic Concepts in the COSO Report
Content of the COSO Report

Executive Summary.
Framework.
Reporting to External Parties.
Evaluation Tools.

COSO's Project to Update Internal Control Framework

1102 INTERNAL CONTROL OVER FINANCIAL REPORTING

Introduction
Control Environment
Risk Assessment
Control Activities
Information and Communication

Information Systems.
Communication.

Monitoring
Special Considerations for Small Businesses

Control Environment.
Requirement for a Board of Directors.
Risk Assessment.
Control Activities.
Information and Communication.
Monitoring.

1103 EVALUATING THE EFFECTIVENESS OF INTERNAL CONTROL OVER FINANCIAL REPORTING

Criteria for Effective Internal Control
Limitations on Evaluations of the Effectiveness of Internal Control

Judgment.
Breakdowns.
Management Override.
Collusion.
Cost/Benefit Considerations.
Materiality.
Point-in-time Evaluation.

Practice Aids

1104 REPORTING BY MANAGEMENT

Required Content of the Report
Example from the COSO Report
Alternative Report from the ABA
Reference to the Criteria Used
Presentation of Management's Assertion
Existence of a Material Weakness
Consultation with Legal Counsel
Preference for Point-in-time Reporting

The Assessment Process.
Reporting Deficiencies That Occurred during the Period but Were Corrected.

Reporting on Controls over Interim Reporting
Degree of Comfort Provided Regarding Future Effectiveness
Reporting on Only the Design of Internal Control
Reporting on Other Matters

1105 SUPPLEMENTS TO COSO

The COSO Addendum--Reporting on Safeguarding Controls

History of the COSO Addendum.
What Are Internal Controls over Safeguarding of Assets against Unauthorized Acquisition, Use, or Disposition?
Definition of Effective Safeguarding Controls.
Management's Responsibility for Evaluating and Reporting on Safeguarding Controls.

Internal Control Issues in Derivative Usage
COSO Framework for Smaller Businesses

Principles of Control.
Attributes.
Implementation and Documentation Approaches.
Evaluation Tools.
Principles Evaluation Matrix.
Entity-wide Controls.
Risk Assessment Matrix.
Account Estimates, Adjusting Entries, and Closing Entries.
Process Level Matrix--Revenue.
Process Level Matrix--Payroll.
Information Technology Controls.
Working Tools.

COSO Project on Monitoring of Internal Control

APPENDIX 11A: Illustrative Management Report on the Internal Control over Financial Reporting (Standard Report)
APPENDIX 11B: Illustrative Management Report on the Internal Control over Financial Reporting (Material Weakness Disclosed)
CHAPTER 12: OWNERSHIP CHANGES

1200 INTRODUCTION
1201 BUYER ACQUISITION ASSISTANCE ENGAGEMENTS

Nature of the Engagement and Applicable Professional Standards

Statement on Standards for Valuation Services.

Practice Development
Accepting a Buyer Acquisition Assistance Engagement

Reputation of the Client.
Nature of Services to Be Provided.
Ability to Provide Those Services.
Independence.
Conflicts of Interest.
Integrity of the Target.
The Expected Use of the Report.
Fee Arrangements.

Avoiding Liability

The Importance of Communication.
Key Points to Remember.

Engagement Letters

Modification of Engagement Letters.

Procedures

Scope of Procedures.
Timing of Procedures.

Prospective Financial Information

Prospective Financial Statements.
Partial Presentations.
Financial Analyses.
The Practitioner's Involvement with Prospective Information.

Pro Forma (Recast) Financial Statements
Reporting

Consulting Services Standards.
Responsibility for Financial Statements.
Liability Considerations When Reporting.
Providing Copies of the Report to Others.
Draft Reports.

Supervision and Review
Obtaining a Representation Letter

Reasons for Obtaining a Letter.
Refusal to Provide a Representation Letter.
Example Representation Letters.

1202 SELLER ACQUISITION ASSISTANCE ENGAGEMENTS

Nature and Acceptance of the Engagement and Applicable Professional Standards
Engagement Letters

Modification of Engagement Letters.

Procedures
Reporting

Consulting Services Standards.
Liability Considerations When Reporting.
Providing Copies of the Report to Others.
Draft Reports.

Supervision and Review
Obtaining a Representation Letter

APPENDIX 12A: Acquisition Assistance Engagement Letters

APPENDIX 12A-1: Buyer's Side Acquisition Assistance Engagement Letter
APPENDIX 12A-2: Seller's Side Acquisition Assistance Engagement Letter

APPENDIX 12B: Procedures and Reporting Checklist--Acquisition Assistance Engagement
APPENDIX 12C: Acquisition Assistance Procedures Programs

APPENDIX 12C-1: Buyer's Side Acquisition Assistance Procedures Program
APPENDIX 12C-2: Seller's Side Acquisition Assistance Procedures Program

APPENDIX 12D: Representation Letters--Acquisition Assistance Engagements

APPENDIX 12D-1: Representation Letter--Target
APPENDIX 12D-2: Representation Letter--Client Buyer
APPENDIX 12D-3: Representation Letter--Client Seller
APPENDIX 12D-4: Representation Letter--Nonclient Buyer

APPENDIX 12E: Supervision, Review, and Approval Form--Acquisition Assistance Engagement
APPENDIX 12F: Acquisition Assistance Report Drafting Forms

APPENDIX 12F-1: Buyer's Side Acquisition Assistance Report Drafting Form
APPENDIX 12F-2: Seller's Side Acquisition Assistance Report Drafting Form

APPENDIX 12G: New Client Acceptance Form--Acquisition Assistance Engagement
CHAPTER 13: OTHER NONTRADITIONAL ENGAGEMENTS

1300 INTRODUCTION
1301 REPORTS ON THE APPLICATION OF ACCOUNTING PRINCIPLES

Relevant Literature
Oral Advice
Summary of Standards

Performance Standards.
Reporting Standards.

Financial Statements Based on Other Financial Reporting Frameworks

Tax Basis Financial Statements and Tax Advice.

1302 SERVICES FOR FINANCIAL INSTITUTIONS

Requests Relating to the Granting of Credit

Prescribed Forms.
Use of Tax Returns as Financial Statements.
Oral Communications with Lenders.
Pre-loan Surveys.
Reporting on Solvency.
Other Services.

Requests Relating to the Institution's Interests after the Loan Is Granted

Compliance with Restrictive Covenants.
Reports on Security Interests.
Problem Loans.
Reports on Internal Control.

Internal Audit Outsourcing
Internal Control Examinations

Integrated Audits for Public Financial Institutions.
Integrated Audits for Nonpublic Financial Institutions.
Attestation Examinations for Small Institutions.

Other Special Engagements

Attestation Engagements Regarding Federal Student Loan Programs.
Trust Department Agreed-upon Procedures Engagements.
Directors' Examinations.

1303 LITIGATION SUPPORT

Identifying the Practitioner's Role
Professional Standards

Independence and Litigation Support Services.
Other Nonauthoritative Guidance.
Prospective Financial Statements.
Other Attestation Standards.
SSARS.
Auditing Standards.
Valuation Standards.

Reports

1304 FRAUD ENGAGEMENTS

Types of Frauds
The Practitioner's Role
Relevant Standards
Conflicts of Interest
Procedures
Reporting
Effect on the Financial Statements

1305 SERVICES FOR TRUSTS, ESTATES, AND SIMILAR ENTITIES

Introduction

Determining the Level of Service.

Financial Statements

Compilations, Reviews, and Audits.
Reporting Directly to a Court of Law.
Agreed-upon Procedures.
Is the Practitioner Required to Report on Financial Statements When Named as an Executor or Trustee?

Specified Elements, Accounts, or Items of a Financial Statement
Tax Returns
Prescribed Forms

1306 BALLOT COUNTING SERVICES

Introduction
Engagement Options

Counting Ballots and Reporting the Results.
Performing Agreed-upon Procedures.
Performing an Examination under the Attestation Standards.

Allowing the Client to State That the Practitioner Has Certified the Results

1307 TRUST SERVICES PRINCIPLES AND CRITERIA

Introduction
Types of Trust Services
Principles and Criteria
Other Related Service Opportunities

1308 REQUESTS IN CONJUNCTION WITH AN AUDIT

Prescribed Forms and Reports
Reports on Compliance

Report on Compliance Based Solely on the Audit.
Assurance about Compliance Not Based Solely on the Audit.

Reports on Internal Control

Reports Related to Financial Statement Audits.
Internal Control over Compliance.

Reports on Financial or Non-financial Data

Supplementary Information.
Reports on Financial-statement Elements.
Reports on Non-financial-statement Elements.

1309 REPORTING ON MANAGEMENT'S DISCUSSION AND ANALYSIS
1310 OUTSOURCED SERVICES (INTERNAL AUDIT AND CONTROLLERSHIP SERVICES)

Background

Benefits for the Entity.
Benefits for the Practitioner.
Type of Engagement.

Internal Audit Services

Independence.
Agreed-upon Procedures or Consulting?
Agreed-upon Procedures.
Consulting.

Controllership Services

1311 ATTESTATION ENGAGEMENTS PERFORMED UNDER THE YELLOW BOOK
1312 ENGAGEMENTS RELATED TO XBRL

Overview
Definitions
Principles and Criteria for XBRL-formatted Information
Attest Engagements on Financial Information Included in XBRL Instance Documents

Suitable and Available Criteria.
Performing the Engagement.
Written Assertion.
Reporting.

Agreed-upon Procedures Engagements Related to XBRL

SOP 09-1.
Subject Matter and Criteria.
Conditions for Engagement Acceptance.
Specified Parties.
Agreement on Sufficiency of Procedures.
Establishing an Understanding with the Client.
Management's Responsibilities.
The Practitioner's Responsibilities.
Procedures to Be Performed.
Using a Specialist.
Representation Letter.
Materiality.
Reporting.
Explanatory Language in the Practitioner's Agreed-upon Procedures Report.
Knowledge of Matters Outside Agreed-upon Procedures.
Documentation.

1313 OTHER SPECIALIZED ATTESTATION ENGAGEMENTS

Attest Engagements on Greenhouse Gas Emissions Information
Defense Industry Questionnaire on Business Ethics and Conduct
Agreed-upon Procedures in Regulatory Environments
Agreed-upon Procedures Engagement to Assist in Evaluating Corporate Compliance Programs
Life Insurance Ethical Market Conduct Program of the Insurance Marketplace Standards Association
Global Investment Performance Standards
Investment Company Compliance

APPENDIX 13A: Illustrative Reports for Attest Engagements on Financial Information Included in XBRL Instance Documents

APPENDIX 13A-1: Illustrative Examination Report on Financial Information Included in XBRL Instance Documents--Reporting Directly on the Subject Matter
APPENDIX 13A-2: Illustrative Examination Report on Financial Information Included in XBRL Instance Documents--Reporting on Management's Assertion

APPENDIX 13B: Practice Aids for an Engagement to Apply Agreed-upon Procedures to XBRL-tagged Data

APPENDIX 13B-1: Engagement Letter--Applying Agreed-upon Procedures to XBRL-tagged Data
APPENDIX 13B-2: Representation Letter--Applying Agreed-upon Procedures to XBRL-tagged Data
APPENDIX 13B-3: Report on Applying Agreed-upon Procedures to XBRL-tagged Data
CHAPTER 14: PROVIDING ELDERCARE SERVICES

1400 INTRODUCTION

The Market for Eldercare Services
Opportunities for Small Practitioners
Overview of This Chapter

1401 THE CPA'S ROLE

Other Providers--Cooperation versus Competition

1402 THE CARE PROVIDER'S ROLE

Soliciting Other Outside Resources

Geriatric Care Managers (GCMs).
What GCMs Can Do.
Working with a GCM.
Mutual Referral Arrangements with GCMs.
Finding a GCM.
Using Care Managers Other Than GCMs.

1403 DEFINING THE SERVICE
1404 SKILLS NEEDED

Necessary Skills for Eldercare Work
Special Considerations When Interacting with the Elderly

1405 HOW TO SELL ELDERCARE SERVICES

Pricing the Services
Developing a Marketing Strategy
Marketing Eldercare Services to Existing Clients
Professional Relationships
Marketing Eldercare Services to Potential Clients
Holding Seminars

1406 GETTING STARTED WITH A CLIENT

Gathering Data and Assessing Care Needs
Planning for Contingencies

Power of Attorney.
Durable Powers of Attorney.
Advance Directives for Health Care.
Avoiding Court-ordered Guardianship.

Practice Issues

Engagement Acceptance.
Engagement Acceptance Form.
Existing Client.
Engagement Letters.
Independence.
Conflicts of Interest.
Liability Insurance.
Procedures Checklists.
Fee Arrangements.
Quality Control Standards.
Peer Review Standards.
Privacy Disclosure Rules.

1407 PROFESSIONAL STANDARDS AND REPORTING

Introduction
Code of Professional Conduct

Professional Competence.
Due Professional Care.
Planning and Supervision.
Sufficient Relevant Data.

Additional Standards
Deciding between an Agreed-upon Procedures Engagement and a Consulting Engagement

Adding Credibility.
Third-party Involvement.
Determining If Procedures Are Appropriate.
Determining Whether Other Conditions Can Be Met.
Other Engagement Alternatives.
Dual Engagements.

Consulting Services

Professional Standards for Consulting Services Engagements.
General Standards.
Overview of an Eldercare Consulting Engagement.

Agreed-upon Procedures Engagements
Professional Standards for Agreed-upon Procedures Engagements

AT 201 or AT 601?
Standards for Agreed-upon Procedures Engagements.
Conditions for Engagement Acceptance.

Responsibilities of the Responsible Party

Defining an Assertion.
Is a Written Assertion Necessary?
Overview of an Eldercare Agreed-upon Procedures Engagement.

Compilations of Historical Financial Statements

Statements on Standards for Accounting and Review Services.
Intended Use of the Statements.
Limitations of the Financial Statements.
Overview of a SSARS No. 19 Compilation Performed in Connection with an Eldercare Engagement.

Assemblies of Prospective Financial Information

Standards for Financial Forecasts and Projections.
Terms and Definitions.
Assembly Engagement.
Is the Presentation a Forecast or Projection?
Basis of Accounting.
Assumptions--The Building Blocks for Forecasts and Projections.
Summary of Significant Assumptions.
Presentation and Disclosure Rules.
Length of the Period.
Overview of an Assembly Service.

Reporting on the Comprehensiveness of Care

1408 ELDERCARE SERVICES FREQUENTLY OFFERED BY PRACTITIONERS

Cash Management Services

Reporting on Statements of Cash Receipts and Disbursements.

Investment Services
Basic In-home Care Services

Payroll Tax and Reporting Issues.

Long-term Care
Social Security and Employer Retirement Benefits
Health Care Funding and Services

APPENDIX 14A: Response Letter for Inquiries about Eldercare Services
APPENDIX 14B: Getting Started with a Client--Practice Aids

APPENDIX 14B-1: Eldercare Services Questionnaire
APPENDIX 14B-2: Eldercare Recipient Information Questionnaire
APPENDIX 14B-3: Eldercare Engagement Acceptance Form
APPENDIX 14B-4: Letter to Communicate Termination of Care Services--Drafting Form

APPENDIX 14C: Eldercare Consulting/Direct Services--Practice Aids

APPENDIX 14C-1: Illustrative Engagement Letter--Eldercare Consulting/Direct Services
APPENDIX 14C-2: Eldercare Consulting/Direct Services Checklist
APPENDIX 14C-3: Illustrative Report--Eldercare Consulting/Direct Services

APPENDIX 14D: Agreed-upon Procedures Care Compliance--Practice Aids

APPENDIX 14D-1: Illustrative Engagement Letter--Agreed-upon Procedures Regarding Care Compliance
APPENDIX 14D-2: Agreed-upon Procedures Checklist--Care Compliance Engagements
APPENDIX 14D-3: Illustrative Representation Letter--Agreed-upon Procedures Regarding Care Compliance
APPENDIX 14D-4: Illustrative Report--Agreed-upon Procedures Regarding Care Compliance
APPENDIX 14D-5: Request for Specified Party's Comments on Procedures--Agreed-upon Procedures Regarding Care Compliance
CHAPTER 15: RISK ASSESSMENT SERVICES

1500 INTRODUCTION

Services a CPA Might Perform
Benefits to the Client
Benefits to the Practitioner

Increased Interaction with the Client.
Understand the Client's Business.
Think Like the Client.
Be Proactive.

Demands on the Practitioner
Maintaining a Network of Industry Sources

1501 IDENTIFYING THE COMPANY'S OBJECTIVES AND STRATEGIES

Strategic Planning
The Mission Statement
The SWOT Analysis
Objectives and Strategies
Performance Measures
Action Plans

1502 PERFORMING RISK ASSESSMENT SERVICES

Obtaining an Engagement Letter
Identifying Specific Business Risks

Risk Identification Questionnaire.

Prioritizing Specific Risks
Evaluating the Company's Procedures for Monitoring and Controlling Risks
Arranging to Monitor Risks over Time
Risk Assessment Services Procedures Program

1503 REPORTING

Consulting Service

Content of Report.
Restricting Use of the Report.

Attestation Services or Agreed-upon Procedures

1504 ENTERPRISE RISK MANAGEMENT FRAMEWORK

AICPA's ERM Tool For Mid-sized Companies
Thought Papers on Enterprise Risk Management and Oversight

APPENDIX 15A: Example Proposal (Introductory) Letter
APPENDIX 15B: Risk Assessment Services Procedures Program
APPENDIX 15C: Illustrative Engagement Letter
APPENDIX 15D: Objectives Identification Worksheet
APPENDIX 15E: Risk Identification Practice Aids

APPENDIX 15E-1: Risk Identification Questionnaire
APPENDIX 15E-2: Risk Prioritization Summary
APPENDIX 15E-3: Risk Assessment Recommendations Summary

APPENDIX 15F: Illustrative Transmittal Letter and Report

APPENDIX 15F-1: Illustrative Transmittal Letter
APPENDIX 15F-2: Illustrative Report