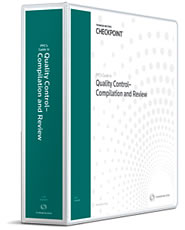 PPC's Guide to Quality Control: Compilation and Review
Product Information
Frequency of Updates:

Annually

Brand:

Practitioners Publishing
Get a streamlined approach for firms that provide only compilation and review services to establish and maintain a quality control system and pass peer review with PPC's Guide to Quality Control - Compilation and Review.
The Guide is designed to assist compilation and review firms in developing, implementing, and maintaining a system of quality control that incorporates the requirements of SQCS 8 and satisfies AICPA peer review requirements in the most efficient way possible.
The Guide includes:  
Step-by-step instructions, checklists, and practice aids for use in designing, implementing, documenting, and monitoring the firm's Quality Control (QC) system
Guidance on the essentials for developing and implementing policies and procedures for each of the six QC elements - firm leadership, relevant ethical requirements, acceptance and continuance, human resources, engagement performance, and monitoring
Model QC documents for different firm types, covering small firms with multiple partners and staff, as well as sole practitioner firms with and without professional staff
A peer review chapter that provides the information you need to navigate the peer review process and pass peer review with ease
Whether you're a sole practitioner or in a firm with several partners, if you perform only compilation and review services, this Guide is specifically developed for you.
List of Content (Click any title to expand the list)
INTRODUCTORY MATERIAL

PREFACE
PEER REVIEW OF THIS GUIDE
HOW TO USE THE GUIDE
ABOUT THE AUTHORS. . .
ACKNOWLEDGMENT OF COPYRIGHTS
ACKNOWLEDGMENT OF TRADEMARKS
ACKNOWLEDGMENTS
LIST OF SUBSTANTIVE CHANGES AND ADDITIONS
CHAPTER 1: QUALITY CONTROL--AN OVERVIEW

100 INTRODUCTION

What Is Quality Control?

What Is an Accounting and Auditing Practice?
What Is a Compilation and Review Practice?

What Is the Purpose of a Quality Control System?
System Review vs. Engagement Review
Chapter Overview

101 QUALITY CONTROL STANDARDS

SQCS No. 8
The ASB's Clarity Project

Effective Date.
Form and Structure of the Clarified Standards.

102 SQCS NO. 8 REQUIREMENTS

Professional Requirements of SQCS No. 8
Definition of Terms in SQCS No. 8
Elements of a Quality Control System
Documentation and Communication of the Firm's QC Policies and Procedures

Relationship of SSARS to Quality Control Standards.

Documentation Requirements of SQCS No. 8

103 COMMITMENT TO QUALITY

Effective Leadership
Firm Culture
Dedication of Time and Resources
Benefits to the Firm of Establishing and Maintaining an Effective QC System

Improved Quality of Work.
Increased Efficiency in Delivering Services.

104 DEVELOPING AND IMPLEMENTING AN EFFECTIVE QC SYSTEM

Setting a Realistic Timetable for Implementation
Reviewing Relevant Professional Literature
Assessing the Current QC System and Establishing a Plan
Reviewing the Plan and Timetable with Partners
Developing the QC Policies and Procedures
Communicating the QC Policies and Procedures to all Professionals
Monitoring Implementation of the QC System and Providing Additional Training
Performing Monitoring Procedures on the System and Making Modifications

Obtaining External QC Consulting Assistance.

105 DRAFTING QC POLICIES AND PROCEDURES

Creating a Comprehensive Quality Control Document
Referring to Personnel and Accounting Manuals

Quality Control Materials.
A Caution about the Use of Abbreviated QC Documents.

Considering the AICPA Quality Control Practice Aid

Alternative Practice Structures.

Model Quality Control Documents
Quality Control System Assessment Practice Aids

106 MAINTAINING THE FIRM'S QC SYSTEM

QC Maintenance Calendar Drafting Form

107 PRACTICE MONITORING AND PEER REVIEW

General

Firm with No Accounting and Auditing Practice.
AICPA Peer Review Program.

108 ORGANIZATION OF THIS GUIDE
APPENDIX 1A: Definition of Terms in SQCS No. 8
CHAPTER 2: LEADERSHIP RESPONSIBILITIES FOR QUALITY WITHIN THE FIRM

200 OVERVIEW OF THE QC ELEMENT
201 INTERNAL FIRM CULTURE AND TONE AT THE TOP

Firm Management Is Responsible for the Firm's System of Quality Control
Setting the Tone at the Top
Determining the Appropriate Firm Management Philosophy and Operating Style
A Commitment to Quality Begins with Creating an Ethical Firm Culture

Managing by Example.
Create a Positive Workplace Environment.
Hire and Promote Ethical Employees.
Provide Ethics Training.
Deal with Noncompliance.

202 ASSIGNMENT OF MANAGEMENT RESPONSIBILITIES

A Commitment to Quality Is Fundamental to the Firm's Business Strategy

203 EVALUATION, COMPENSATION, AND ADVANCEMENT
204 DEVOTION OF ADEQUATE RESOURCES

Designation of a Partner to Oversee Quality Control

Sufficient Authority.
Adequate Time and Assistance.
Characteristics of the Partner Who Oversees Quality Control.

205 DRAFTING THE FIRM'S QUALITY CONTROL POLICIES AND PROCEDURES

AICPA Practice Aid
Developing Leadership Policies and Procedures
Illustration of Leadership Responsibilities for Quality Within the Firm Policies and Procedures

206 EVALUATING THE OVERALL ADEQUACY OF THE QUALITY CONTROL SYSTEM'S DESIGN
207 MONITORING COMPLIANCE WITH THE FIRM'S LEADERSHIP RESPONSIBILITIES FOR QUALITY WITHIN THE FIRM POLICIES AND PROCEDURES
CHAPTER 3: RELEVANT ETHICAL REQUIREMENTS

300 OVERVIEW OF THE QC ELEMENT

SQCS No. 8
Summary of This Chapter

301 RELEVANT ETHICAL REQUIREMENTS

Overall SQCS Requirement
What Comprises Relevant Ethical Requirements?
Responsibilities
The Public Interest
Integrity
Objectivity and Independence

When Is Independence Required?

Due Care
Scope and Nature of Services
Guide for Complying with Nonindependence-related Ethics Rules

302 INDEPENDENCE REQUIREMENTS

General Independence Requirements under the AICPA Code of Professional Conduct

Rule 101.
Interpretation 101-1 of Rule 101.
Networks and Network Firms.
Recent, Proposed, and Final Changes to Independence Requirements.
Interpretation 101-18.
Interpretation 101-19.
Definitions, Revisions, and Deletions.
ET 101-3.

The Conceptual Framework for AICPA Independence Standards
Effect on Independence of Performing Nonattest Services for an Attest Client

CPAs May Not Perform Client Management Functions or Decisions.
Management Responsibilities.
Establish a Written Understanding with the Client.
General Activities That Impair Independence.
Tax Compliance Services.
Appraisal, Valuation, or Actuarial Services.
Forensic Accounting Services.
Internal Audit Assistance Services.
Review Nonattest Services Performed for the Client for Possible Independence Problems.

Unpaid Fees and Independence
Additional AICPA Guidance
Other Independence Requirements

Rules of State Boards of Accountancy and State Societies of CPAs.
Other Regulatory Independence Rules.
Use of Other Accountants in a SSARS Review.

303 MAINTAINING INDEPENDENCE

Initial Thoughts

Choosing Not to Be Independent.
Minor Independence Violations.

SQCS No. 8 Requirements

General Requirements.
Independence Representations.
Independence Breaches.
Rotation of Personnel.

Engagement Partner Consideration of Independence
Designating a Partner to Be Responsible for Compliance with Independence Requirements

Maintaining a Current Client List.
Informing Employees of Independence Requirements.
Obtaining Written Representations of Independence.
Identifying Independence Threats.
Accumulating and Communicating Information about Identified Threats.
Evaluating Threats to Independence.
Taking Appropriate Action When Independence Breaches Are Identified.

Determining How the QC System Failed

304 DRAFTING THE FIRM'S QUALITY CONTROL POLICIES AND PROCEDURES

AICPA Practice Aid
Developing Relevant Ethical Requirements Policies and Procedures

Does the Policy Concerning Independence Apply to All Services and All Employees of the Firm?

The Firm's Quality Control Procedures

Should the Firm Design a Separate Personnel Manual?
Communicate the Firm's Policies and Procedures to Employees.

Illustration of Relevant Ethical Requirements Policies and Procedures

305 EVALUATING THE OVERALL ADEQUACY OF THE QUALITY CONTROL SYSTEM'S DESIGN
306 MONITORING COMPLIANCE WITH THE FIRM'S POLICIES AND PROCEDURES
APPENDIX 3A: Loan Independence Flowchart
CHAPTER 4: ACCEPTANCE AND CONTINUANCE OF CLIENT RELATIONSHIPS AND SPECIFIC ENGAGEMENTS

400 OVERVIEW OF THE QC ELEMENT

SQCS No. 8
Summary of the Chapter

401 EVALUATING FIRM COMPETENCE AND CAPABILITIES

Industry or Subject Matter Knowledge

Special Considerations--Ethics Requirements When Using Third-party Service Providers.

Regulatory or Reporting Requirements
Meeting Reporting Deadlines

402 COMPLIANCE WITH LEGAL AND RELEVANT ETHICAL REQUIREMENTS

Legal and Regulatory Requirements
Relevant Ethical Requirements

403 EVALUATING THE INTEGRITY OF THE CLIENT

Factors to Consider When Evaluating Integrity

Identity and Business Reputation of the Client.
Nature of Operations and Specific Business Practices.
Attitude toward Aggressive Accounting and Internal Control Matters.
Inappropriate Client Limitation Regarding the Scope of Work.
Reasons for Nonreappointment of the Previous Firm.
Length of the Relationship with the Client.

Gathering Evidence of Integrity

Interaction with CPAs and Other Professionals.
Reputation in the Community.
Profile as a Corporate Citizen.
Fiscal Responsibility.
Formal Company Communications.
Openness of the Client.
Dealings with Employees.

Special Considerations--Attestation Engagements
Special Considerations--Compilation and Review Engagements

404 OTHER CONSIDERATIONS

Timing and Scope of Clients and Engagements Subject to SQCS No. 8

Evaluating the Acceptability of Existing Client Relationships.
Evaluating the Client List.
Evaluating the Client during the Planning Stage of Each Engagement.
Which Approach Do the Authors Prefer?
Responsibility for Approval.
Documentation of Client and Engagement Evaluation.

Evaluating Risk of Violating Ethical Requirements
Evaluating Practice Area Risk

Will the Engagement Consume a Disproportionate Amount of Firm Resources?
Will the Engagement Constitute a Marginal Level of Practice?
Evaluating Higher Risk Practice Areas.

Evaluating Industry Risk
Evaluating Engagement Risk
Evaluating the Financial Reporting System and Financial Statements
Determining If Scope Limitations Exist

405 OBTAINING AN UNDERSTANDING WITH THE CLIENT
406 WITHDRAWAL CONSIDERATIONS

Significant Issues Discovered after the Engagement Begins
Withdrawing from an Engagement or Ending a Client Relationship

Determining When to Withdraw from an Existing Engagement.
Responsibility for Approving the Decision to Withdraw.
Documenting a Withdrawal.
Communicating the Decision to Withdraw or Discontinue Services.
Special Considerations--Attestation Engagements.
Special Considerations--Compilation and Review Engagements.

407 DRAFTING THE FIRM'S QUALITY CONTROL POLICIES AND PROCEDURES

AICPA Practice Aid
Developing Acceptance and Continuance Policies and Procedures
The Firm's Quality Control Procedures

Adopt a Standardized Checklist for Accepting a New Client.

Illustration of Acceptance and Continuance Policies and Procedures

408 EVALUATING THE OVERALL ADEQUACY OF THE QUALITY CONTROL SYSTEM'S DESIGN
409 MONITORING COMPLIANCE WITH THE FIRM'S ACCEPTANCE AND CONTINUANCE POLICIES AND PROCEDURES
CHAPTER 5: HUMAN RESOURCES

500 OVERVIEW OF THE QC ELEMENT

The QC Standard
Definitions

Personnel.
Partner.
Engagement Partner.
Staff.
Suitably Qualified External Person.

Summary of the Chapter

501 RECRUITMENT AND HIRING

Plan for the Firm's Personnel Needs

Documenting the Recruitment and Hiring Plan.
Communicating the Plan to Those Responsible for Recruitment and Hiring.

Determining Attributes of New Employees

Documenting the Attributes Sought.

Developing a Recruitment Plan

On-campus Recruiting.
Referrals.
Periodical Advertising.
Use of Websites.
Use of Employment Agencies and Search Firms.
Recruitment Is a Two-way Process.
Documenting the Recruitment Plan.

Evaluating the Candidates
Explaining Firm Policies and Procedures to Job Candidates and New Employees

502 DETERMINING COMPETENCIES AND CAPABILITIES

Introduction
Application Guidance

Professional Education.
Continuing Professional Development.
Work Experience.
Mentoring Relationships.
Independence Education.

Assessing Competency
Competencies of the Engagement Partner

Interrelationship of Competencies and Other Quality Control Elements.
Relationship of the Human Resource Quality Control Element with the UAA.

503 ASSIGNMENT OF ENGAGEMENT TEAMS

SQCS Requirements
Other Requirements

Compilation, Review, and Attestation Requirements.
Ethical Requirements.

Evaluating Client Staffing Requirements and Formulating a Staffing Plan

Considerations in Assigning Engagement Partners.
Considerations in Assigning Engagement Teams.
Formal Time Budgets.
Modify Staffing Assignments Based on Consideration of Competencies.
Formulate a Staffing Plan.
Documenting the Staffing Plan.
Approving the Staffing Plan.

Modifying the Staffing Plan for Unforeseen Events
Communicating Staff Assignments

504 PROFESSIONAL DEVELOPMENT

AICPA Bylaw Requirements
AICPA Policies for the CPE Membership Requirement
Statement on Standards for Continuing Professional Education (CPE) Programs
State Boards of Accountancy and State CPA Societies

State Acceptance of Self-study CPE Credits.

Planning the Firm's Professional Development Activities

Create a Professional Development Plan for Each Professional in the Firm.
Document the Professional Development Plan.
Select and Develop Professional Development Activities That Meet CPE Requirements.
Maintain Appropriate CPE Records.
Provide Information on Changing Professional Standards in a Timely Manner.
Provide On-the-job Training.

505 PERFORMANCE EVALUATION, COMPENSATION, AND ADVANCEMENT

SQCS Requirements
Making Personnel Aware of Performance Expectations
Providing Performance Evaluation and Counseling

Selecting a Staff Evaluation Form.
Evaluating Administrative Staff.
Determining the Frequency of Evaluations.
Interim Recognition of Performance.
Evaluating Partner Performance.
Progress and Career Development.

Helping Personnel Understand How Quality and Ethics Affect Compensation and Advancement

Establish Personnel Classification Levels That Describe Responsibilities and Qualifications for Advancement.
Documenting Personnel Classifications and Responsibilities.
Communicating Compensation and Advancement Criteria, Policies, and Procedures to the Staff.
Making Compensation and Advancement Decisions.
Documenting Compensation and Advancement Decisions.

506 DRAFTING THE FIRM'S QC POLICIES AND PROCEDURES

AICPA Practice Aid
Developing Human Resources Policies and Procedures
Initial Considerations Relating to Developing Policies and Procedures for Recruitment and Hiring
Initial Considerations Relating to Developing Policies and Procedures for Professional Development

Professional Development Policies and Procedures May Cover All Professionals.

Initial Considerations Relating to Developing Policies and Procedures for Performance Evaluation, Compensation, and Advancement

At Some Stage in a Firm's Growth, a Personnel Manual Is Generally Developed.

Illustration of Human Resources Policies and Procedures

507 EVALUATING THE OVERALL ADEQUACY OF THE QC SYSTEM'S DESIGN
508 MONITORING COMPLIANCE WITH THE FIRM'S HUMAN RESOURCES POLICIES AND PROCEDURES
CHAPTER 6: ENGAGEMENT PERFORMANCE

600 OVERVIEW OF THE QC ELEMENT

SQCS No. 8 Requirements
Summary of This Chapter

601 ENGAGEMENT PERFORMANCE, SUPERVISION, AND REVIEW REQUIREMENTS

SQCS Requirements
Ethical Requirements
Compilation and Review Requirements

Compilation Performance Requirements.
Compilation Documentation Requirements.
Review Performance Requirements.
Review Documentation Requirements.

SSARS No. 20

New SSARS Interpretations.

Attestation Requirements

Attestation Documentation Requirements.
Specific Types of Attestation Engagements.

Other Considerations

Cover All Types of Accounting Engagements.
Consider Procedures Found in Other QC Elements.
Interface the System with the Firm's Accounting Manuals.
Consider Firm Size.
Summary.

602 CONSULTATION AND DIFFERENCES OF OPINION

Consultation

Outside Consultation.
Maintaining an Adequate and Up-to-date Professional Reference Library.
Attestation Requirements for Using Specialists.
Specifying Situations That Require Consultation.

Differences of Opinion

Documenting Differences of Opinion.

603 ENGAGEMENT QUALITY CONTROL REVIEW

General Requirements
Performing Engagement Quality Control Reviews
Establishing Criteria for Engagement Quality Control Reviews

EQCR Issues.
Example of Establishing EQCR Performance Criteria.

Establishing Qualifications for Appointment and Replacement of Engagement Quality Control Reviewers

Technical Qualifications.
Objectivity.
Replacement of Reviewers.
Contracting Engagement Quality Control Review.

Documenting Engagement Quality Control Review

604 MAINTAINING ENGAGEMENT DOCUMENTATION

Assembly of Engagement Documentation

SSARS and SSAE Requirements.

Retention of Engagement Documentation
Ownership of Engagement Documentation
Confidentiality, Custody, Integrity, Accessibility, and Retrievability of Engagement Documentation

Confidentiality.
Custody, Integrity, Accessibility, and Retrievability.
Electronic Engagement Documentation.

605 DRAFTING THE FIRM'S QUALITY CONTROL POLICIES AND PROCEDURES

AICPA Practice Aid
Developing Engagement Performance Policies and Procedures
Developing Engagement Level Quality Control Steps

Presenting the Detailed Procedures in the Body of the QC Document.
Referencing to Engagement Procedures Located in the Firm's Accounting Manuals.
Building a Bridging Document.
Interfacing the Bridging Document with the Firm's Accounting Manuals.
Documenting the Quality Control Steps in the Bridging Document.

Assigning Responsibilities for Completion of the Engagement Level QC Steps
Indicating the Applicability of Steps to Each Type of Engagement

How to Tailor the Bridging Document.

Describing the QCM Used by the Firm

Incorporate the Applicable QC Engagement Performance Steps into the Engagement Work Program.
Unique Engagement Performance Issues for Compilation Engagements.

Developing Policies and Procedures for Maintaining Engagement Documentation

Document Retention.
Confidentiality, Custody, Integrity, Accessibility, and Retrievability of Engagement Documentation.

Developing Policies and Procedures for Consultation and Resolving Differences of Opinion

Consultation Considerations.
Establishing Steps to Perform a Consultation.
Assigning Responsibility for Resolving Differences of Opinion.

Developing Engagement Quality Control Review Policies and Procedures

Addressing Nature, Timing, Extent, and Documentation of EQCR.
Establishing the Eligibility of Engagement Quality Control Reviewers.

Illustration of Engagement Performance Policies and Procedures

606 EVALUATE THE OVERALL ADEQUACY OF THE QUALITY CONTROL SYSTEM'S DESIGN
607 MONITORING COMPLIANCE WITH THE FIRM'S ENGAGEMENT PERFORMANCE POLICIES AND PROCEDURES
CHAPTER 7: MONITORING

700 OVERVIEW OF THE QC ELEMENT

SQCS No. 8
Summary of This Chapter

701 TYPES OF MONITORING ACTIVITIES

Engagement Quality Control Review
Postissuance Review
Inspection

Firm Size.
Results of Past Monitoring.
Degree of Authority Firm Has over Inspections.
Nature and Complexity of the Practice.
Client and Engagement Risks.
Relationship of Peer Review to Performing Inspection Procedures.

702 PERFORMING MONITORING PROCEDURES

SQCS No. 8 Requirements
Accomplishing Ongoing Monitoring

Observing the System.
Evaluating the System for Compliance.
Making Necessary Changes.

Assigning Responsibility for the Firm's Monitoring Process
Selecting a Monitoring Team

Technical Requirements.
Independence and Small Firm Monitoring.
Team Size.
Establishing Ongoing Monitoring Procedures.

Performing Engagement Monitoring Procedures

Reviewing Engagement Documentation.
Evaluating Independence.
Evaluating Acceptance and Continuance Decisions.
Determining the Timing of Procedures.
Determining the Scope of Engagements Selected for Monitoring.

Performing Administrative and Other Monitoring Procedures

Assessing How New Developments Are Integrated into the QC System.
Reviewing Written Confirmation of Compliance with Policies and Procedures on Independence.
Determining the Effectiveness of Continuing Professional Development.
Evaluating Whether Firm Personnel Understand QC Policies and Procedures.
Determining the Appropriateness of Firm Materials.

703 EVALUATING AND COMMUNICATING THE RESULTS OF MONITORING

Evaluating Deficiencies and Developing Recommendations

Taking Appropriate Remedial Action Regarding an Engagement or Personnel.
Communicating Findings to Professional Development Personnel.
Revising QC Policies and Procedures.
Initiating Disciplinary Action for Failure to Comply.
Implementing and Monitoring Corrective Actions.
Determining Action If an Inappropriate Report Is Identified.

Annual Communication of Monitoring Results

704 MONITORING DOCUMENTATION

Form of Documentation

Identification of Clients in Monitoring Documentation.

Retention of Monitoring Documentation
PPC's Approach to Documenting Monitoring

PPC's Engagement Review Checklists.

QC System Documentation

705 COMPLAINTS AND ALLEGATIONS

Origins of Complaints and Allegations
Types of Complaints and Allegations

Work Performed Failed to Comply with Standards or Requirements.
Noncompliance with the QC System.
Deficiencies or Noncompliance Identified during Investigations.

Establishing Channels of Communication for Complaints and Allegations
Investigating Complaints and Allegations

Communicating with the Complainant.

Documenting Complaints and Allegations

706 DRAFTING THE FIRM'S QC POLICIES AND PROCEDURES

AICPA Practice Aid
Developing Monitoring Policies and Procedures
Initial Considerations Relating to Developing Monitoring Policies and Procedures

Considerations Relating to Developing Engagement Monitoring Procedures.

Illustration of Monitoring Policies and Procedures

707 EVALUATING THE OVERALL ADEQUACY OF THE QUALITY CONTROL SYSTEM'S DESIGN
CHAPTER 8: THE PEER REVIEW PROCESS AND UNDERGOING ENGAGEMENT REVIEW

800 INTRODUCTION
801 THE AICPA PEER REVIEW PROGRAM

Objectives and Requirements
Accounting and Auditing Practice

Services Covered.
Are SSARS Compilations of Management-use-only Financial Statements Subject to Peer Review?
Are Internal-use Forecast and Projection Engagements Subject to Peer Review?

Types of Reviews
Timing of Reviews
Administering Entities
Cost of Engagement Reviews
AICPA Peer Review Division Contact Information

802 UNDERGOING AN ENGAGEMENT REVIEW

Objectives of Engagement Reviews
Planning Considerations

Designate a Member of the Firm to Coordinate the Review.
Administering Entity.
Does Compliance with the State's Practice-monitoring Program Constitute an Engagement Review?
Complete a Request for Scheduling.
Choosing a Peer Reviewer.
Firm-on-firm.
Committee-appointed Review Team (CART).
Select a Date for the Review.
Extensions.
Establish the Year End of the Period to Be Reviewed.
Sign an Engagement Letter.
Submit Background Information about the Firm to the Reviewer.
Excluding Engagement Areas from Scope of Peer Review.
Client Confidentiality.
Read the Peer Review Program Manual.
Importance of the Commencement Date.

Firm and Individual License Considerations
Firm No Longer Eligible for Engagement Review

803 WHAT TO EXPECT DURING THE ACTUAL ENGAGEMENT REVIEW

Selection of Engagements for Review

Submitting Financial Statements and Related Reports and Documentation to Reviewers.
Submitting Firm Representations.
Disposition of Reports and Financial Statements.

Procedures Performed by the Reviewer

Performing Review Procedures.

Evaluation of Review Findings

Determining the Relative Importance of Matters.
Preparing MFC, DMFC, and FFC Forms.
Forming Conclusions on the Type of Report to Issue.

804 POST REVIEW ACTIVITIES IN AN ENGAGEMENT REVIEW

Preparation of a Written Report on the Results of the Review

Contents of Engagement Review Reports.
Scope Limitations.
Peer Review Report Rating of Pass.
Peer Review Report Rating of Pass with Deficiencies.
Peer Review Rating of Fail.
Consequences of a Peer Review Report Rating of Pass with Deficiencies or Fail.

Firm Responses in an Engagement Review
Repeat Deficiencies, Significant Deficiencies, or Findings

805 ACCEPTANCE OF THE ENGAGEMENT REVIEW
806 RESOLVING DISAGREEMENTS

Termination from the Program

807 PEER REVIEW DOCUMENTATION AND RETENTION

Peer Review Documentation
Firm's Retention Responsibilities
Reviewer's Retention Responsibilities

APPENDIX 8A: Illustrative Engagement Review Reports

APPENDIX 8A-1: Illustrative Engagement Review Report with a Rating of Pass
APPENDIX 8A-2: Illustrative Engagement Review Report with a Rating of Pass with Deficiencies
APPENDIX 8A-3: Illustrative Engagement Review Report with a Rating of Fail

APPENDIX 8B: Illustrative Letter of Response on an Engagement Review Report with a Rating of Fail
APPENDIX 8C: MFC and FFC Forms

APPENDIX 8C-1: Matter for Further Consideration (MFC) for Engagement Reviews
APPENDIX 8C-2: Finding for Further Consideration (FFC) for Engagement Reviews
PRACTICE AIDS (GCR-PA)

GCR-PA-1: Designing and Developing the QC System

GCR-PA-1.1: Checklist for the Development and Implementation of a Quality Control System for Firms with Two or More Professionals
GCR-PA-1.2: Checklist for the Development and Implementation of a Quality Control System for Sole Practitioners with No Professional Staff
GCR-PA-1.3: Quality Control Maintenance Calendar
GCR-PA-1.4: Quality Control Documentation Checklist

GCR-PA-2: Leadership

GCR-PA-2.1: Leadership Responsibilities for Quality Within the Firm Policy and Procedures Drafting Form

GCR-PA-3: Relevant Ethical Requirements

GCR-PA-3.1: Relevant Ethical Requirements Policy and Procedures Drafting Form
GCR-PA-3.2: Independence, Integrity, and Objectivity Questionnaire
GCR-PA-3.3: Independence, Integrity, and Objectivity Representation
GCR-PA-3.4: Independence, Integrity, and Objectivity Resolution Form
GCR-PA-3.5: ET Interpretation 101-3 Documentation Form

GCR-PA-4: Acceptance and Continuance

GCR-PA-4.1: Acceptance and Continuance of Client Relationships and Specific Engagements Policy and Procedures Drafting Form

GCR-PA-5: Human Resources--Overall

GCR-PA-5.1: Human Resources Policies and Procedures Drafting Form

GCR-PA-6: Human Resources--Recruitment and Hiring

GCR-PA-6.1: Interview and Evaluation Checklist
GCR-PA-6.2: Employment Application
GCR-PA-6.3: Employee Confidentiality Agreement Drafting Form

GCR-PA-7: Human Resources--Competencies and Capabilities

GCR-PA-7.1: Engagement Team Competencies and Capabilities

GCR-PA-8: Not Used
GCR-PA-9: Human Resources--Professional Development

GCR-PA-9.1: Individual CPE Record
GCR-PA-9.2: Notification Form--In-house CPE Program
GCR-PA-9.3: Qualifications--In-house CPE Program
GCR-PA-9.4: Attendance Record and Course Outline--In-house CPE Program
GCR-PA-9.5: Participant's Evaluation--In-house CPE Program
GCR-PA-9.6: Evaluation Summary--In-house CPE Program
GCR-PA-9.7: Instructor's Evaluation--In-house CPE Program

GCR-PA-10: Human Resources--Performance Evaluation, Compensation, and Advancement

GCR-PA-10.1: Professional Staff Evaluation
GCR-PA-10.2: Administrative Staff Evaluation Form

GCR-PA-11: Engagement Performance

GCR-PA-11.1: Engagement Performance Policy and Procedures Drafting Form
GCR-PA-11.2: Engagement Performance Bridging Document with QCM Described--Compilations and Reviews
GCR-PA-11.3: Engagement Performance Bridging Document with QCM Described--Attestation Engagements
GCR-PA-11.4: Presumptively Mandatory Departure, Consultation, Differences of Opinion, and Engagement Withdrawal Documentation Form
GCR-PA-11.5: Engagement Quality Control Review Form

GCR-PA-12: Monitoring

GCR-PA-12.1: Monitoring Policy and Procedures Drafting Form
GCR-PA-12.2: Checklist for Administering a Monitoring Program
GCR-PA-12.3: Inspection/Review Checklist--Firm with Two or More Professionals
GCR-PA-12.4: Inspection/Review Checklist--Sole Practitioner with No Professional Staff
GCR-PA-12.5: General Compilation Engagement Review Checklist
GCR-PA-12.6: General Review Engagement Review Checklist
GCR-PA-12.7: Annual Monitoring Communication Drafting Form
GCR-PA-12.8: Summary of Monitoring Findings and Recommendations Drafting Form
GCR-PA-12.9: Summary of Identified Monitoring Deficiencies
GCR-PA-12.10: Documentation and Resolution of Complaints and Allegations Made Against the Firm

GCR-PA-13: Model Quality Control Documents

GCR-PA-13.1: Model Quality Control Document--Firms That Perform Only Compilation and Review Engagements
GCR-PA-13.2: Model Quality Control Document--Sole Practitioner Firm with One or More Professional Staff That Performs Only Compilation and Review Engagements
GCR-PA-13.3: Model Quality Control Document--Sole Practitioner Who Performs Only Compilation and Review Engagements
GCR-PA-13.4: Quality Control Policies and Procedures Drafting Form--Firms That Perform Only Compilation and Review Engagements

GCR-PA-14: Assessing the Adequacy of the QC System

GCR-PA-14.1: Questionnaire to Identify Need for QC System Revisions

GCR-PA-15: Not Used
GCR-PA-16: Peer Review

GCR-PA-16.1: Checklist of Administrative Procedures Involved in an Engagement Review
GCR-PA-16.2: Representation Letter Drafting Form