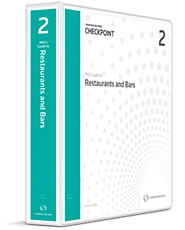 PPC's Guide to Restaurants and Bars

Product Information
Frequency of Updates:

Annually

Brand:

Practitioners Publishing
PPC's Guide to Restaurants and Bars is written by a leading combination of internal and external authors with extensive expertise and decades of practice experience. There is no other source available on the market that provides the practical, yet authoritative, guidance applicable to both CPAs and restaurateurs found in this Guide.
The Guide addresses unique financial and reporting considerations of restaurants and bars, including practical guidance on compiling and reviewing financial statements and using QuickBooks® software. It also:
Provides proven techniques for analyzing operations, cutting costs, and increasing profits, especially in a down economy.
Focuses on ways to turn losses into profits, including preventing employee theft and marketing the restaurant through couponing, marketing, and social media promotions, such as Groupon.
Discusses unique employer issues including signing IRS TRAC agreements, tip reporting, filing IRS Form 8027, complying with the Fair Labor Standards Act requirements regarding overtime and uniforms, and complying with Immigration and Naturalization Service Form I-9.
This Guide provides critical information, thoroughly updated guidance, and current insights affecting restaurant clients. It includes:
In-depth "How To" Guidance. Two volumes of in-depth "how to" guidance with hundreds of suggestions on how to start-up a restaurant, develop a concept, design a menu, and make it profitable by controlling food costs, labor costs, and theft. It also includes practice aids, sample reports, sample disclosures, and financial statements.
Streamlined Forms and Checklists. Most importantly, those forms and checklists are streamlined to provide you maximum efficiency when using them daily to control the operation or for complying with professional standards and peer review requirements.
Real-life Scenarios and Examples. Rather than just telling you what the standards say, the Guide includes numerous real-life scenarios and examples that reduce the technical language of official pronouncements to easy-to-understand advice and procedures.