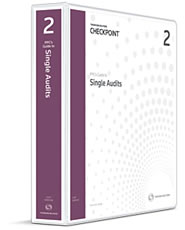 PPC's Guide to Single Audits

Product Information
Frequency of Updates:

Annually

Brand:

Practitioners Publishing
PPC's Guide to Single Audits is your one source for all the rules, regulations, and guidelines for single audits of both governments and nonprofits. Performing single audits requires compliance with an array of complex regulatory and professional requirements. This Guide helps you comply with these requirements accurately and efficiently, thereby increasing your audit profits.
To save you valuable research time, in-depth guidance is provided on compliance testing, reporting and audit strategy for single audits. Plus, the Guide includes audit programs, (including the PPC compliance and audit program Audits of Federal Award Programs - Compliance Requirements), engagements checklists, correspondence, and illustrated reports that will save you time and make your single audit more efficient. The text and practice aids are complemented by illustrative workpapers, and the publication's coverage of OMB Circular A-133 audits makes it the most comprehensive Guide of its type.
Your subscription includes online access to all government documents related to single audits.