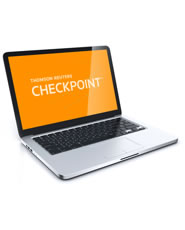 SEC Compliance Expert Library with GAAP

The SEC Compliance Expert Library with GAAP combines the SEC Compliance Expert and GAAP Compliance libraries on Checkpoint, providing comprehensive analysis of SEC and GAAP requirements, as well as a complete library of source materials from the SEC and PCAOB, to form a powerful solution for your financial compliance needs.
The SEC Compliance Expert Library with GAAP includes:
Comprehensive SEC and GAAP analysis, diagnostic tools, and source material
Expert guidance and analysis for SEC reporting forms organized item-by-item for each form to match filers' workflow
Thousands of easy-to-use sample disclosures and computational guidelines
State-of-the-art interactive checklists to track your progress as you prepare important filings and financial statements
Robust linking between analysis, regulations, forms, and checklists
Daily news alerts via email on key trends and developments at standard setting organizations
Timely updates to keep you current
The result? Your research and filing process is faster, more efficient, and most important, more thorough than ever before.
---