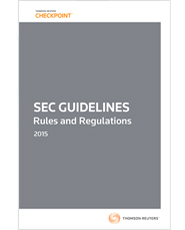 SEC Guidelines: Rules and Regulations (2015 Edition)

Product Information
Frequency of Updates:




Annually

Brand:

WGL
This useful desk reference is a compilation of Forms, Regulations, and Interpretative Guidance issued, and reflects the latest requirements for preparing financial statements and related disclosure documents filed with the SEC. The 2015 edition of SEC Guidelines: Rules and Regulations includes the reference materials most frequently used by accountants and legal professionals whose clients must comply with the SEC's registration and reporting requirements.
All of the information you need to complete your annual, quarterly, or registration filing is available at your fingertips, and is organized into three main sections: Forms and Schedules, Rules and Regulations, and Interpretive Guidance. SEC Guidelines: Rules and Regulations includes the full-text of Regulations S-K, S-X, and S-T, plus selected rules and forms under the 1933 and 1934 Acts.
All of the SEC's relevant rulemaking published through October 2014 is reflected in the 2015 edition, including:
Significant amendments to Regulation AB and other rules governing the offering process, disclosure, and reporting for asset-backed securities;
Amendments to Form PF designed to address money market funds' susceptibility to heavy redemptions in times of stress and to improve those funds' ability to manage and mitigate potential contagion from such redemptions; and
Amendments to the Codified Financial Reporting Releases (FRRs) to add new Section 220, Cash Equivalents, and new Section 404.05.c, Guidance on the Amortized Cost Method of Valuation and Other Valuation Concerns.
You'll also find popular interpretive guidance such as Industry Guides, Staff Accounting Bulletins (SABs), Staff Legal Bulletins (SLBs) and codified FRRs.
Finally, to help manage your SEC filings workflow, a quick reference guide showing federal holidays and filing deadlines is included on the inside back cover.
---