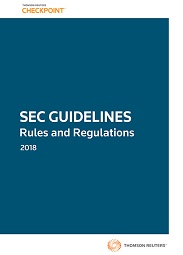 SEC Guidelines: Rules and Regulations (2017 Edition)

Product Information
Frequency of Updates:




Annually

Brand:

WGL
This useful desk reference is a compilation of Forms, Regulations, and Interpretative Guidance issued, and reflects the latest requirements for preparing financial statements and related disclosure documents filed with the SEC. The 2017 edition of SEC Guidelines: Rules and Regulations includes the reference materials most frequently used by accountants and legal professionals whose clients must comply with the SEC's registration and reporting requirements.
All of the information you need to complete your annual, quarterly, or registration filing is available at your fingertips, and is organized into three main sections: Forms and Schedules, Rules and Regulations, and Interpretive Guidance. SEC Guidelines: Rules and Regulations includes the full-text of Regulations S-K, S-X, and S-T, plus selected rules and forms under the 1933 and 1934 Acts.
All of the SEC's relevant rulemaking published through October 2016 is reflected in the 2017 edition, including:
The addition of (1) new Regulation Crowdfunding; (2) new Form C; and (3) amendments to Form ID as the result of implementation of the crowdfunding provisions to the requirements of Title III of the JOBS Act, which are designed to help provide startups and small businesses with capital by making relatively low-dollar offerings of securities less costly.
Adoption of Rule 13q-1, along with amendments to Form SD, to implement Exchange Act Section 13(q), which was added by Section 1504 of the Dodd-Frank Act.
Amendments to Part IV of Form 10-K to add new Item 16, which will expressly allow a registrant, at its option, to include a summary in the Form 10-K.
Revisions to Securities Exchange Act Rules 12g-1 through 12g-4, 12g5-1, and 12h-3; and Securities Act Rule 405 to reflect new higher thresholds and for registration, termination of registration, and suspension of reporting under Section 12(g) of the Securities Exchange Act of 1934.
Interim final amendments adopted to Forms S-1 and F-1 to implement Sections 71003 and 84001 of the Fixing America's Surface Transportation (FAST) Act, to permit emerging growth companies to (1) omit financial information for certain historical periods and (2) forward incorporation by reference for smaller reporting companies.
Finally, to help manage your SEC filings workflow, a quick reference guide showing federal holidays and filing deadlines is included on the inside back cover.
---