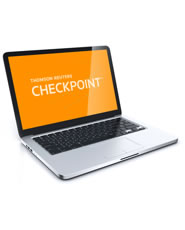 SECPlus Compliance Expert Library with GAAP and Financial Management

SECPlus integrates real-time access to SEC filings and company financial fundamentals with expert editorial content and source material - all on Checkpoint®, the premier online resource for corporate finance and accounting professionals. Accessing accurate financial reporting and corporate governance research is now easier than ever before.
The SECPlus Compliance Expert with GAAP and Financial Management library gives you access to real-time SEC filings, comprehensive analysis of SEC and GAAP requirements, and a Financial Management package designed to help you drive continuous process improvement in your organization. This library is integrated seamlessly with a complete library of source materials from the SEC and PCAOB, to form a powerful solution to your financial compliance and reporting needs.
Includes:
Comprehensive SEC and GAAP analysis, diagnostic tools, and source material
Expert guidance and analysis for SEC reporting forms organized item-by-item for each form to match filers' workflow
Thousands of easy-to-use sample disclosures and computational guidelines
State-of-the-art interactive checklists to track your progress as you prepare important filings and financial statements
Linked regulations, analysis and forms
Timely updates to keep you currentDaily news alerts via email on key trends and developments at standard setting organizations
Financial Management reference library covering the treasury function, cost management, cash budgeting and forecasting, performance and risk management, and more
The result? Your research and filing process is faster, more efficient, and most important, more thorough than ever before.
SECPlus gives you more.
Link quickly from an SEC filing to relevant source materials
Add expert editorial analysis from WG&L
Search for companies by company name, SIC code, ticker symbol
Access various SEC forms and form components quickly and easily
Save search criteria and receive email notification of newly filed forms
Compare specific filing items among different companies using the "FindMore" tool
Chart and compare company financial data for a complete picture
Stay current on new compliance topics with SECPlus Filings Highlights
---