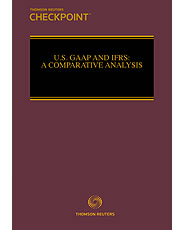 U.S. GAAP and IFRS: A Comparative Analysis

Product Information
Frequency of Updates:

Annually

Brand:

WGL
U.S. GAAP and IFRS: A Comparative Analysis provides the guidance you need on the differences and similarities between the U.S. Generally Accepted Accounting Principles (GAAP) and the International Financial Reporting Standards (IFRS).
The Securities and Exchange Commission recently voted to publish for public comment a proposed roadmap to the adoption of IFRS by U.S. issuers within the next 6 years. The adoption of a single set of high quality accounting standards is becoming more likely as the world's capital markets become increasingly more intertwined. Accounting and financial professionals now need to familiarize themselves with IFRS to understand the potential impact of this conversion from U.S. GAAP to IFRS.
U.S. GAAP and IFRS: A Comparative Analysis delivers logically organized explanations, illustrations, and examples that together enable readers to recognize and understand important topics and critical contrasting issues in both sets of standards. Written by renowned expert Allan Afterman, it is an ideal source for gaining a high-level understanding of how IFRS might impact your company, and quickly assessing how specific aspects of your company's financial statements might be impacted by a potential change to IFRS.
The 2009/2010 edition has been updated to include:
Corresponding references to the FASB Accounting Standards Codification throughout
A discussion of the recently issued IFRS for Small and Medium-Sized Entities (IFRS for SMEs), which is intended to be used by companies without public accountability (including point-by-point principal recognition and measurement differences between the IFRS for SMEs and full IFRS).
Proposal-stage standards, including standards on:

Revised accounting for hedging.
Accounting for income taxes.
Fair value measurements.
Discount rate for employee benefits.

The status of the IASB/IFRS convergence process.