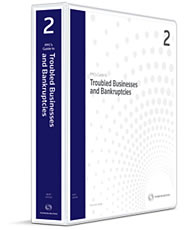 PPC's Guide to Troubled Businesses and Bankruptcies

Product Information
Frequency of Updates:

Annually

Brand:

Practitioners Publishing
Helping your business clients when they are going through severe financial trouble can be overwhelming. PPC's Guide to Troubled Businesses and Bankruptcies provides detailed, practical guidance on rehabilitating troubled companies. And when rehabilitation is not possible, it also provides guidance on making the necessary decisions about bankruptcy, including both Chapter 7 liquidations and Chapter 11 reorganizations. This Guide walks you step-by-step through the bankruptcy requirements, especially in the timing deadlines and reporting process.
PPC's Guide to Troubled Businesses and Bankruptcies includes guidance on:
Identifying the troubled company
Implementing corrective actions
Assessing tax considerations
Rehabilitating a troubled company outside of court
Understanding the advantages and disadvantages of going through bankruptcy
Providing accounting, valuation, fraud investigation, and expert witness services in a bankruptcy proceeding
Meeting the unique requirements of compensation
This is not a theoretical discussion of companies in trouble or in bankruptcy - it's a how-to book that will help you increase your profits.
Business Valuation and Small Business Consulting Sample

View