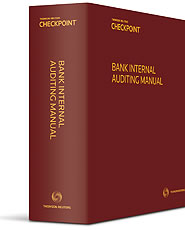 Bank Internal Auditing Manual

Bank Internal Auditing Manual includes all the audit procedures, guidelines, and tools you need to help ensure a successful audit and comply with common bank audit requirements as well as rules and regulations from federal agencies.
Each chapter provides a quick review of auditing a specific banking function followed by internal control questionnaires, audit procedures, and forms that will help you audit that function. The Manual includes coverage of auditing operations related to assets, liabilities, capital, income/expense, trusts, non-balance sheet items, compliance, IT, audit sampling, consolidated audits, and risk-based audits.
Special features include:
Operations and enumerated audit objectives that explain the basic workings of the function to be audited, provide background material that will be helpful in understanding the activity, and guide you through the steps of the audit
Internal control questionnaires that are specifically tailored to the function audited
Audit procedures that establish the actual format of the audit and take you step-by-step through the proper procedures
Updated semi-annually by respected expert consultants from CliftonLarsonAllen LLP, the Bank Internal Auditing Manual is available in print and online. For print subscribers, the internal control questionnaires and audit procedures are provided at our Forms Online library.
Bank Internal Auditing Manual

Part I: Assets

Part II: Liabilities

Part III: Capital

Part IV: Income/Expense

Part V: Trusts

Part VI: Non-Balance Sheet Items

Part VII: Compliance

Part VIII: Information Technology

Part IX: Audit Sampling

Part X: Consolidated Audits

Part XI: Risk-Based Audits
Bank Internal Auditing Manual Sample

View
---