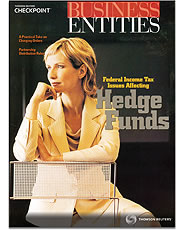 Business Entities

Product Information
Frequency of Updates:




6 times/year

Brand:

Research Institute of America
Sizing up potential business structures and minimizing taxes are an ongoing challenge for businesses and their advisors. Business Entities contains expert analysis needed to make decisions that lead to the most advantageous tax consequences. One of the most important choices that you make when starting a business is selecting the entity structure, and it is critical to understand the ever-changing rules and federal tax treatment applicable to different business formations.
Every issue of Business Entities contains insights into critical new developments coming from the IRS, Congress, the state legislatures, and the courts, as well as in-depth articles written by expert practitioners on topics such as:
Drafting techniques for partnership and LLC agreements
Use of entities in structuring foreign investment
Understanding how states tax pass-through entities
Reducing self-employment taxes
Effective estate planning strategies for business owners
When to convert a business to a different form of entity structure
Business Entities is available in an attractive print format, as well as online. The online version contains a searchable archive dating back to 1991.
Business Entities (WG&L)

Business Entities (WG&L)

Preview Issue in Progress

2016

Volume 18, Number 02, March/April 2016

Volume 18, Number 01, January/February 2016

2015

Volume 17, Number 06, November/December 2015

Advertisers for November/December 2015

Articles

Columns

Volume 17, Number 05, September/October 2015

Advertisers for September/October 2015

Articles

Columns

Volume 17, Number 04, July/August 2015

Advertisers for July/August 2015

Articles

Columns

Volume 17, Number 03, May/June 2015

Advertisers for May/June 2015

Articles

Columns

Volume 17, Number 02, March/April 2015

Advertisers for March/April 2015

Articles

Columns

Volume 17, Number 01, January/February 2015

Advertisers for January/February 2015

Articles

Columns

2014

Volume 16, Number 06, November/December 2014

Advertisers for November/December 2014

Articles

Columns

Volume 16, Number 05, September/October 2014

Volume 16, Number 04, July/August 2014

Volume 16, Number 03, May/June 2014

Advertisers for May/June 2014

Articles

Columns

Volume 16, Number 02, March/April 2014

Advertisers for March/April 2014

Articles

Columns

Volume 16, Number 01, January/February 2014

2013

Volume 15, Number 06, November/December 2013

Volume 15, Number 05, September/October 2013

Volume 15, Number 04, July/August 2013

Advertisers for July/August 2013

Articles

Columns

Volume 15, Number 03, May/June 2013

Advertisers for May/June 2013

Articles

Columns

Volume 15, Number 02, March/April 2013

Advertisers for March/April 2013

Articles

Columns

Volume 15, Number 01, January/February 2013

Advertisers for January/February 2013

Articles

Columns

2012

Volume 14, Number 06, November/December 2012

Advertisers for November/December 2012

Articles

Columns

Volume 14, Number 05, September/October 2012

Advertisers for September/October 2012

Articles

Columns

Volume 14, Number 04, July/August 2012

Advertisers for July/August 2012

Articles

Columns

Volume 14, Number 03, May/June 2012

Advertisers for May/June 2012

Articles

Columns

Volume 14, Number 02, March/April 2012

Advertisers for March/April 2012

Articles

Columns

Volume 14, Number 01, January/February 2012

Advertisers for January/February 2012

Articles

Columns

2011

Volume 13, Number 06, November/December 2011

Advertisers for November/December 2011

Articles

Columns

Volume 13, Number 05, September/October 2011

Advertisers for September/October 2011

Articles

Columns

Volume 13, Number 04, July/August 2011

Advertisers for July/August 2011

Articles

Columns

Volume 13, Number 03, May/June 2011

Advertisers for May/June 2011

Articles

Columns

Volume 13, Number 02, March/April 2011

Advertisers for March/April 2011

Articles

Columns

Volume 13, Number 01, January/February 2011

Advertisers for January/February 2011

Articles

Columns

2010

Volume 12, Number 06, November/December 2010

Advertisers for November/December 2010

Articles

Columns

Volume 12, Number 05, September/October 2010

Advertisers for September/October 2010

Articles

Columns

Volume 12, Number 04, July/August 2010

Advertisers for July/August 2010

Articles

Columns

Volume 12, Number 03, May/June 2010

Advertisers for May/June 2010

Articles

Columns

Volume 12, Number 02, March/April 2010

Advertisers for March/April 2010

Articles

Columns

Volume 12, Number 01, January/February 2010

Advertisers for January/February 2010

Articles

Columns

2009

Volume 11, Number 06, November/December 2009

Advertisers for November/December 2009

Articles

Columns

Volume 11, Number 05, September/October 2009

Advertisers for September/October 2009

Articles

Columns

Volume 11, Number 04, July/August 2009

Advertisers for July/August 2009

Articles

Columns

Volume 11, Number 03, May/June 2009

Advertisers for May/June 2009

Articles

Columns

Volume 11, Number 02, March/April 2009

Advertisers for March/April 2009

Articles

Columns

Volume 11, Number 01, January/February 2009

Advertisers for January/February 2009

Articles

Columns

2008

Volume 10, Number 06, November/December 2008

Advertisers for November/December 2008

Articles

Columns

Volume 10, Number 05, September/October 2008

Advertisers for September/October 2008

Articles

Columns

Volume 10, Number 04, July/August 2008

Advertisers for July/August 2008

Articles

Columns

Volume 10, Number 03, May/June 2008

Advertisers for May/June 2008

Articles

Columns

Volume 10, Number 02, March/April 2008

Advertisers for March/April 2008

Articles

Columns

Volume 10, Number 01, January/February 2008

Advertisers for January/February 2008

Articles

Columns

2007

Volume 09, Number 06, November/December 2007

Advertisers for November/December 2007

Articles

Columns

Volume 09, Number 05, September/October 2007

Advertisers for September/October 2007

Articles

Columns

Volume 09, Number 04, July/August 2007

Advertisers for July/August 2007

Articles

Columns

Volume 09, Number 03, May/June 2007

Advertisers for May/June 2007

Articles

Columns

Volume 09, Number 02, March/April 2007

Advertisers for March/April 2007

Articles

Columns

Volume 09, Number 01, January/February 2007

Advertisers for January/February 2007

Articles

Columns

2006

Volume 08, Number 06, November/December 2006

Advertisers for November/December 2006

Articles

Columns

Volume 08, Number 05, September/October 2006

Advertisers for September/October 2006

Articles

Columns

Volume 08, Number 04, July/August 2006

Advertisers for July/August 2006

Articles

Columns

Volume 08, Number 03, May/June 2006

Advertisers for May/June 2006

Articles

Columns

Volume 08, Number 02, March/April 2006

Volume 08, Number 01, January/February 2006

Advertisers for January/February 2006

Articles

Columns

2005

Volume 07, Number 06, November/December 2005

Advertisers for November/December 2005

Articles

Columns

Volume 07, Number 05, September/October 2005

Advertisers for September/October 2005

Articles

Columns

Volume 07, Number 04, July/August 2005

Advertisers for July/August 2005

Articles

Columns

Volume 07, Number 03, May/June 2005

Advertisers for May/June 2005

Recent Developments

Articles

Volume 07, Number 02, March/April 2005

Advertisers for March/April 2005

Articles

Columns

Volume 07, Number 01, January/February 2005

Advertisers for January/February 2005

Articles

Columns

2004

Volume 06, Number 06, November/December 2004

Advertisers for November/December 2004

Articles

Columns

Volume 06, Number 05, September/October 2004

Advertisers for September/October 2004

Articles

Columns

Volume 06, Number 04, July/August 2004

Advertisers for July/August 2004

Articles

Columns

Volume 06, Number 03, May/June 2004

Advertisers for May/June 2004

Articles

Columns

Volume 06, Number 02, March/April 2004

Volume 06, Number 01, January/February 2004

2003

Volume 05, Number 06, November/December 2003

Volume 05, Number 05, September/October 2003

Volume 05, Number 04, July/August 2003

Volume 05, Number 03, May/June 2003

Volume 05, Number 02, March/April 2003

Volume 05, Number 01, January/February 2003

2002

Volume 04, Number 06, November/December 2002

Volume 04, Number 05, September/October 2002

Volume 04, Number 04, July/August 2002

Volume 04, Number 03, May/June 2002

Volume 04, Number 02, March/April 2002

Volume 04, Number 01, January/February 2002

2001

Volume 03, Number 06, November/December 2001

Volume 03, Number 05, September/October 2001

Volume 03, Number 04, July/August 2001

Volume 03, Number 03, May/June 2001

Volume 03, Number 02, March/April 2001

Volume 03, Number 01, January/February 2001

2000

Volume 02, Number 06, November/December 2000

Volume 02, Number 05, September/October 2000

Volume 02, Number 04, July/August 2000

Volume 02, Number 03, May/June 2000

Volume 02, Number 02, March/April 2000

Volume 02, Number 01, January/February 2000

1999

Volume 01, Number 06, November/December 1999

Volume 01, Number 05, September/October 1999

Volume 01, Number 13, July/August 1999

Volume 1, Number 3, May/June 1999

Recent Developments

Articles

Columns

Volume 1, Number 2, March/April 1999

Recent Developments

Articles

Columns

Volume 1, Number 1, January/February 1999

Recent Developments

Articles

Journal of S Corporation Taxation (Archive through Winter 1999)

1999

Volume 10, Number 3, Winter 1999

Recent Developments

Articles

Columns

1998

Volume 10, Number 2, Fall 1998

Recent Developments

Articles

Columns

Volume 10, Number 1, Summer 1998

Recent Developments

Articles

Columns

Volume 9, Number 4, Spring 1998

Recent Developments

Articles

Columns

Volume 9, Number 3, Winter 1998

Recent Developments

Articles

Columns

1997

Volume 9, Number 2, Fall 1997

Recent Developments

Articles

Columns

Volume 9, Number 1, Summer 1997

Recent Developments

Articles

Columns

Volume 8, Number 4, Spring 1997

Volume 8, Number 3, Winter 1997

Recent Developments

Articles

Columns

1996

Volume 8, Number 2, Fall 1996

Recent Developments

Articles

Columns

Volume 8, Number 1, Summer 1996

Recent Developments

Articles

Columns

Volume 7, Number 4, Spring 1996

Recent Developments

Articles

Columns

Volume 7, Number 3, Winter 1996

Recent Developments

Articles

Columns

1995

Volume 7, Number 2, Fall 1995

Recent Developments

Articles

Columns

Volume 7, Number 1, Summer 1995

Recent Developments

Articles

Columns

Volume 6, Number 4, Spring 1995

Recent Developments

Articles

Columns

Volume 6, Number 3, Winter 1995

1994

Volume 6, Number 2, Fall 1994

Recent Developments

Articles

Columns

Volume 6, Number 1, Summer 1994

Recent Developments

Articles

Columns

Volume 5, Number 4, Spring 1994

Recent Developments

Articles

Columns

Volume 5, Number 3, Winter 1994

Recent Developments

Articles

Columns

1993

Volume 5, Number 2, Fall 1993

Recent Developments

Articles

Columns

Volume 5, Number 1, Summer 1993

Recent Developments

Articles

Columns

Volume 4, Number 4, Spring 1993

Recent Developments

Articles

Columns

Volume 4, Number 3, Winter 1993

Recent Developments

Articles

Columns

1992

Volume 4, Number 2, Fall 1992

Volume 4, Number 1, Summer 1992

Recent Developments

Articles

Columns

Volume 3, Number 4, Spring 1992

Recent Developments

Articles

Columns

Volume 3, Number 3, Winter 1992

Recent Developments

Articles

Columns

1991

Volume 3, Number 2, Fall 1991

Recent Developments

Articles

Columns

Volume 3, Number 1, Summer 1991

Recent Developments

Articles

Columns

Volume 2, Number 4, Spring 1991

Recent Developments

Articles

Columns

Volume 2, Number 3, Winter 1991

Recent Developments

Articles

Columns

Journal of Partnership Taxation (Archive through Winter 1998)

1999

Volume 15, Number 4, Winter 1999

1998

Volume 15, Number 3, Fall 1998

Volume 15, Number 2, Summer 1998

Recent Developments

Articles

Columns

Volume 15, Number 1, Spring 1998

Recent Developments

Articles

Columns

Volume 14, Number 4, Winter 1998

1997

Volume 14, Number 3, Fall 1997

Volume 14, Number 2, Summer 1997

Volume 14, Number 1, Spring 1997

Recent Developments

Articles

Columns

Volume 13, Number 4, Winter 1997

1996

Volume 13, Number 3, Fall 1996

Recent Developments

Articles

Columns

Volume 13, Number 2, Summer 1996

Volume 13, Number 1, Spring 1996

Recent Developments

Articles

Columns

Volume 12, Number 4, Winter 1996

Recent Developments

Articles

Columns

1995

Volume 12, Number 3, Fall 1995

Recent Developments

Articles

Columns

Volume 12, Number 2, Summer 1995

Recent Developments

Articles

Columns

Volume 12, Number 1, Spring 1995

Recent Developments

Articles

Columns

Volume 11, Number 4, Winter 1995

Recent Developments

Articles

Columns

1994

Volume 11, Number 3, Fall 1994

Recent Developments

Articles

Columns

Volume 11, Number 2, Summer 1994

Recent Developments

Articles

Columns

Volume 11, Number 1, Spring 1994

Recent Developments

Articles

Columns

Volume 10, Number 4, Winter 1994

Recent Developments

Articles

Columns

1993

Volume 10, Number 3, Fall 1993

Recent Developments

Articles

Columns

Volume 10, Number 2, Summer 1993

Recent Developments

Articles

Columns

Volume 10, Number 1, Spring 1993

Recent Developments

Articles

Columns

Volume 9, Number 4, Winter 1993

Recent Developments

Articles

Columns

1992

Volume 9, Number 3, Fall 1992

Recent Developments

Articles

Columns

Volume 9, Number 2, Summer 1992

Recent Developments

Articles

Columns

Volume 9, Number 1, Spring 1992

Recent Developments

Articles

Columns

Volume 8, Number 4, Winter 1992

Recent Developments

Articles

Columns

1991

Volume 8, Number 3, Fall 1991

Volume 8, Number 2, Summer 1991

Recent Developments

Articles

Columns

Volume 8, Number 1, Spring 1991

Recent Developments

Articles

Columns
---