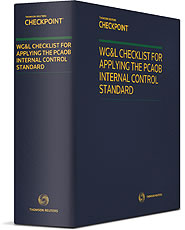 Checklist For Applying The PCAOB Internal Control Standard

Checklist for Applying the PCAOB Internal Control Standard provides detailed checklists of every step in the audit review process as well as all the relevant primary source material. The result is a detailed roadmap for navigating these complex new rules for the professional practitioner, whether a member of management responsible for internal control over financial reporting, or an auditor responsible for auditing those internal controls.
Are your internal control standards able to keep up with the latest pronouncements from the Public Company Oversight Board?
The PCAOB has released Auditing Standard No. 2 and, even more recently, No. 2004-008: Conforming Amendments to PCAOB Interim Standards Resulting from the Adoption of PCAOB Auditing Standard No. 2. These rules and auditing standards affect public accountants, management, boards of directors, audit committees, internal auditors, and accounting staff, among others. As a result of these new requirements -- which the PCAOB has launched to regulate the accounting industry and, more directly, the conduct and requirements of audits -- the field of auditing in the U.S. has been significantly changed.
The Checklist consists of 14 sections providing detailed coverage of the following topics:
Planning the engagement to audit internal control over financial reporting
Evaluating management's assessment process
Obtaining an understanding of internal control over financial reporting
Testing and evaluating design effectiveness
Testing and evaluating operating effectiveness
Using the work of others
Forming an opinion on the effectiveness of internal control over financial reporting
Written representations
Relationship of an audit of internal control over financial reporting to an audit of the financial statements
Documentation requirements
Reporting on internal control over financial reporting
Filings under federal securities statutes
Auditor's responsibilities for evaluating management's certification disclosures about internal controls over financial reporting
Required communications in an audit of internal control over financial reporting
---