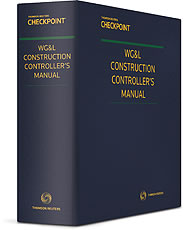 Construction Controller's Manual

Construction controllers and financial managers now have the most complete collection of diagnostic tools and practical guidance available.
Construction Controller's Manual is authored by experts from leading advisory firms in the areas of accounting, law, insurance, and risk management.
Checklists, questionnaires, analyses and calculations give you critical insight into claim resolution, tax planning, cost accounting, bonding, cash flow, valuation and more.
Develop a solid foundation in every aspect of construction accounting and financial management:
Construction Accounting - Reviews of contract accounting, equipment, and joint ventures, along with samples of balance sheet presentation for contract losses and percentage of completion adjustments
Cost Accounting - Step-by-step guidance on setting up job-cost accounting systems and equipment-cost systems (includes a complete list of job-cost codings from the Construction Specifications Institute)
Bonding - Thorough review of surety bonding and how it relates to financial statement
Risk Management - Checklists on internal controls, reducing premiums, general liability, umbrella liability, worker's compensation, and more
Contracting with the Federal Government - More than 150 pages analyzing the bidding process, cost accounting, and other details needed to effectively work on Federal projects.
You also get detailed coverage in emerging areas:
Accounting updates for stored materials and varying contract profitability estimates
New financial reporting requirements related to underbilling
Job-cost accounting changes, including updated rate calculations for payroll taxes
New computer applications for construction contractors, including coverage on using accounting systems and the Internet to connect with multiple offices and job sites
---