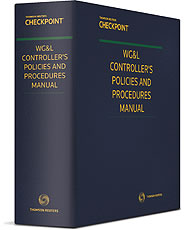 Controller's Policies and Procedures Manual

In addition to sample policies and procedures that can be applied across many industries, the Controller's Policies and Procedures Manual includes numerous sample forms, checklists, and other documents, which controllers may use as presented or customize.
Creating policies can be a daunting task. While some policies seem to be common sense (e.g., employees may not accept gifts or favors from vendors), policies pertaining to managing intellectual property, information security, healthcare benefits, and corporate financial commitments, to name a few, generally require input from several sources and approval by upper management. The task of compiling such policies can be a formidable one and may be further complicated by the need to establish the procedures that will be used to implement these policies.
Controller's Policies and Procedures Manual is designed to help controllers formulate policies in a variety of areas and to create usable procedures to implement them. Many of these policies are based on actual policies in place in some of the largest corporations; others have been devised and written by consultants whose primary assignments are writing policies and procedures for clients.
The Manual is divided into parts based on what controllers have indicated are their primary areas of concern when writing policies: business practices, dealing with external consultants, internal services, accounting and finance, and human resources. Each chapter presents a policy, and in most cases the applicable procedures, for a specific corporate function within the area covered by the part title. Procedures are presented in the playscript format that is easy to follow and adapt.
Sample policies and procedures cover numerous areas including:
Recruiting & Hiring
Employee benefits
Credit and collections
Technology
Telecommuting
Payroll
Auditor selection
Records management
Family and medical leave
Travel and entertainment expenses
---