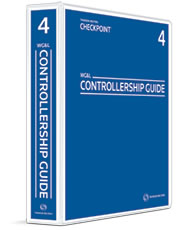 Controllership Guide

Product Information
Frequency of Updates:




Annually

Brand:

WGL
Designed to meet the unique needs of accounting and financial professionals in small companies, the Controllership Guide will help you excel in the multiple roles the small business controller typically plays.
From traditional accounting functions to business planning and capital investment analysis, this four-volume Guide gives you the practical guidance and tools you need to increase your efficiency, improve key functions, contribute to your company's strategic decision making, and stay on top of new techniques and technologies.
The Guide includes:
Sample forms, schedules, worksheets, and reports to help you perform day-to-day tasks and plan anticipated activities more efficiently
Diagnostic checklists in each chapter to help you analyze your company's current situation and identify areas that warrant further evaluation
Detailed guidance on managing the accounting department effectively
Guidance on responsibilities that frequently fall to the small business controller, such as managing the information system, choosing office equipment, negotiating facilities leases, and selecting an appropriate business insurance policy
Discussions of emerging issues and technologies and new regulatory developments that may affect your work
Updated annually by professionals and academics with experience in many types of companies, the Controllership Guide is available in print only.
List of Content (Click any title to expand the list)
Introduction
Controller's Management Role
Managing the Accounting Department
Cash Management
Accounts Receivable Management
Inventory Management
Managing Accounts Payable
Business Planning
Budgeting
Evaluating Proposed Capital Expenditures
Obtaining Financing
Management Reporting
Corporate Tax Administration and Planning
Managing Business Insurance
Executive Tax and Financial Planning
Personnel Management
Systems Management
Facilities Administration
Contemporary Issues
Controllership Guide Sample

View
---