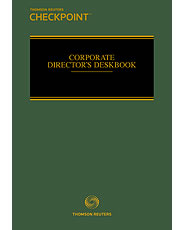 Corporate Director's Deskbook

Boards of directors of public companies face some of the most dramatic and far-reaching changes we have seen in corporate governance in decades. After months of drafting and negotiations, the Dodd-Frank Wall Street Reform and Consumer Protection Act was signed into law on July 21, 2010. The Act introduces several notable changes to corporate governance that are discussed in the updated Corporate Director's Deskbook.
The Corporate Director's Deskbook offers coverage of:
the increased emphasis on the board's role in corporate governance;
director qualifications and independence;
internal control and disclosure control - serves as a primer to understand the basic definitions involved in internal control and disclosure control, board responsibility and oversight, reports that have to be prepared, role of the independent auditor, and the internal audit function; also includes discussion of two major SEC studies - one on the costs and benefits of Section 404 and the other on whether to exempt mid-size issuers from the Section 404(b) audit requirement;
the role and operation of audit committees;
the basic requirements of the audit committee complaint system;
the SEC's new Whistleblower Program - provides an in-depth discussion of new SEC Rules 21F-1 through 21F-17, which were issued to implement Section 922 of the Dodd-Frank Act;
the role and operation of compensation committees - discusses the specific sections of the Dodd-Frank Act that have an impact on corporate governance or executive compensation and any SEC actions taken to implement those sections (including proxy access, say on pay, shareholder approval of golden parachute compensation, independence of the compensation committee and its advisers, clawback of erroneously paid compensation, disclosure of pay versus performance, disclosure of disparity between CEO's compensation and median employee compensation, and disclosure by large financial institutions of all incentive - based compensation);
the role and operation of nominating and corporate governance committees - looks at the SEC's proxy access rules: although the SEC's rule to mandate shareholders' ability to nominate corporate directors was struck down by the Court of Appeals for the District of Columbia in July 2011, in September 2011, the SEC allowed its amendments to shareholder proposal rules under Rule 14a-8 to go into effect, permitting eligible shareholders to submit proposals seeking to amend company bylaws to establish procedures for the inclusion of shareholder director nominees in the company's proxy statement;
the role and operation of qualified legal compliance committees;
up-the-ladder reporting by attorneys; and
board of director risk and liability.
Numerous checklists and sample forms are included throughout the book, and an Appendix provides a "Compendium of Board Documents" that will assist new and existing directors in performing their duties.
The Corporate Director's Deskbook is authored by two experts: David Hardesty, CPA, and Paul Hilton, J.D. Mr. Hardesty is a partner of Wilson Markle Stuckey Hardesty & Bott, a San Francisco Bay Area CPA firm. Mr. Hilton is a partner with Hogan Lovells LLP, an international law firm. Mr. Hilton is a Practice Group Director for the Business and Finance Group and is the co-leader of the firm's U.S. Capital Markets and Corporate Governance practice.
---