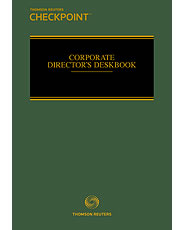 Corporate Director's Deskbook

Companies' exposure to risk, whether data security breaches, improper home mortgage practices, improper foreign payments, financial risk-taking, and a myriad of other challenges, has become a central focus of corporate America and boards of directors. The damage to corporate and personal reputations when these risks come home to roost can be disastrous for stock prices and careers. Not surprisingly, the board's role in managing risks has been the focus of stockholder suits, regulatory investigations, ISS "withhold" campaigns, and institutional investors.
Corporate Director's Deskbook offers coverage of:
board independence and increased stockholder power;
the role and operation of boards of directors;
board risk management and the board's oversight of compliance programs, including discussion of the U.S. Department of Justice "Yates Report" (highlighting a new government initiative requiring that corporate employees be held responsible for misconduct and making sure that a corporation does not shield its executives);
internal control and disclosure control;
the role and operation of audit committees, including discussion of the PCAOB's concept release on audit quality indicators; the SEC's concept release on audit committee disclosures; and the audit committee's role in overseeing cybersecurity;
the SEC's Whistleblower Program; the  federal appeals court decision in Berman v. Neo@Ogilvy LLC, ruling that the Dodd-Frank whistleblower protections apply to employees who report misconduct within their own company, and not just those who take the information directly to the SEC; and awards that have been made to whistleblowers;
the role and operation of compensation committees;
the specific sections of Dodd-Frank that have an impact on corporate governance or executive compensation and the SEC rulemaking to implement Dodd-Frank, including the new CEO to median employee "pay ratio" rules and the proposed clawback rules and rules for disclosure of "pay for performance";
the role and operation of nominating and corporate governance committees;
board of director risk and liability, including discussion of "going private" transactions; and
an overview of the federal securities laws.
Numerous checklists and sample forms, policies and procedures are included throughout that will assist new and existing directors in performing their duties.
Corporate Director's Deskbook is authored by two experts: David Hardesty, CPA, and Paul Hilton, J.D. Mr. Hardesty is a partner of Wilson Markle Stuckey Hardesty & Bott, a San Francisco Bay Area CPA firm. Mr. Hilton is a partner with Hogan Lovells LLP, an international law firm. Mr. Hilton is the co-leader of the firm's U.S. Capital Markets and Corporate Governance practice and is a Practice Group Director for the Corporate Practice Group.
---