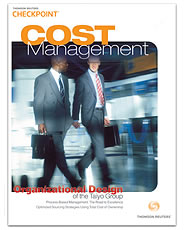 Cost Management

Product Information
Frequency of Updates:

6 times/year

Brand:

WGL
By examining and critiquing evolving methods and techniques, Cost Management will enable you to develop, improve, and make better use of your organization's cost management systems. This Journal provides information that your company can use to reduce costs of production for products and services, while increasing the value being delivered to your customers.

Cost Management examines the different systems and methods for controlling and improving your company's activities, processes, products, and services involving all aspects of cost management. By featuring experience-based articles and case studies, Cost Management provides you with the tools and information necessary to improve decision making at all levels of your company.

Essential topics discussed include:
Lean accounting/management and Six Sigma
Activity-based costing and time-driven ABC
Microfinance
Balanced scorecard and target costing
Non-financial performance measures with examples of how they might be a valuable tool for your company
Cost Management features articles written by respected industry professionals with a wide range of experience in all areas of cost management and accounting.
 
List of Content (Click any title to expand the list)
Cost Management [formerly Journal of Cost Management]
May/June 2013
Archive

March/April 2013
January/February 2013
November/December 2012
September/October 2012
July/August 2012
May/June 2012
March/April 2012
January/February 2012
November/December 2011
September/October 2011
July/August 2011
May/June 2011
March/April 2011
January/February 2011

Advertisers for January/February 2011

November/December 2010

Advertisers for November/December 2010

September/October 2010

Advertisers for September/October 2010

July/August 2010
May/June 2010

Advertisers for May/June 2010

March/April 2010
January/February 2010
November/December 2009
September/October 2009
July/August 2009
May/June 2009
March/April 2009
January/February 2009
November/December 2008

Advertisers for November/December 2008

September/October 2008

Advertisers for September/October 2008

July/August 2008

Advertisers for July/August 2008

May/June 2008

Advertisers for May/June 2008

March/April 2008

Advertisers for March/April 2008

January/February 2008

Advertisers for January/February 2008

November/December 2007

Advertisers for November/December 2007

September/October 2007

Advertisers for September/October 2007

July/August 2007

Advertisers for July/August 2007

May/June 2007
March/April 2007
January/February 2007

Advertisers for January/February 2007

November/December 2006

Advertisers for November/December 2006

September/October 2006

Advertisers for September/October 2006

July/August 2006

Advertisers for July/August 2006

May/June 2006

Advertisers for May/June 2006

Mar/April 2006

Advertisers for Mar/April 2006

January/February 2006

Advertisers for January/February 2006

November/December 2005

Advertisers for November/December 2005

September/October 2005

Advertisers for September/October 2005

July/August 2005

Advertisers for July/August 2005

May/June 2005

Advertisers for May/June 2005

March/April 2005

Advertisers for March/April 2005

January/February 2005

Advertisers for January/February 2005

November/December 2004

Advertisers for November/December 2004

September/October 2004

Advertisers for September/October 2004

July/August 2004

Advertisers for July/August 2004

May/June 2004

Advertisers for May/June 2004

March/April 2004

Advertisers for March/April 2004

January/February 2004

Advertisers for January/February 2004

November/December 2003

Advertisers for November/December 2003

September/October 2003

Advertisers for September/October 2003

July/August 2003

Advertisers for July/August 2003

May/June 2003
March/April 2003
January/February 2003
November/December 2002
September/October 2002
July/August 2002
May/June 2002
March/April 2002
January/February 2002
November/December 2001
September/October 2001
July/August 2001
May/June 2001
March/April 2001
January/February 2001
November/December 2000
September/October 2000
July/August 2000
May/June 2000
March/April 2000
January/February 2000
December 1999
November/December 1999
Sept/Oct 1999
July/August 1999
May/June 1999
March/April 1999
January/February 1999
November/December 1998
September/October 1998
July/August 1998
May/June 1998
March/April 1998
January/February 1998
November/December 1997
September/October 1997
July/August 1997
May/June 1997
March/April 1997
Mar/Apr 1997
Mar/April 1997
Jan/Feb 1997
Winter 1996
Summer 1996
Spring 1996
spring 1996
Winter 1995
Fall 1995
Summer 1995
Spring 1995