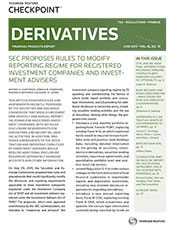 Derivatives: Financial Products Report

Product Information
Frequency of Updates:

Monthly

Brand:

WGL
Derivatives: Financial Products Report analyzes the tax, accounting and regulatory issues in the rapidly changing world of financial instruments, strategies and structured products.
Derivatives: Financial Products Report provides timely updates on new developments affecting the tax, regulation and accounting of derivatives, as well as in-depth analysis of the products and their uses.
Some of the topics covered are:
Credit crunch/sub-prime crisis - happenings in the bailout acronym world (TARP, etc.)
Credit default swaps - their role in the crisis and their future
Credit derivatives - how are they being designed? How are they being received?
The role of the SEC and the CFTC today. Should the CFTC be rolled into the SEC?
Will tax reform put a stop to equity derivatives? What structures will remain standing?
Energy derivatives - is this the next growth area for the derivatives industry?
Advertise in this Journal