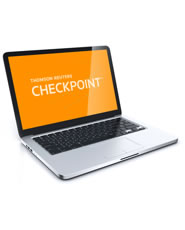 Financial Internal Audit: Commercial Entities

Financial Internal Audit: Commercial Entities provides a comprehensive end-to-end process for financial internal audits. It includes step-by-step audit programs covering each aspect of the audit, practical tips and suggestions, and related checklists, forms, confirmation letters, and other essential tools for performing specific steps.
Checkpoint Tools: Internal Audit is provided in Microsoft® Word and Excel format and includes editable workpapers covering your entire financial internal audit engagement, including audits of cash, accounts receivable and payable, inventory, investments, and much more. Get value-added productivity features that save completion and review time, plus:
Automatic entry of common engagement information
One-click signoffs for programs and checklists
Highlighting of unsigned audit program steps
Reporting of audit program changes
Math capabilities, with built-in formulas
Controls over viewing and printing practical tips
Quick fill-in features for confirmations and letters
Tickmarks that work on all Word and Excel documents
Experience improved productivity and convenience right away!
No learning curve - you and your internal audit staff already use Word and Excel
No cutting and pasting from other documents
Workpapers can travel with you and are easily accessible
Easily share key documents with team members or others