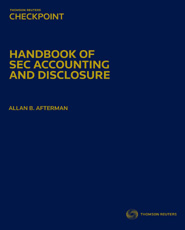 Handbook of SEC Accounting and Disclosure

The Handbook of SEC Accounting and Disclosure is the only reference where you'll find sample disclosures of all SEC accounting, auditing, and financial reporting requirements, including those mandated by Sarbanes-Oxley, in a usable, easy-to-understand format.
It is a comprehensive source of SEC disclosures, requirements and filing examples. In addition to showing you how to prepare disclosures, this valuable resource includes nearly 500 examples of actual corporate filings and thousands of sample disclosures to show you how other companies comply with SEC rules.
This comprehensive guide will help you save time and effort because it:
Compiles all the accounting, reporting and auditing requirements of the SEC from official and unofficial sources, and organizes them by financial statement item.
Is updated monthly in the Emerging Developments section with the latest proposals of the SEC about (1) accounting and financial reporting requirements that are incremental to those of GAAP, and (2) non-financial statement disclosures (e.g., MD&A, executive compensation, pro forma information) required in SEC filings, and Proposed ASUs based on consensuses of the EITF or that incorporate SEC rules/interpretations into the Codification.
Focuses on the SEC accounting and financial reporting rules from Regulations S-X and S-K, and the FASB Emerging Issues Task Force consensus views.
Handbook of SEC Accounting and Disclosure

Part A: Introduction

Part B: Balance Sheet

Part C: Income Statement

Part D: General Topics

Part E: Other Information

Part F: Companies in Specialized Industries

Part G: Special Issuers and Registrants

Part H: Foreign Issuers and Registrants

Part I: Auditing

Part J: Appendices
---