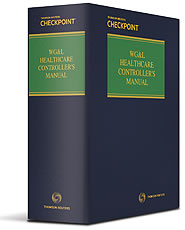 Healthcare Controller's Manual

Product Information
Frequency of Updates:

Annually

Brand:

WGL
Written specifically for healthcare controllers and financial managers, Healthcare Controller's Manual covers both administrative and financial aspects of healthcare with authoritative, practical information backed with model policies and management reports.
The Healthcare Controller's Manual covers a broad range of topics, with content organized under the following categories:
Emerging issues in healthcare systems and networks
The role of the healthcare controller
Accounting and financial reporting
Regulatory, tax, and compliance issues
Resource management
The Manual is designed to provide comprehensive guidance in a user-friendly, succinctly worded format. The volume includes numerous practical aids, such as forms and figures, to help the user. Annual supplements cover new topics and/or update existing topics with more current information.