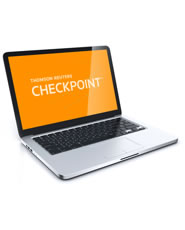 I-Metrix

With I-Metrix powered by Checkpoint, you can instantly create and update comparative public company financials in Excel with this real-time data gathering and analysis tool.
I-Metrix powered by Checkpoint works in tandem with SECPlus on Checkpoint, the first online research tool to address the intricacies of financial compliance. Only SECPlus combines real-time access to SEC filings, expert analysis, and the underlying standards and regulations required to prepare compliant SEC filings.
I-Metrix will save vast amounts of time when building financial performance comparisons vs. peers and internal targets in several ways:
I-Metrix automatically gathers detailed financial data and populates it into Excel - no need to gather the data manually.
I-Metrix is launched from Excel -- eliminating the need to input data.
I-Metrix lets you refresh data with the latest quarterly or annual information -- saving the trouble of updating manually.
I-Metrix contains pre-built industry models -- saves even more time setting up models and allows companies to get much more useful industry specific granular data vs. general "high level" comparisons.
I-Metrix is fully flexible, allowing you to change models to suit your own needs and save them, yet still get updated information each quarter -- instead of using a generic model, instead get just the information you need.
I-Metrix allows you to "drill down" on specific data-points to see the source document -- saving the time and trouble of going outside to double-check that the figures are accurate, and ensuring confidence that the correct data is in your reports.
Anyone in the financial organization of a corporation who needs to gather and present comparative financial data on their company vs. its peers/competitors, or track trends in their company's own performance over time, will find I-Metrix to be an extremely valuable tool for doing so.
CFOs, controllers, and their staff use it to report on a regular basis to the CEO and Board of Directors
Corporate financial analysts use it to crunch numbers for the CFO or Controller
Internal Auditors use it to verify and benchmark their company numbers against their peer group prior to submission to external auditors.
Corporate Development/Strategic Planning directors use it to research targets for future acquisition or partnership
Heads of sales/marketing group use it to keep a close eye on competitors and their industry
Compliance departments use it to keep the firm on top of regulatory requirements and industry filings
Treasurers use it to determine how/when to dispose of key assets
Credit Risk Managers use it to monitor the financial health of their key clients and suppliers