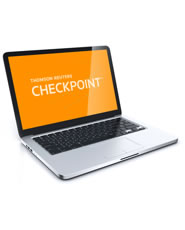 Internal Auditing Library

Introducing the first comprehensive internal auditing information resource for Internal Audit on Checkpoint management and staff -- whether performing risk-based financial audits, operational audits, IT audits, or ethical business conduct audits.
Combining extensive internal auditing information from WG&L and the Institute of Internal Auditors, you'll find coverage of everything from the basic auditing function to advanced auditing techniques. This one-of-a-kind web resource is carefully organized and fully linked to make it easy to use and navigate.
Internal Audit on Checkpoint gives you the information and services you need to make smart business decisions. These include:
Detailed coverage of auditing theory, the function of internal auditors, and recognized internal auditing standards and practices, including the International Standards for the Professional Practice of Internal Auditing, as set forth by the Institute of Internal Auditors
Practical advice on how to conduct audits from start to finish
Expert guidance on how to manage an internal auditing department, including hiring, training, and retaining auditors.
Insider tips on how to detect fraud
Numerous tools to increase the efficiency of your audits, including checklists, forms, workpapers, and questionnaires
Internal Audit on Checkpoint delivers an integrated electronic package that will enhance the relevance, timeliness and reliability of your audits. This "hands-on" format provides the step-by-step guidance you need to handle every aspect of the internal auditing function.
---