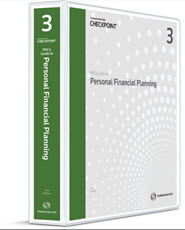 PPC's Guide to Personal Financial Planning

Product Information
Frequency of Updates:

Annually

Brand:

Practitioners Publishing
PPC's Guide To Personal Financial Planning is a comprehensive resource that takes you - or even an inexperienced staff accountant - through the entire PFP engagement from marketing and pre-engagement planning to design, implementation and monitoring.
This Guide empowers you to provide premium-fee planning services to your existing client base and attract new clients who want the peace of mind that comes with a financial plan covering cash flow, insurance, education, retirement, investments and estate planning while mapping out a path to a comfortable and secure retirement.
This Guide contains over 250 time-saving practice aids (forms, checklists, client letters, worksheets, and client handouts) providing the in-depth guidance that even the most experienced planner needs to complete a complex financial planning engagement.
The PPC PFP system empowers you to provide premium solutions on topics ranging from cash flow, insurance, and education planning, to investment, retirement, and estate planning. The system design is guided by flexibility and is effective for planners that provide fee-only, commission-only, or fee plus commission services.
Some of the many topics discussed in the Guide include:
Guidance to help you implement or expand PFP services and increase your business.
Comprehensive financial planning including retirement, investment, estate, tax, cash flow, insurance, and education planning.
Marketing resources and tools to help grow your business.
PPC's 10-Step Process of Personal Financial Planning.
You will also get Boomer Alerts throughout the Guide to highlight planning ideas specific to this market segment.