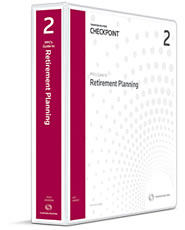 PPC's Guide to Retirement Planning

Product Information
Frequency of Updates:

Annually

Brand:

Practitioners Publishing
With 10,000 baby boomers turning age 65 every day, the country's aging population requires in-depth retirement planning to live comfortably while retired and facilitate an orderly transfer of their accumulated wealth. Clients planning for retirement and those already retired have unique financial planning needs and requirements. Accordingly, financial planning for older clients includes a broad range of issues and services.
PPC's Guide to Retirement Planning covers every aspect of retirement planning from cash flow and investments to social security, Medicare, and asset protection. Whether your client is a baby boomer ready to retire or a new college graduate with years to save, this Guide's practical approach, comprehensive guidance, informative examples, and helpful practice aids will enable you and your staff to identify, market, and profitably complete retirement planning engagements.
Some of the many topics discussed in the Guide include:
Favorable tax provisions reinstated or extended by the 2012 Taxpayer Relief Act. 
Social security claiming strategies at age 62 and age 66 with numerous examples and client handouts.
Medicare plans with numerous examples and client handouts.
Medicaid benefits including federal and state benefits coordination and coordination of benefits with Medicare.
The new 3.8% net investment income tax with guidance, examples, and strategies to deal with this entirely new tax regime. 
In-plan Roth IRAs.
In addition, numerous Boomer Alerts are included throughout the publication noting issues of special interest to baby boomers.
PPC's Guide to Retirement Planning: List of Substantive Changes

View