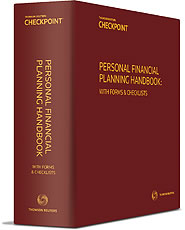 Personal Financial Planning Handbook with Forms and Checklists

This one-source practice tool provides expert guidance on all areas of personal financial planning along with practice-proven forms and checklists.
With Personal Financial Planning Handbook: with Forms & Checklists, Second Edition, practitioners can efficiently customize strategies for their clients.
This time-saving reference provides all the tools required, including countless forms and checklists, illustrative examples, specific strategies for the ten most common client types, charts, and graphs. Reference appendixes highlight such information as tax rates, bond ratings, and present and future value tables. Every financial planning situation is addressed, including: equity investments, tax planning, retirement planning, insurance planning and risk management, and estate planning. Special client circumstances such as college funding, divorce, or adoption are taken into consideration.
Includes hundreds of forms, checklists, and charts, including real estate investments preference and suitability analyses, statements of financial condition and supporting schedules, and guidelines for obtaining adequate insurance and creating evaluations prior to estate planning.
Personal Financial Planning Handbook: With Forms & Checklists - Pond

Chapter 1: Personal Financial Planning Environment

Chapter 2: Planning and Recordkeeping

Chapter 3: Personal Financial Statements

Chapter 4: Insurance Planning

Chapter 5: Credit Management

Chapter 6: Capital Accumulation

Chapter 7: Equity Investments

Chapter 8: Interest-Earning Investments

Chapter 9: Real Estate Investments

Chapter 10: Tax Planning

Chapter 11: Retirement Planning

Chapter 12: Estate Planning

Chapter 13: Special Client Circumstances

Chapter 14: Practice Management and Development

Chapter AppStyle-0: Appendixes

Appendix 1. Associations of Interest to Financial Planners

Appendix 3. Summary of the Investment Advisers Act of 1940(With Table of Contents to the Act)

Appendix 5. Frequently Used Types of Insurance

Appendix 6. Best's Life and Health Insurance Company Ratings

Appendix 7. Selected Legislation Affecting Borrowers' Rights

Appendix 8. Performance of Dow Jones Industrial Average Index

Appendix 15. Corporate Bond Ratings

Appendix 17. Treasury Security Auction Calendar

Appendix 18. Mortgage-Related Securities

Appendix 19. Summary of Real Estate Investments

Appendix 21. Selected IRS Forms by Number and Title

Appendix 22. IRS Publications

Appendix 23. Charitable Contribution Limits

Appendix 24. State Personal Income Taxes—Rates, Exemptions, Reports

Appendix 25. Life Expectancy by Age and Sex:United States

Appendix 26. Social Security Information for Working People

Appendix 27. Social Security Benefits: Recipient Information

Appendix 30. Uniform Life ExpectancyTable for MinimumWithdrawals from Inherited IRAs

Appendix 31. Miscellaneous Income Tax Rates and Phase-Out Rules

Appendix 32. Tax Rate Schedule for Estates and Trusts

Appendix 33. Average Four-Year Education Costs
---