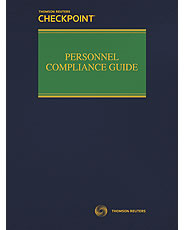 Personnel Compliance Guide

The Personnel Compliance Guide combines many traditional areas of expertise into one text, and is logically organized into the stages of the employment life cycle and key personnel issues.
Plus, there are numerous diagnostic tools and aids to assist you in dealing with personnel issues. It features more than 50 sample handbook policies, numerous forms and checklists for identifying exempt employees and independent contractors, charts summarizing state requirements in various areas, and survey data on the key provisions of benefit and retirement plans.
This Guide is the one source for successfully managing the diverse and difficult tasks of the small- and medium-sized business personnel function, providing practical, how-to guidance for finance professionals, including:
Discussion and listing of the states' new hire reporting requirements
Revised tax rates, compensation limits, minimum wages, defined benefit limits, and mileage rates
New sample handbook policies
Expansive and up-to-date charts for changes to states' employment laws
---