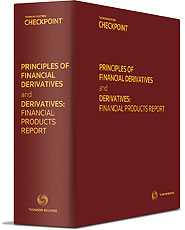 Principles of Financial Derivatives: Financial Products Report

Principles of Financial Derivatives: U.S. and International Taxation (treatise) is intended to provide the lawyer or business person with a comprehensive analysis of the tax and accounting law issues relating to financial derivatives. It explains what financial derivatives are, how they work, how they are priced, and how they are used to hedge financial risk.
Derivatives: Financial Products Report (journal) will tell you what's happening in the derivatives world (particularly in the current credit/sub-prime crisis), who's doing it, and what it means to you and your clients.
With $450 trillion (2008 national amounts) in assets invested or managed by derivatives, the derivatives market is the largest in the world. DERIVATIVES will provide timely updates on new developments affecting the tax, regulation and accounting of derivatives, as well as in-depth analysis of the products and their uses. Some topics covered are:
Some topics covered are:
Credit crunch/sub-prime crisis - happenings in the bailout acronym world (TARP, etc.)
Credit default swaps - their role in the crisis and their future
Credit derivatives - how are they being designed? How are they being received?
The role of the SEC and the CFTC today. Should the CFTC be rolled into the SEC?
Will tax reform put a stop to equity derivatives? What structures will remain standing?
Energy derivatives - is this the next growth area for the derivatives industry?
This work provides a broad discussion of financial derivatives and the applicable U.S. law and regulation, as well a comprehensive discussion of U.S. Federal income taxation of derivatives. In addition, because many financial derivative transactions are "cross-border," this work includes chapters addressing the taxation of derivatives outside of the U.S. Financial products analyzed (and their regulation) include: futures, options, swaps, caps, straddles, and floors; hybrid and synthetic securities; asset-backed securities; and money market funds. Other topics include OTC derivatives markets, private investment funds, wash sales, mark-to-market rules, and business hedging.
---