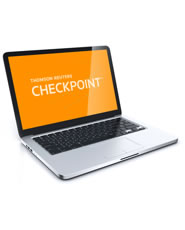 Private Company Library

Private Company Library on Checkpoint offers a combination of products geared specifically toward the needs of private companies. You'll have access to Financial Management on Checkpoint and GAAP Compliance on Checkpoint.
Private Company Package on Checkpoint provides information and tools to help you drive continuous process improvements at the corporate and departmental levels. It is designed to assist you with both strategic planning and financial management. It's a complete reference covering the treasury function, cost management, cash budgeting and forecasting, performance measurement, management accounting, risk management, payroll management, mergers and acquisitions, technology, corporate tax planning and finance alerts. All the latest finance developments and analysis of the latest techniques are covered. Where applicable, content is supported with industry case studies.
Private Company Package on Checkpoint provides expert analysis and interpretation of all GAAP rules plus hundreds of sample disclosures and helpful model language. It also includes over 1,500 examples of disclosures drawn from actual corporate financial statements.