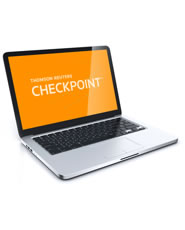 SOX Reporter

Product Information
Frequency of Updates:

Ongoing

Brand:

WGL
Access the Sarbanes-Oxley Act section by section, with the SEC and PCAOB rules and regulations flowing from the Act, fully integrated and linked with the most highly trusted interpretive analysis and guidance. With its in-depth explanations, viewpoints, excerpts from actual company filings, and interactive checklists, the Sarbanes-Oxley Reporter helps you meet your SOX compliance needs.
Find the Information You Need Your Way.
Just because you will be working in the largest library of Sarbanes-Oxley and PCAOB information ever gathered, that doesn't mean that you will spend hours wading through all this material in a frustrating search for the information you really want. Checkpoint's powerful search engine, combined with the many search tools in Sarbanes-Oxley Reporter, means that you can dive right down to the information you need, and it even gives you a choice in how to get there.
Sarbanes-Oxley Reporter allows you to search by Sarbanes-Oxley Act Section or by topic.
Once you choose how you want to start your search, then you can choose the route you most feel comfortable with to get to your answer:
Browsing Through the Table of Contents. You can quickly browse through Sarbanes-Oxley Act sections in the Table of Contents. Each Act Section in the Table of Contents is accompanied with the Committee Reports, SEC and PCAOB source material, and Explanations and Annotations directly related to that section. Also, you can browse in alphabetical order a comprehensive By-Topic index that links you directly to all material related to that topic.
Searching by Keyword. Checkpoint's powerful search engine quickly brings up all related material to any keywords you input. You can also narrow your search by choosing specific sections of the Table of Contents to search.
Searching by Citation. If you know the Act section you are looking for, simply type it into the citation wizard that is part of your Sarbanes-Oxley Reporter and jump right to that Section and all related material.
Creating a Customized Directory of Your Most Often Used Links. On your Checkpoint homepage, you can easily create a list of links to the material you need the most under the My Quick Links section.
Keeping up-to-date on Fast Changing Information. You can easily keep up to date on the latest legislation, rulings and guidance in three ways:

SEC/GAAP Watch: This easy-to-follow e-mail and online newsletter already keeps thousands of practitioners informed of all the new developments in SEC compliance, GAAP compliance, and Corporate Governance.
Corporate Finance Update: When you need to dig deeper, this renowned online journal has articles written by practitioners and experts in Corporate Finance that offer guidance, cautionary advise, and best practices.
Scheduled Searches: Acting as a personal clipping service, this tool allows you to save a particular keyword search and set it to rerun at regularly scheduled times that you choose. You will be notified by e-mail only when the search turns up new information.

And When You Are Ready To Dive Even Deeper, the Sarbanes-Oxley Reporter gives you true one click linking to related material, whether you are moving from official source material to expert guidance or visa versa. Links at the top of any document and throughout the document link you to all the related material from the Sarbanes-Oxley Reporter and from any other corporate governance, SEC Compliance, GAAP Compliance or Internal Auditing material that you subscribe to on Checkpoint.