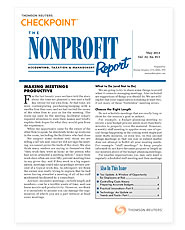 The Nonprofit Report

The Nonprofit Report is the only monthly publication that covers the latest tax, reporting, and financial management issues for CPAs, nonprofit executives and professionals, and members of nonprofit Boards and committees, particularly finance, government and audit committees. In recent years, the reporting and compliance requirements imposed on nonprofits have grown. Missteps by executives, outside advisers, and even volunteers can be costly, so staying current is key.
The Nonprofit Report offers a practical, timely look at issues surrounding IRS rulings and pronouncements for nonprofits, AICPA pronouncements, and legislation governing financial management of most nonprofit organizations.
Each month, you'll receive articles on such critical topics as:
Fundraising and grant management
Latest IRS developments affecting nonprofits
Tax planning for nonprofit organizations
Employee training and development
Budgeting and financial management
Corrective action plans for audit findings
Creating a compliance culture
Goverance: Board design and organization
Fraud: detecting it; preventing it 
---