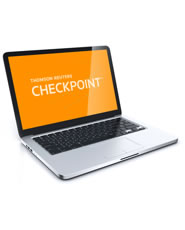 Thomson Reuters News and Insight: Accounting, Audit and Corporate Finance
Product Information
Frequency of Updates:

Daily

Brand:

TR News and Insights
Stay on top of what's new in accounting, audit and corporate finance as it unfolds, learn how developments are affecting companies and industries as well as the strategies being used in response.
DYNAMIC CURRENT AWARENESS AND NEWS DESIGNED TO KEEP UP WITH TAX AND ACCOUNTING PROFESSIONALS
By combining content from Thomson Reuters Checkpoint®, the leading tax and accounting online information resource, and Reuters, the world's premier news agency, Thomson Reuters News & Insight goes beyond the headlines to give professionals and decision-makers the insight needed to become even more knowledgeable and effective. Now available on your computer, smartphone and tablet.
UNLIKE ANY NEWS SOLUTION ON THE MARKET TODAY
An Accounting, Audit & Corporate Finance page subscription includes:

ACCOUNTING AND COMPLIANCE ALERT - All daily accounting highlights from our WG&L® Accounting and Compliance Alert - plus a six month rolling archive
CORPORATE FINANCE PRACTICE UPDATES - Timely articles on topics such as capital structure; corporate governance; executive compensation; mergers and acquisitions; company valuation; and R&D investment from the following WG&L journals:
Corporate Finance Review
Internal Auditing Journal
Internal Auditing Report
Cost Management
Nonprofit Report
Journal of Construction Accounting
Accounting and Auditing Update
Government Accounting & Auditing Update
Derivatives
REUTERS TAX AND ACCOUNTING NEWS - Exclusive journalism on accounting developments, including:
Key conferences, speeches and committee meetings
Major developments around-the-clock
Influential lawmakers and figures in tax and accounting
The strategies that practitioners, businesses and industries are using to respond to legislative, administrative and judicial developments
ACCOUNTING AND AUDITING PRACTICE UPDATES - Practical guidance on new pronouncements and standardsetters as well as ethics issues, common audit concerns and financial statement pitfalls
ARCHIVE - Six months of prior news available for your reference