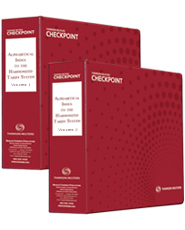 Alphabetical Index to the Harmonized System 2017
The Alphabetical Index might be classification's most overlooked resource.
This Index is a comprehensive alphabetical list of the articles and products described in the Harmonized Tariff of the United States (HTSUS) and the WCO Explanatory Notes. The tariff code corresponding to each article or product listed indicates the Section, Chapter or Subheading Note or the heading or subheading in which that article or product is cited.
While few secrets to accurate and efficient classification exist for a tariff system decades old, if you're not using this one, you may be spending much more time classifying than you need to. Users report that the two-volume, World Customs Organization's (WCO) Alphabetical Index - designed for use with the HTSUS and the WCO Explanatory Notes - has become indispensable for use with the United States Harmonized Tariff. The reasons are simple:
1.) Full Coverage: At 1,000 pages, the Alphabetical Index covers it all. Ten times more listings than the standard HTSUS index. Don't miss a description!
2.) Time-saver: Product descriptions are common-sense and alphabetically arranged. Find product descriptions fast. Get the corresponding tariff number instantly.
3.) Argue Better: Remember, this index reflects the current decisions of the World Customs Organization upon which U.S. Customs basis all classification decisions. Give your protests the authority of the most timely possible information.
---