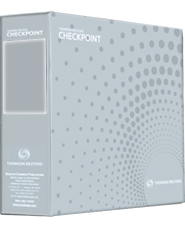 Exporter's Policy & Procedure Manual
Exporter's Policy & Procedure Manual
NEWLY UPDATED!
A well-documented export process is critical to your company's success in the international market place. The Exporter's Policy & Procedure Manual (EPPM) provides the tools you need to quickly build your own customized procedure manual and effectively document your company's export process.
For ease of reference and customization, the EPPM includes both a print copy and online software via Checkpoint
®
, Thomson Reuter's premier online research platform. Use the online annual subscription to:
Access electronic copies of each document.
Customize these documents for your company.
Save your customized documents and build a comprehensive procedure manual.
Use your manual to effectively train your staff, guide them through day-to-day export process operations, and ensure compliance with the export regulations using a logical, effective, and proven export process.
SUBJECTS INCLUDE:
Export Compliance Policy
Product Licensing
Deemed Exports
Destination Screening
End-User Screening
Recordkeeping
Export Compliance Training
Export Compliance Auditing
Communicating with Government Agencies
Problem Management
Subscription renews annually. Updates approximately once a year.
by Michael Burton and Valentin Povarchuk
---