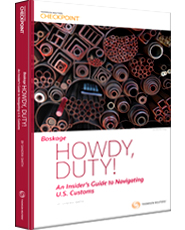 Howdy Duty
Product Information
Brand:

Boskage

ISBN:

1893495361
HOWDY, DUTY! An Insider's Guide to Navigating U.S. Customs.
A simple, often humorous guide to navigating U.S. Customs and import regulation. Includes sections on the Mod Act, invoice requirements, classification, protests, marking, and more. Written with distinctive style by Sandra Smith, a retired U.S. Customs Import Specialist with over 20 years of experience in the business.
240 pages
by Sandra Smith
About the Author
Sandra Smith was employed by the U.S. Customs Service for over twenty years as an Import Specialist, Team Leader, Field National Import Specialist, and Supervisor. She now owns Import Consulting Services, Inc., and provides training and advice to importers and brokers. She has been a speaker and conducted seminars for various international trade associations, and teaches classes on importing. She is also the author of "When You HAFTA Do NAFTA", available from Boskage Commerce Publications, Ltd.
---