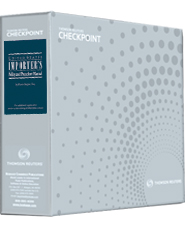 Importer's Policy and Procedure Manual
STRENGTHEN YOUR CONTROL. REDUCE RISK.
Updated 2016
Over 200 policy and procedure guidelines, written by one of the country's leading customs compliance experts. Compliance, employee training, and more.
For ease of reference and customization, the IPPM includes both a print copy and online software via Checkpoint®, Thomson Reuter's premier online research platform.
Use the online annual subscription to:
Access electronic copies of each document.
Customize these documents for your company.
Save your customized documents and build a comprehensive procedure manual.
Receive automatic annual updates.
SUBJECTS INCLUDE:
Administration & Communication
Duty-Reduction Programs
Broker Management
Other Government Agencies
Classification & Valuation
Miscellaneous Topics
Special Product Requirements
Modes Of Transportation
Entry & Post Entry
Glossary
Compliance
Corporate Policy
Both policy and procedure directives are included. The policy directives will show your staff how to define a method of action for present and future decisions that meets U.S. CBP's "Reasonable Care" regulations. The procedure directives will guide your staff through the day-to-day operations of the importation process, and ensure consistent, lawful action through a logical, effective, and proven methodology for each problem or task.
Hundreds of policy and procedure guidelines. Now including a customizable reference, which makes it easy to adapt each policy for Customs Brokers. Includes both online and print copies. Customizable for every company.
Subscription renews annually. Updates approximately once a year.
---