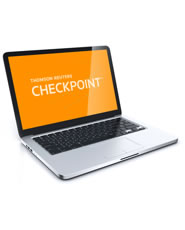 U.S. International Trade Import/Export Compliance Library

Product Information
Frequency of Updates:




Ongoing

Brand:

Boskage
The U.S. International Trade Import/Export Compliance Library on Checkpoint is our advanced research library for U.S. trade professionals, a comprehensive option featuring our primary sources, advisory texts, news, configurable policy and procedure manuals. Contents include: 
Importer's Policy & Procedure Manual
Exporter's Policy & Procedure Manual
C-TPAT Policy & Procedure Manual
Boskage Books
Treatise: WG&L International Trade Laws of the U.S.
Harmonized Tariff Schedule of the U.S. (HTSUS)
U.S. CBP Rulings (More rulings than CROSS)
CCL — ECN Lookups
EAR and ITAR
Schedule B
Integrated ABI Alerts
Free Trade Agreements
CBP Regulations
More
To download a product sheet with a full list of contents for this library, or to view a demo of Checkpoint Trade, click on "Related Resources," above.
FEATURES AND FUNCTIONALITY
Simplify import/export research, planning, and compliance. Save valuable time with integrated references and powerful search.
Be alert to changes. Scheduled searches will provide automatic alerts on changing results for search terms that are important to you.
Access your history. Use save-to-folder and export-to-file functionality to create audit trails with a click of a button. Store your results in a context that is meaningful to you. Use notes to save a reminder of the significance of a document. Use flags to jump to your "favorite" documents, or to keep time-sensitive research tasks visible.
Inform and communicate. File sharing allows you to easily email relevant files to other people on your team, to quickly request additional information.
---